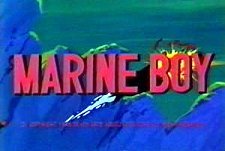 Alternate Series Title: Submarine Boy Marine
Originally released in Japan in 1969, it was composed of three different series in Japan- including a 1965 series "
Ganbare Marine Kid
" (known in English as "
Marine Boy
or "
Go for It, Marine Kid
). The original series(s) ran 130 episodes. Only the second season of the final series of 78 episodes were dubbed to English.
Related Cartoon Series:
Marine Boy TV Episode Guide :