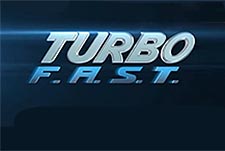 Alternate Series Title: Turbo: Fast Action Stunt Team
Based on the lackluster feature film
Turbo
, this series the first in DreamWorks' massive content deal of over 300 hour of content for Netflix; this series will be streamed exclusively online.
Released online in chunks of episodes. The first five episodes will debut on December 24, 2013 and, instead of TV's usual two 11-minute episodes per half hour, each episode will contain three 11-minute episodes.
Turbo: F.A.S.T. TV Episode Guide :
Turbo: F.A.S.T. (Series)

-

2013


DreamWorks Animation, Titmouse

featuring Turbo, Whiplash, Skidmark, Chet, Smoove Move, Burn, White Shadow.

There have not yet been any votes for "Turbo: F.A.S.T. (Series)". Vote Now!