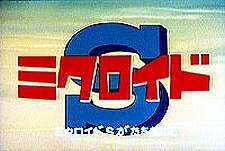 This TV series ran for 26 episodes.

Based on "Microid Z," an original manga by Osamu Tezuka in "Shonen Champion." The letter "Z" was changed to "S" at the demand of Seiko watches, the series' sponsor.
Microid S :
Microid S (Series)

-

1973


Tezuka Productions Co. Ltd., Tôei

featuring Yamma, Ageha, Mamezo, Dr. Mishiji, Manabu.

There have not yet been any votes for "Microid S (Series)". Vote Now!