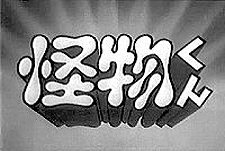 English Series Title: Li'l Monster Prince
Based on a 1965 manga by Hiroshio Fujimoto. However, the manga was credited to the Fujoko-Fujio duo, of which he was a member. This TV series ran for 49 episodes.
Kaibutsu-kun :
Kaibutsu-Kun (Series)

-

1968


Tokyo Movie Shinsha, Studio Zero

featuring Kaibutsu, Hiroshi, Franken, Dracula, Wolfman.

There have not yet been any votes for "Kaibutsu-Kun (Series)". Vote Now!