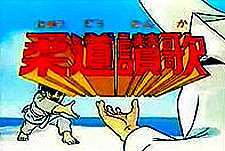 English Series Title: In Praise Of Judo
This TV series ran for 27 episodes. Based on Hiroshi Kaizuka's manga. The last TMS sports-themed anime series ("
Kyojin no Hoshi
" (Star of the Giants) was the first). Because of low ratings, the series was pulled off the air before later episodes of the original manga could be adapted.
Jûdô Sanka :
Judo Sanka (Series) - 1974
Tokyo Movie Shinsha featuring Toshinta Tomoe, Teruka Tomoe, Togama, Coach, Opponent

Judo Sanka (Series) There have not yet been any votes for "Judo Sanka (Series)". Vote Now! 21


1