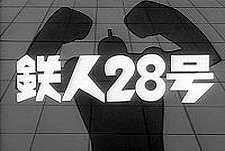 Alternate Series Title: Gigantor
Based on a comic strip by Mitsuteru Yokoyama. This cartoon would be imported to the U.S., all the characters would be renamed, and the series renamed to "
Gigantor
"... However, the first 26 were not submitted to be translated by the U.S. distributor.
Related Anime Series:
Tetsujin 28-go :
Tetsujin 28-Gô (Series) (Ironman # 28) - 1963
Television Corporation of Japan... featuring Tetsujin 28-go, Boy, Dr. Shikishima, Inspector Otsuka.

Tetsujin 28-Gô (Series)". Vote Now! There have not yet been any votes for "