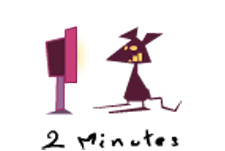 Founded in April of 2001 as a production facility for management of the whole production process, from preparation to the final product, on websites and TV.
2 Minutes Studio Directories Cartoon Series:
Rosie

(2011-2012, 103 Episodes.)




Related Cartoon Series:
2 Minutes Studio :
Allez Raconte! (The Storytelling Show) - 2010
Les Armateurs, 2 Minutes featuring Laurent, Momo, Hubert, Jean-Pierre, Eric.

Allez Raconte!". Vote Now! There have not yet been any votes for "