Saturday Supercade Episode Guides -Ruby-Spears Prods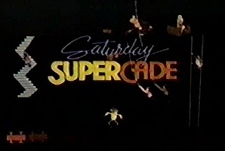 A cartoon block whose cartoons were based on popular arcade games of the day. During the first season, "Donkey Kong", "Donkey Kong Jr.", "Frogger", "Pitfall", and "Q*Bert" were in the mix. "Frogger" and "Pitfall" were dropped and "Space Ace" and "Kangaroo" added for the second season.
Saturday Supercade TV Episode Guide :
Saturday Supercade

- 1983
Ruby-Spears Productions featuring Donkey Kong, Mario, Pauline, Donkey Kong Jr., Bones, Q*Dad, Q*Bert, Q*Tee, Q*Val, Q*Bertha, Q*Mom, Viper, Coilee Snake, Ugg; more Characters ...