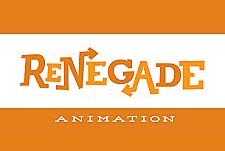 This California studio was founded by Warner Bros. director and animator Darrell Van Citters and his business partner Ashley Postelwaite in 1992.
Renegade Animation Studio Directories Cartoon Series:
Captain Sturdy

(2001, 1 Series.)
Alternate Series Title: Captain Sturdy: Hero Of The Old Ages

Related Cartoon Series:
Renegade Animation Studio :
Re-Animated - 2006
Renegade Animation, Appleday Pictures...
featuring Jimmy Roberts, Milt Appleday, Golly Gopher, Dolly Gopher, Crocco the Alligator, Craig, Robin, Sonny Appleday; more Characters
...
Re-Animated". Vote Now! There have not yet been any votes for "