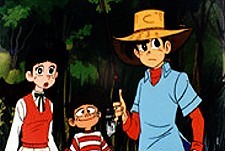 English Series Title: Sanpei The Fisherman
Attracted by the fun and enjoyment of fishing, Sanpei, an ordinary boy, tries all kinds of fishing. He sometimes travels deep into the mountains in search of a novel catch, and even goes abroad to compete with others in a series of games. Sanpei takes on all challenges with the passion and imagination of a young boy. Through fishing, he learns the wisdom of older people, and experiences the wonders of the underwater world.
Tsurikichi Sampei :
Tsurikichi Sampei (Series)

-

1980


Nippon Animation

featuring Sanpei The Fisherman, Yuri, Masaharu Kase, Ippei Mihara, Gyoushin Ayukawa, Helen Watson.

There have not yet been any votes for "Tsurikichi Sampei (Series)". Vote Now!