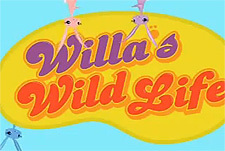 Many children bring home a stray dog, baby bird or a firefly in a jar... but Willa is no ordinary kid! So far, this 6-year-old critter collector has adopted a giraffe, a couple of elephants, an alligator and so many other exotic animals, there's barely room in Willa's room for Willa. Why don't her parents put their feet down? Well, for one thing, there could be a bunny underneath- and for another, they just don't have the heart. These animals aren't just her pets, they're her friends. When she talks to the animals, they each have their own opinion on how Willa should deal with the common things that all kids go through.
Willa's Wild Life :
Willa's Wild Life (Series)

-

2009


Nelvana Limited, Futurikon

featuring Willa, Blinky the Penguin, Hippos, Giraffe, Elephants, Alligator.

There have not yet been any votes for "Willa's Wild Life (Series)". Vote Now!