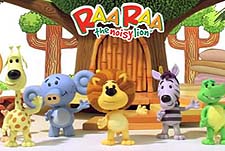 Raa Raa was created by Curtis Jobling, who had previously collaborated with Mackinnon & Saunders on "
Curious Cow
" and "
Frankenstein's Cat
." He came up with the idea whilst playing a game of "Old MacDonald's Farm" with his children. When they ran out of farm animals they suggested a lion. The inevitable question of "What noise does a lion make?" prompted the response "
Raa Raa
," and that's where the idea came from.
Raa Raa The Noisy Lion TV Episode Guide :
1
1
1
1
1
1
1
1
1
1
1
1
1
1
1
1
1
1
1
1