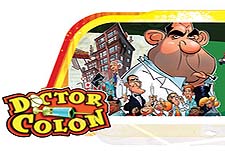 Dr. Colon pokes fun at everything that could happen at the hospital: scandals, bribery, coma and resurrection, bungled operations… At John's A. Goner Hospital, Dr. Colon and his team, fumble and even tumble to find solutions. Long waits in the emergency room - funny; longer lines - funnier! Rare cases of malaria from an even rarer tsetse fly - funniest yet! And Top Doc, Colon, has one thing on his mind - money, and no scruples about how to make it. Loudmouth, liar, swindler and gambler, he's still the best the hospital has to offer. Full of caustic, dry humor, "Dr. Colon" exaggerates to the point of hilarity what can happen when you get sick.
Dr. Colon :
Dr. Colon (Series)

-

(Date Not Set)


Kiwi Animations

featuring Dr. Colon.

There have not yet been any votes for "Dr. Colon (Series)". Vote Now!