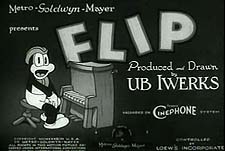 After Walt Disney and longtime collaborator Ub Iwerks had a falling out in 1930, Pat Powers backed Iwerks in creating his own studio, Celebrity Productions. With a distribution deal with
MGM
,
Flip the Frog
was full of promise- The first Flip cartoon-
Fiddlesticks
- was notable for being the first sound cartoon to be produced in two-color Technicolor. The series ran to nearly forty entries before running out of steam in 1933, and was succeeded by
Willie Whopper
.
In addition to the MGM distributed shorts, P.A. Powers also self-distributed their own series,
ComiColor Cartoons
. These were classic tales told in animated shorts. While well produced, none of the series caught on, the financiers back out and Ub Iwerks was forced to fold his studio in 1936.
Iwerks made his way to Leon Schlesinger Productions at Warner Bros. Studios, where he directed two
Looney Tunes
shorts. He then jumped over to the
A Color Rhapsody
at
Columbia Pictures
, where he directed sixteen shorts between 1937 and 1940. By 1940, he returned to The Walt Disney Studios, where he spent the rest of his career.
Ub Iwerks Studio Studio Directories Cartoon Series:
Related Cartoon Series: