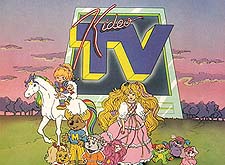 A anthology package containing
Rainbow Brite
,
Popples
, and
Ulysses 31
and syndicated by DiC Entertainment. The show began as a mid-season replacement, and by its firs full season in September, Ulysses 31 was dropped in favor of reruns of
The Get-Along Gang
.
The show was hosted by four car-obsessed teenagers hang out in a clubhouse: two good kids: a guy with a toy car over his shoulders and his girlfriend in a yellow blue frilly jump-suit, try to reform Fast Lane, a guy with slicked up fiery red hair and a cardboard hot rod around his shoulders, who often serves as a bad influence to Couch Potato, a chubby guy in a yellow jump-suit.
Kideo TV Episode Guide Cartoon Series:
Ulysses 31

(1986, 26 Episodes.)
Alternate Series Title:

Space Legend Ulysses 31




Related Cartoon Series:
Kideo TV TV Episode Guide :
Kideo TV (Series) - 1986
DiC Entertainment featuring Fast Lane, Couch Potato.

Kideo TV (Series)". Vote Now! There have not yet been any votes for "