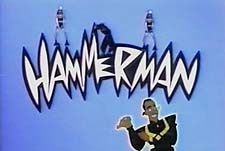 In the fall of 1991, the former Stanley Burrell was too legit to quit showing off his exceptional musical and dancing skills, so he channeled them into a weekly children's cartoon. Hammerman told the tale of an ordinary guy named Stanley, a super dope homeboy from the Oaktown, who worked at a kids' recreational facility. Whenever trouble lurked, all Stanley had to do was put on his Magic Dancin' Shoes and, quicker than you can say "proper," he turned into the superhero Hammerman.
Hammerman :
Hammerman (Series)

-

1991


DiC Entertainment, Bustin' Productions

featuring Stanley Burrell/Hammerman, Hammerman's Would-Be Girlfriend, Nigel Neatnik.

There have not yet been any votes for "Hammerman (Series)". Vote Now!