The Pink Panther Show Episode Guide -DePatie-Freleng Ent -Alternate: The Pink Panther Meets the Ant and the Aardvark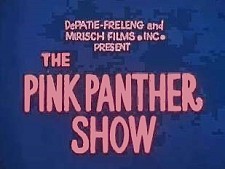 Alternate Series Title: The Pink Panther Meets the Ant and the Aardvark
A collection of Pink's shorts aired on NBC in 1969 under the title The Pink Panther Show. Just like in the first appearance, the cat never spoke, using his nonverbal wits to outsmart his foes. In its first season the show also featured segments starring an Inspector Clouseau-inspired character named The Inspector (voiced by Pat Harrington Jr., "Schneider" on primetime's One Day At A Time). Comedian "Crazy" Lenny Schultz hosted the show, along with the Ritts Puppets.

After one season, the hosts were dropped from the show and a few new characters were added. The Ant and the Aardvark starred an ant who sounded like Dean Martin and an anteating aardvark who sounded like Jackie Mason. Comedian John Byner did both voices. Misterjaws was a nearsighted shark with a German accent who relished in scaring swimmers by sneaking up on them and yelling "Gotcha!" The last segment starred The Texas Toads, two rural reptiles who were always in danger of being eaten by birds. This segment was also known as The Tijuana Toads.
DePatie-Freleng Ent
Rate This Cartoon Series:
BCDB Rating:
"The Pink Panther Show" has not yet received enough votes to be rated.
The Pink Panther Show Episode Guide Cartoon Series:
The Pink Panther Show TV Episode Guide :
1 1 1 1 1 1 1 1 1 1 1 1 1 1 1 1 2 2 2 2 2 2 2 2 2