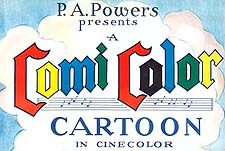 After Walt Disney and longtime collaborator Ub Iwerks had a falling out in 1930, Pat Powers backed Iwerks in creating his own studio,
Iwerks Studio
. Iwerks' first two series-
Flip the Frog
and
Willie Whopper
were distributed by
MGM
. Iwerks and Powers tried to sell this series through MGM, too, but MGM rejected the series because they found it too dark. The mid-thirties has the studios more focused on kids with their animated films, and Iwerks' shorts were too adult for MGM's liking. Rejected, Iwerks and Powers created and distributed a third series through their own company, Celebrity Productions, but never reached the number of theaters- or the money- they could have with a major distributor.
Celebrity Productions Studio Directory Cartoon Series:
Related Cartoon Series:
Celebrity Productions Studio :
The Microbe Army - 1935
P. A. Powers featuring Captain Influenza, Microbes, Man, Family, Antibodies.

The Microbe Army". Vote Now! There have not yet been any votes for "