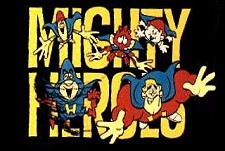 Conceived as an addition to CBS's long running
Mighty Mouse Playhouse
, which, after eleven years, was starting to founder in the ratings.
Terrytoons staff pitched various concepts to help save
Mighty Mouse Playhouse
to the execs at CBS television, only to have them all rejected. Someone at CBS asked if that was all TerryToons had, and a young Ralph Bakshi, at the time just an animator at the studio who happened to be at the meeting, spoke up pitched this show.
Mighty Heroes TV Episode Guide :


1
1
1
1
1
1
1
1
1
1
1
1
1
1
1
1
1
1