Willy Fog 2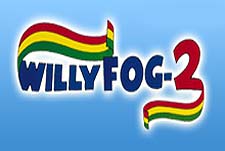 Because to the massive success of the first series, Willy Fog returned in Willy Fog 2. This outing the series was a 30-part series comprising of two stories- again based on Jules Verne novels.
Willy Fog 2 :
Willy Fog 2 (Series)
- 1993
BRB Internacional
featuring Willy Fogg, Sullivan, Transfer, Lord Guinness, Romy, Tico, Rigadon, Professor Lidenbrock, Hans; more Characters

....
Willy Fog 2 (Series) There have not yet been any votes for "Willy Fog 2 (Series)". Vote Now! 23