The Gary Coleman Show Episode Guide -Hanna-Barbera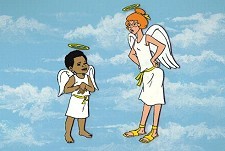 In the early 80's, primetime audiences fell in love with a sitcom called Diff'rent Strokes and its diminutive and oh-so-cute star Gary Coleman. Seeking to capitalize on the young actor's overwhelming popularity, NBC commissioned a Saturday morning cartoon starring the adorable lad.

The animated Andy LeBeau wasn't nearly as endearing as the real life Gary Coleman.
The Gary Coleman Show TV Episode Guide :
1
1
1
1
1
1
1
1
1
1
1
1
1
1
1
1
1
1
1
1