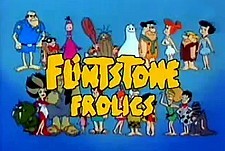 Alternate Series Title: Flintstone Frolics
Pebbles and Bamm Bamm got a little older, Wilma and Betty got new jobs, Fred and Barney got a new partner, Dino got himself a new arch-nemesis and Bedrock got a little creepier in Flintstone Frolics. As the "modern Stone Age family" entered its third decade on the airwaves, Hanna-Barbera awarded them a new 90 minute romp on NBC's Saturday morning lineup.
This page has been viewed 151 times this month, and 8,401 times total.
The Flintstone Comedy Show (1980) TV Episode List :
The Flintstone Comedy Show (1980 Series) - 1980
Hanna-Barbera Studios featuring Fred Flintstone, Barney Rubble, Wilma Flintstone, Betty Rubble, Wiggy Rockstone, Pebbles Flintstone, Cavemouse; more Characters ...

The Flintstone Comedy Show (1980 Series) BCDB Rating: (2.5/5 stars from 2 users.)