Uncle Croc's Block Episode Guide -Filmation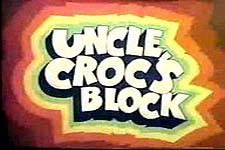 Uncle Croc's Block was a Saturday morning TV show meant to poke fun at Saturday morning TV shows. This half-animated, half live-action kids show starred Charles Nelson Reilly as the host, Uncle Croc. Uncle Croc was constantly bickering with his assistant, Mr. Rabbit Ears, and the show's director, Mr. Bitterbottom. He would occasionally stop his mean-spirited banter in order to introduce one of the show's three cartoon segments.
Filmation
This page has been viewed 21 times this month, and 3,321 times total.
Uncle Croc's Block Show Segments:
Uncle Croc's Block TV Episode List :
-

1975 Filmation Associates

featuring Uncle Croc, Mr. Rabbit Ears, Basil Bitterbottom, Steve Exhaustion

Uncle Croc's Block There have not yet been any votes for "Uncle Croc's Block". Vote Now! 21
1