The Kid Super Power Hour Episode Guide -Filmation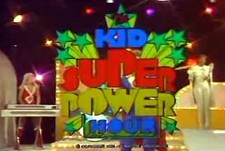 Something old, something new, something live, something 'toon. The Kid Super Power Hour With Shazam had something for everyone, or at least everyone who liked superhero shows, wacky teens, and/or rock bands.
Filmation
This page has been viewed 16 times this month, and 3,526 times total.
The Kid Super Power Hour TV Episode List :
-

1981 Filmation Associates

featuring Dirty Trixie, Rex Ruthless, Captain California, Glorious Gal, Misty Magic, Weatherman, Punk Rock, Miss Grimm; more Characters ...

The Kid Super Power Hour (Series) There have not yet been any votes for "The Kid Super Power Hour (Series)". Vote Now! 21