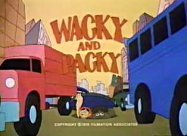 Wacky and Packy is a reverse Land of the Lost... Wacky, a caveman, and his Woolie Mammoth Packy are transported to modern times, and the gags are about their adjustments.
Mid-way through the 1975 season, this show was "transferred" over from
Uncle Croc's Block
when it was chopped down to thirty minutes because of Croc's poor ratings.
Wacky & Packy TV Episode Guide :