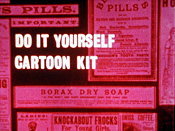 The Do-It-Yourself Cartoon Kit
The Do-It-Yourself Cartoon Kit
Alternate Title: Do It Yourself Cartoon Kit
The Do-It-Yourself Cartoon Kit (Do It Yourself Cartoon Kit) (1961) Theatrical Cartoon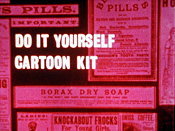 ---
Post your Comments or Review
This page has been viewed 8 times this month, and 1251 times total.
Cartoon Comments:
The Do-It-Yourself Cartoon Kit
Attention all Monty Python fans!
Reviewed by: douglasec, January 12, 2005
This astounding piece of madcap cutout animation was a major inspiration for Terry Gilliam (as acknowledged in "Gilliam on Gilliam" interviews)and his years of Monty Python animations, including the classic opening credits. I remember seeing it on TV in the 60s and thinking it was the most wonderful crazy surreal pastiche since Krazy Kat, some early Marx Brothers comic ripostes or the Dadaists. In the guise of a commercial for a non-existent product, the eponymous DIYCK, it skewers commercial appeals as well as animation styles of the era. Victorian cutout figures skitter all over the frame encouraging you to get the kit and become a REAL cartoonist making big bucks (despite the fact that there's basically NO original art in the cartoon, just the public domain cutouts being moved around in stop-motion animation). There is, however, plenty of original THOUGHT involved in this hilarious sendup voiced by a droll british announcer promising wealth and happiness as a cartoonist. Should be required viewing for anyone interested in the origins of offbeat animation, and especially anyone who ever got a kick out of Terry Gilliam's much later Monty Python animations in a similar vein.
1 of 7 people found this review helpful