Betty Boop For President
Betty Boop For President
Alternate Title: Mr. Nobody
Betty Boop For President (Mr. Nobody) (1932) - Betty Boop Theatrical Cartoon Series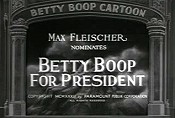 ---
Post your Comments or Review
This page has been viewed 24 times this month, and 2877 times total.
Fleischer Studios
Distributed by: Paramount Studios
Cartoon Characters: Betty Boop, Old Dog, Mr. Nobody.
Originally Released in 1932.
Black & White
Running Time: 7 minutes.
U.S.A.
&nbspAdd your own Review
Return To "Betty Boop For President"
Cartoon Comments:
Betty Boop For President
The first movie star to run for President
Reviewed by: Ray Pointer, November 29, 2003
First of all, the notion that cartoons are for child is a muddled-headed idea that resulted from the popularity of the Disney product. The fact that much of the content of the Fleischer cartoons was adult-oriented and highly satirical is what makes it interesting on many levels. As for them being vulgur in the sense of Ralph Bakshi is an extremely ridiculous comparison, and a reflection of an uninfored sense of animation and cultural history. With or without the conditions set by the Production Code of 1933,
the Fleischer cartoons never were so vulgar as to actually show vaginas, penises, or actual sex scenes, rapes, or bloody knife and gun fights
as in Bashi's films. They did not go so far as to use four letter words common in R-rated films, and now creaping into the living room in sitcoms
broadcast during family viewing hours on the networks.
On the one hand, I would agree that the morphing of Betty into Hoover and Smith is disturbing, and certainly frightening for small children. But this device gives the cartoon great historical significance, as it refers to the conditions of the country during the depression. As for the "audience," this was the group of senators in the the "house" divided between Republicans (Elephants) and Democrats (Donkeys). The symbolism is clear and funny to anyone who understands the connections. So what if they say "Now we will get things for nothing. Movies, cabarets, and Jazz. We accept it. We reject it.
You're an elephant, you're an ass." If joke here must be explained, it is that it is a double entendre. Since the animal referred to is an ass, what is vulgar about that? Is the truth that difficult to accept? This is certainly a more acceptable use of the term than hearing varous forms of "butt" and ass such as "kick ass," "get your ass into gear,""sitting on your ass," "your fat ass,",etc. which can be heard any evening seven days a week during the family hour on network television.
Not to expose "children" to this cartoon is avoiding many issues. Children at the age of eight would certainly understand it, and gain historical enlightenment from seeing this cartoon, which at this point in time operates on many more levels than the next reviewer realizes. I think the reviewer underestimates the daily expsoure to vulgarity that children experience simply by going to school. In that respect, what BETTY BOOP FOR PRESIDENT has to offer is extremely mild by comparison. Take a look at current cartoons shown on Nickelodeon and Cartoon Network. Not only are some of them in questionable taste, many are very anti-social and perverted. One might say the same thing about BETTY BOOP FOR PRESIDENT and its transformation of the burly convict into the "sissy" character. But it's a trade off in oppositions, if not extremes. Most people would agree that reform is a positive alternative to execution. And that is what that scene is all about, in a satiracal form.
In short, one shouldn't always look to cartoons as a reflection of real life, but a parody. That is what BETTY BOOP FOR PRESIDENT is. And considering that we have an election year coming up, BETTY seems to be the better candidate considering who we have in the White House now.

2 of 7 people found this review helpful
Betty Boop For President
Reviewed by: Borroloola, September 15, 2001
"Betty Boop" is an interesting historical document for adults, but I don't recommend it AT ALL for children. Most of the political jokes in this cartoon will be way over kids' heads. For example: why does the audience at Betty Boop's political rally consist entirely of elephants on one side of the hall and donkeys on the other side, instead of (more typically for cartoonland) a mixed audience of many animal species? You could explain this joke to a child, but the kid won't think it's funny. And some of the jokes in this cartoon are simply NOT appropriate for children ... as was often the case in cartoons made by Fleischer Studios, the most vulgar animators until Ralph Bakshi came along. I especially dislike one sequence in "Betty Boop for President" in which a big snarling macho criminal receives an electric shock which turns him into an effeminate little mincing sissy who puts on lipstick before swishing out of the room.
Modern viewers who don't know American political history will be baffled by the sequence in which Betty Boop morphs into Herbert Hoover and Alfred E. Smith, and the animation in this sequence is so bizarre (with Betty's face drastically changing shape) that it may frighten small children. It's disturbing even for adults.
The very last image in "Betty Boop for President" is a huge close-up of a stein of beer, which probably got tremendous applause when this cartoon was first released (during Prohibition) but which can't possibly recapture that effect today. Still, it constitutes a genuine political statement by Fleischer Studios and Paramount.
The best sequence in this cartoon is the campaign speech by Betty Boop's political opponent: a stick-figure man named Mister Nobody, who recites a cynical patter-song. ("Who will feed you when you're hungry? Mister Nobody!") This is an excellent example of Depression-era humor, which was extremely bitter. But this scene isn't as original as it pretends to be, because its basic premise was stolen from "Nobody", a vaudeville song that was performed by Bert Williams during the World War One era ... another topical reference which 21st-century audiences won't recognize.
On a scale of 1 to 10, I'll give "Betty Boop" a rating of 4 ... for its historical value, not for its humor quotient.

3 of 13 people found this review helpful