Secret Origins, Part 1
Secret Origins, Part 1
Secret Origins, Part 1 (2001) Season 1 Episode 1.01- Justice League: The Animated Series Cartoon Episode Guide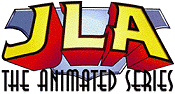 by Dave Koch
---
Post your Comments or Review
This page has been viewed 6 times this month, and 1759 times total.
Warner Bros. Television Animation
Distributed by: Cartoon Network, Warner Bros. Television Animation
Cartoon Characters: Bruce Wayne/Batman, Clark Kent/Superman, Kal-El, Princess Diana/Wonder Woman, John Stewart/The Green Lantern, Shayera Hol/Hawkgirl, Wally West/The Flash, J'onn J'onzz/The Martian Manhunter, Jack Napier/The Joker, Vandal Savage, Lex Luthor, J. Allen Carter, Snapper Carr, Hippolyta, Howie, General Wells, Japanese Ambassador.
Originally Released in 2001.
Season: 1
Color
Running Time: 8 minutes.
U.S.A.
&nbspAdd your own Review
Return To "Secret Origins, Part 1"
Cartoon Comments:
Secret Origins, Part 1
Excellent in it's own right
Reviewed by: ledboy1, November 09, 2002
First off, I love superheroes. Especially Superhero cartoons. Cartoons are argualbly the perfect medium for our spandex-wearing chums. It can take the wonderful out of this world artwork and mentality of comic books, add movement and voices, and costs less than a summer blockbuster to make. Not to mention seeing a new episode every week is always a good thing. That being said, this show rocks. I was raised in the 80's and grew up with Superfriends, possibly one of the best cartoon series ever produced. It had the world's greatest heroes fighting a new challenge every week, introduced new ones (Black Vulcan was my favorite, even though they should have called him Black Lightning like he was in the comics), and entertained countless individuals over the years. A lot of people bash the series, I am not one of those people. Of course it had flaws, but what doesn't? And it was always entertaining, and was often unintentionally funny. After that, we had to wait almost a decade before a great new superhero cartoon came along in the form of Batman: The Animated Series. The excellent Superman cartoon came a few years later, and once again, the folks at Warner Brothers Animation have come up with the magic. It introduced Wonder Woman to the new cartoon series, as well as Martian Manhunter, Hawkgirl, and the John Stewert Green Lantern. Flash was always one of my faves, and he's great here. I will have to agree with the first reviewer in that Superman is less powerful, and Green Lantern isn't too creative with old sparky. Yes, while I wish they would make Superman a little more powerful, I understand that with a team dynamic, story wise it might be best for him not to be Uberpowerful. Even if you read JLA comics, he's not as powerful as he is in the regular Superman comics, so I understand. He should still be a little more powerful though. Batman rocks, Wonder Woman is spectacular (I like her attitude towards others, she is practically a God, after all), John's cool. I'm not a big Hawk-person in general, but Hawkgirl's alright. In terms of Green Lantern, I think the character's use of his ring reflects his personlity perfectly. He's a seasoned warrior, been all around the universe, and has a professional feel to him, so he WOULD be very short and straight to the point with his ring. He's not wasting any time. Granted, giant green boxing gloves are pretty, but a laser blast is just as effective. I know that I prefer the Hal Jordan version, but I'm happy with John. He brings something to the table. His character and Flash play off with each other just the way I would want. They make a great team, if not just to watch. This cartoon has a great widescreen feel to it, and it's my new favorite. Don't compare this to any superhero cartoons that came before, instead, enjoy it in it's own right. Watch Superfriends. Watch the filmation classics of Batman, Superman, Aquaman, etc. And watch Justice League.
1 of 3 people found this review helpful
Secret Origins, Part 1
Reviewed by: Andy12386, June 23, 2002
When I first saw the pilot to this new series, I was impressed. A sort of "New Superfriends meets The War of the Worlds", something I had always thought would be a neat storyline for the Superfriends. But after the newness wore off, I soon became disappointed. This new series hardly measures up to the Superfriends. Not that it's all bad, but it has some pretty major flaws. But in reviewing it, it's only fair to start with its good points.
First, Batman and The Flash are great. Batman seemingly steps right into this series from Batman: The Animated Series, an excellently written and produced cartoon. The Flash, with an impulsive nature, youthful attitude and disregard for authority is a joy to watch, especially given that his recklessness drives the others nuts!
Martian Manhunter, while for some reason called J'onn J'onzz instead of his much better hero identity, and lacking many of the powers he has been given by comic book writers in the past, is nevertheless a very well written character. A wise, patient being who imparts knowledge to the others makes him a valuable member of the JLA. Kudos to the writers and producers for including him in the lineup.
Hawkgirl-a newer member and refreshing change from the always used Hawkman-is brash and headstrong, usually preferring to act rather than think. It is interesting to see her character develop from staunch loner to team player.
With that said, unfortunately we now come to the problems.
First, where is Superman? There is nothing at all "super" about the weakling now wearing Superman's costume. The original from the Superfriends could move planetoids, crash therough mountains and was nearly invulnerable. Even missiles exploding at point-blank range didn't phase him. Some will argue this made him boring. No, it's what him super. This new incarnation can be beaten-usually with minimal effort-by other beings, and is hardly as strong as a circus strongman. The original Superman could lift mountains. I doubt this new version could lift anything over a hundred pounds, if even that. In one episode he couldn't even pull back a fire truck from going over as cliff. Wonder Woman had to do it. He's not Superman, he's Superwimp.
Wonder Woman has become such an arrogant feminist it's hard to understand why the mostly male League tolerates her. I have nothing against feminists, but she acts like all men are inferior to her and her Amazon sisters, and with the exception of Superwimp, they are anything but inferior.
Lastly, why does Green Lantern have a ray gun instead of a Power Ring? He uses his ring like a ray gun, anyway. Part of the appeal of Green Lantern is that he uses his Power Ring to create solid objects, willing them into existence with his willpower. All this new Green Lantern, John Stewart, does is blast things with it. Other than generic force fields he doesn't create anything. He's hardly a suitable replacement for the Hal Jordan Green Lantern of the Superfriends. At least he had an imagination.
All of the reviews I have read for Cartoon Network's Justice League give it high praise, usually trashing the Superfriends series in the process. I am tired of this, especially when the Superfriends was so vastly superior to Justice League. While I agree the original Superfriends series with Wendy, Marvin and Wonder Dog was pointless, boring and stupid, the later series, again with the exception of the Wonder Twins (or more appropraitely named Blunder Twins) and their pet monkey were very imaginative, exciting and fun, particulary "Challenge of the Superfriends" and "The Super Powers Team: Galactic Guardians". The interaction of the characters was very well done, and they were perfectly depicted: Superman was indeed super; Wonder Woman treated all the men as equals, never once insulting them; Green Lantern used his Power Ring the way it's supposed to be used. TV Guide called it inferior, saying in reference to the new Justice League "This time they got it right". On the contrary, they've really messed it up.
1 of 13 people found this review helpful