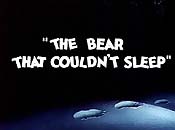 The Bear That Couldn't Sleep
The Bear That Couldn't Sleep
The Bear That Couldn't Sleep (1939) - Barney Bear Theatrical Cartoon Series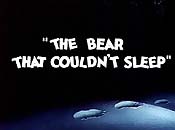 ---
Post your Comments or Review
This page has been viewed 45 times this month, and 5542 times total.
Cartoon Comments:
The Bear That Couldn't Sleep
Reviewed by: Bernice McClure, July 13, 2012
It took me back to when cartoons were funny and clean. Poor Bear!!! It was very funny and I appreciate being able to see it free. Thank you. I was actually looking for the Tex Avery Cartoon, Rock A Bye Bear but found this one instead. In this cartoon, the bear is prepared to sleep for the winter until spring but is unable to due to constant interruptions in his cave. I felt sympathy for the bear when spring arrives and his red, sleep deprived eyes finally close for just a few seconds only to have to wake up!
5 of 10 people found this review helpful
The Bear That Couldn't Sleep
Karma Sutra
Reviewed by: tchetta, January 06, 2004
I don't know how I found my way to this subject, but it's been something I've been meaning to discuss for quite some time. Why does Barney Bear even exist? A lot of great coloring and exquisite animation in accompanied by an earbouncing orchestra. All wasted on a stupid bear. I don't know why Barney couldn't sleep. I sure did. In my 31 years, I've never seen the end of this picture. Perhaps I'm just a little biased toward Porky's sleeping plights which actually make me laugh and keep me interested (by the way, what does 'bon soir' mean?). Nontheless Barney, I'm afraid to say makes a better rug than a cartoon character. BOOOOOO!
4 of 22 people found this review helpful