Pinocchio And The Emperor Of The Night
Pinocchio And The Emperor Of The Night
Pinocchio And The Emperor Of The Night (1987) Feature Length Theatrical Animated Film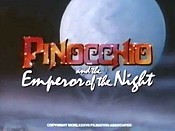 ---
Post your Comments or Review
This page has been viewed 22 times this month, and 3204 times total.
Feature Length Animated Film
Filmation Associates
Distributed by: New World Pictures
Cartoon Characters: Pinocchio, Emperor of the Night, Geppetto, Fairy Godmother, Scalawag, Twinkle, Beatrice, Lt. Grumblebee, Gee Willikers, Igor, Puppetino.
Originally Released in 1987.
Color
Running Time: 88 minutes.
U.S.A.
&nbspAdd your own Review
Return To "Pinocchio And The Emperor Of The Night"
Cartoon Comments:
Filmation's greatest and most underrated triumph.
Reviewed by: HarryCanyon, March 11, 2010

This is a nifty and very overlooked yet dark fantasy epic from Filmation (Makers of He-Man, She-Ra, Bravestarr, Star Trek animated and more) and was released in theaters in 1987 from New World Pictures. It's a continuation of Carlo Collodi's famous fairy tale which inspired many film versions including the beloved Disney movie, but this version is more true in nature to the original book. It's set a year after Pinocchio became human and a weird yet creepy carnival is in town, he just celebrated his first anniversary as a human being that is until he screws up again by selling a jewelbox he was suppose to deliver but dupes up by trading it for a worthless fake ruby. It upsets his dad so much that he decides to run away to join the carnival only to go on different adventures such as becoming a puppet again, dealing with a giant killer fish in a scene that evoks JAWS and all the way to battling a demonic satanic being that wants his soul in a hellish nighmarish world.

I grew up with the original Pinocchio movie from Disney as a kid and read the book but i couldn't believe how horrifying and terrifying the original novel by Carlo Collodi was. So back in 1987 i was 5 years old living in St. Lois at the time growing up, my mom took me to see this movie at one of the mall theaters and this scared the living hell out of me. It even has one of the most disturbing sequences in a animated movie that still disturbs me as an adult where an evil puppeteer tortures, torments and turns him slowly back into a puppet and i can't believe how dark this movie is.

I love how this movie doesn't relay on Filmation's usual stock animation as it had true actual living animation that took 5 years to make. The soundtrack is good and the storyline is engaging, this one has a solid all star cast including James Earl Jones as the main villain.

I enjoy it as much as Disney's version even though they are different and a must see on youtube.com.
2 of 8 people found this review helpful
Pinocchio and the Emperor of the Night
Reviewed by: BenBurgess, December 04, 2001
Originally pitched as "PINOCCHIO". This was the first of FILMATION'S special animation unit to create feature animated films called the "CLASSICS". This 1985 production film was set to be produced for at least $5 million dollars budget. WESTINGHOUSE put out the money at first. This film went through an inhouse type system production at times using the full company. But the budget went into a new work location for this "CLASSIC" production "unit" near the then new FILMATION building in Canoga Park, CA. FILMATION during 1986 moved up from Reseda to the posh surroundings of high roller Canoga Park. Hal Southerland was named Director of this unit to keep the budget on track. There were so many union staffers and a number of changes that bumped the budget over the $5M mark. The inhouse production and staff created this film the same way they created their television films like He-Man. The studio selected a good veteran group of artists to make this very special studio film. An odd legal situation ... was brought up by the "legals" between FILMATION and DISNEY. The counter proposals went on and on with suggested changes in the overall "LOOK" of this film and the future upcoming "SNOW WHITE" production. It was proposed with legal ramifications that for example the character designs loose any of the nice curves, but take on more of an angular wooden "LOOK". This was to be implemented into the production overall so the public wouldn't get confused with Disney's version. The lawyers were some caught up in making sure this film was impaired that even the story had to be impaired. This went along while during production and changed to disheartening for the staff on it. Anyway a paycheck is a paycheck, the film got out there. It ended up that Disney didn't have worry, YA!, ...it "BOMBED!
2 of 9 people found this review helpful