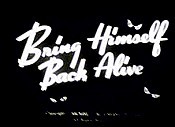 Bring Himself Back Alive
Bring Himself Back Alive
Bring Himself Back Alive (1940) - Animated Antics Theatrical Cartoon Series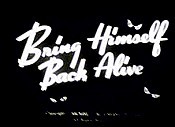 ---
Post your Comments or Review
This page has been viewed 7 times this month, and 858 times total.
Cartoon Comments:
Bring Himself Back Alive
Reviewed by: Ray Pointer, June 22, 2003
This is another entry in this forgotten series of one-shot cartoons. In this one, a sadistic big game hunter, Hyde Skinner, uses a poor little turtle as a pack mule. Skinner is out to trap an egotistical lion, who struts along with scat-like banter. The running gag with him is that he roars, and exclaims, "I'm king of the jungle." Perhaps the biggest potential for a laugh here
comes when a pewny little monkey sits in a tree as the lion stuts by. The lion roars, "I'm king of the jungle. What's with you?" to this the little monkey replies, "Well, I've been sick."
Meanwhile, Hyde Skinner sets a trap for the lion, and corners him in a cave. He tries to force him out with a lit stick of dynamite, which the lion pushes back at Skinner. Skinner backs up, stepping into his own trap with the fuse on the dynamite burning. He grabs the turtle, and writes a message for help on his chest, then begs the turtle to hurry. The poor turtle does his best to run, but in slow motion, as the dynamite fuse continues to burn down. While still running along, the dynamite exploses off camera, and the turtle stands up and wipes the mesasge off his chest. The wasted effort sotry formula. Not particularly memorable, and not a good story.
0 of 5 people found this review helpful