Tree Of Evil
Tree Of Evil
Tree Of Evil (1981) - Blackstar Cartoon Episode Guide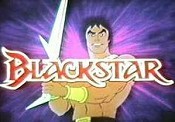 by Dave Koch
---
Post your Comments or Review
This page has been viewed 5 times this month, and 715 times total.
Filmation Associates
Cartoon Characters: John Blackstar, Doppleganger Blackstar, Balkar, Terra, Klone the Shapeshifter, The Mighty Overlord, Mara the Sorceress, Warlock, The Trobbits (Balkar, Terra, Carpo, Poulo, Rif, Gossamer, Burbil), Delilah, Evil Versions of the Rebellion.
Originally Released in 1981.
Color
Running Time: 30 minutes.
U.S.A.
&nbspAdd your own Review
Return To "Tree Of Evil"
Cartoon Comments:
Tree of Evil
HEY, I ADMIT THAT I HAVE ALWAYS WONDERED WHAT IT W
Reviewed by: joeblackstar, November 01, 2002
"Tree of Evil" a.k.a. "Among Evil Look-a-likes Blackstar Battles......Himself?!?!!"
After escaping the Ice Palace of the evil Overlord, who vows that no matter where they go, his forces will ever be
waiting for them, John Blackstar, Heroic-
Earth-Astronaut (See Intros to my reviews
of "City" and "Space Wrecked")and Guardian-Wielder of the Magic Star Sword and his faithful sidekick, Clone the Shape-Changer journey to what seems to be
the Trobbit Forest. They land on the
Sagar Tree but they both get the feeling
that something isn't right. They discover that something horrible has happened to the Trobbits, who apparently have been
magically corrupted by the Overlord's
evil. Our two heroes are magically sucked inside the Sagar Tree by a trap-magic-floor.
However, Warlock who escapes this
corrupted Tree shows us this is an evil
version of the Sagar Tree and finds the
Good Sagar Tree and leads the very-worried but Good Trobbits to the Evil Tree
where Blackstar and Clone are being held
captive.
Inside the Evil Tree, a bewildered
Blackstar and Clone wake up and Blackstar
runs off to rescue a damsel in distress,
while Clone, who gets separated from our
hero, gets caught by a bunch of vine-like
tentacles and a big but strange plant pod
that suddenly seems vibrate with life and..........
The lady in need turns out to be Delilah a child-like Wood Sprite whose
life is being threatened by human-sized
insects. After being rescued by Blackstar,
she befriends our hero and his...........
faithful sidekick????!!!???
Blackstar and ........ahem!.......
.......Clone.......discover that they are on an evil replica of the Sagar Tree and
come to the aid of their 7 Trobbit friends
battling evil versions of themselves.
Once all is finally settled, good ol'
Butterfingers Blackstar tells everyone that they have to find the Starsword, which the Evil Tree's vinelike tentacles
snatched from our--at the time---unexpecting hero. Delilah promises to lead
Blackstar, the Trobbits, and ...........
ahem!............Clone ( who seems to have a momentary intensely squinting
problem as Delilah speaks to them) to find the Star Sword.
On the way, however, Delilah explains the nature and history of the Evil Tree,
"This forest use to be mine. Until the
Overlord raised this Evil Tree with Trobbits to tend it.
When the Tree captures a creature, it makes evil versions of them with these
pods. So far I've been able to avoid the
pods."
Finally our heroes reach the Tree's
Heartwood and the Star Sword. As Blackstar attempts to reacquire the
Star Sword, a huge man-eating plant attacks him pinning him to one of the Tree's interior walls.
Blackstar: "Clone....I could use some
help her!"
Clone: "Of course, old friend!"
Clone shape-shifts into a huge ferocious aardvark-bear combination,
quickly and rudely grabs and es
Blackstar into his hands and holds him over his head.
Blackstar: "Yow!......Hey, you're not
Clone! You're .....one of
the ....Tree Creatures!"

DUUUUUUHHHHHHHH! HELLO, JOHN!WAKE UP AND SMELL THE SAGAR TREE MANEUWER!

Our hero gets tossed into a bunch of
waving Tree Tentacles, however grabs the
Star Sword and breaks free.
Evil Clone:"You haven't won yet.
Look! Behold! The Tree's
greatest creation! You
Blackstar!"
A human-sized pod opens up to reveal
..........yes........another John Blackstar with a copy of the Star Sword.
The Evil Blackstar jumps out of his pod
and clashes swords with our hero.

Evil Blackstar:"There's room in this
world for only one
Blackstar! And I am
it!"
Good Blackstar:"We'll see about that,
pod-brain!"
Blackstar pushes his foe back, falling onto the ground and shoots the Evil
Tree's Heart Wood. The Tree is about to
collapse. The good Clone is found and rescued and heroes make a run for it to
escape the doomed Tree.
Then, Delilah and our heroes rest from their days adventure at a little forest glade by a pond of water. The child-like
Wood Sprite thanks our heroes for destroying the Evil Tree and reclaiming back her forest for her. Delilah kisses
Balkar and our heroes end the episode
laughing at poor Pooloe who has just informed Balkar that he sees another evil
Trobbit...........in the pond water!yikes!

1 of 6 people found this review helpful