The Paneless Window Washer
The Paneless Window Washer
The Paneless Window Washer (1937) - Popeye the Sailor Theatrical Cartoon Series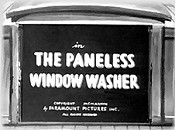 ---
Post your Comments or Review
This page has been viewed 7 times this month, and 1278 times total.
Cartoon Comments:
The Paneless Window Washer is fantastic!
Reviewed by: Marky B. Goode, August 22, 2010
In this episode Popeye and Bluto are competing to wash Olive's windows on the 30th story. This is one of my favorite Popeye shorts for many reasons but the main reason is the fantastic perspective of the buildings. One could actually get dizzy watching it. The high perspective shots are just incredible. And, as in many of these b&w, the city looks incredible. Most cartoons from this time usually featured country-type settings, but this cartoon provides the atmosphere of the huge, bustling, and gritty city. I don't know of anyone who has watched this who hasn't claimed this episodes as one of their favorites. There are plenty of sight gags too such as Bluto washing windows as he swings from a flagpole. I never tire of watching this classic.
0 of 5 people found this review helpful