Previous Cartoon | Next Cartoon
Looney Tunes: Back In Action
Looney Tunes: Back In Action
Looney Tunes: Back In Action (2003) Theatrical Cartoon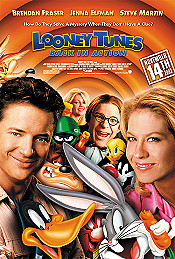 by Dave Koch
---
Post your Comments or Review
This page has been viewed 50 times this month, and 3690 times total.
>Unknown Tag: 'short_stud_crew'
Warner Bros. Feature Animation
Animated Characters: Tasmanian Devil, She-Devil, Bugs Bunny, Daffy Duck, Beaky Buzzard, Sylvester, Mama Bear, Yosemite Sam, Foghorn Leghorn, Nasty Canasta, Elmer Fudd, Peter Lorre, Tweety Bird, Marvin the Martian, Speedy Gonzalez, Pepe Le Pew, Granny, Porky Pig, Shaggy, Scooby-Doo, Cottontail Smith, Baby Bear, Papa Bear, Robo Dog, Spy Car, Gremlin Car.
Live Action : DJ Drake, Brendan Fraser, Kate, Mr. Chairman, Damien Drake, Dusty Tails, Mother, Mr. Smith, Mr. Warner, Mr. Warner's Brother, Security Guard, Hollywood Director, Dr. Bennell, Jeff Gordon, Matthew Lillard, Acme VP, Bad Ideas, Acme VP, Stating the Obvious, Acme VP, Nitpicking, Acme VP, Unfairly Promoted, Acme VP, Rhetorical Questions, Acme VP, Never Learning, Acme VP, Child Labor, Acme VP, Climbing to the Top, Stunt Director, Interrogator, Tour Bus Girl, Flower Vendor, Paris Cafê Waiter, Studio Executive, Bugs Bunny's Driver, The Man from Planet X, Host of Civil Defense Film, Laboratory Scientist, Michael Jordan, Wooden Nickel Waitress, Script Supervisor, Secret Agent Shopper, Robby the Robot, Warner Brothers Studio Tour Guide, Robert the Robot, Robot Monster, The Metaluna Mutant, Dancing Yosemite Sams, Dancers, Little Aliens, Daleks.
Originally Released in 2003.
Color
U.S.A.
Cartoon Production Information:
Premiered in Hollywood; general release was on November 14, 2003.

Joe Dante calls this film the "Anti-Space Jam movie" and wants to bring the "edge" back to the characters displayed in the original cartoons. Still, he acknowledges battles with Warner executives over issues like the inclusion of Speedy Gonzales, who executives feel is a negative racial stereotype.

Originally titled: "Looney Tunes: Back in Action," then switched to "Looney Tunes: The Movie" and finally back to "Looney Tunes: Back in Action."
Live-Action Film with an Animated Character(s).
Commentary:
I don't know about the rest of you out there, but I personally have been reading about this movie before, during, and after it's run in theatres. I was disheartened by the poor box office and quite taken aback by the extremely diverse critiques of this movie. On the extremely positive some called it "better than Roger Rabbit" while the other side either was nauseated by it or just didn't see it. Heck, this movie even stumped the Looney Tunes experts. Michael Barrier called it a horrible insult to the franchise while Jerry Beck considered it to be a wonderful love letter to the toons. But, y'know, in some twisted way, they're both right.
I shall elaborate. From my understanding, the writing process of the movie went like this. Glen Ficarra and Rick Fequa initially came up with the idea for the quest of the "blue monkey diamond". But, for some reason, those two just up and left. Then, it was up to Larry Doyle, Joe Dante, Eric Goldberg and a large number of writers that only a centipede could count on its fingers to:
A. Make that diamond idea work.
B. Incorporate the styles of every major classic WB director namely Chuck Jones, Friz Freleng, Tex Avery, Bob Clampett, Bob McKimson, and Frank Tashlin.
C. Incorporate references to movies and or shows that the Looney Tunes have influenced (James Bond, Star Wars, Indiana Jones, etc.)
D. Find subtle yet blatantly obvious ways to spoof the business practices of the WB and other major animation studios.
E. Apologize for Space Jam.
F. Help the Looney Tunes out of the 'political correctness' hole dug for them by getting their edge back.
G. Make a movie the whole family can enjoy.
Add to that they had only two months until the first day of shooting to get the basic structure down with the WB brass breathing down their necks the entire time. On the whole, I say they accomplished all these goals though some would disagree.
But, one thing that can't be disputed is that 'goal B' on my list was met exquisitely, and I don't just mean the part in the boardroom scene where Bugs enters saying things like "Hey, Chuck, how are things", "Bob, nice haircut", "Mel, looking good as ever." Those guys' personal touches were interwoven throughout the entire movie. The Bugs & Daffy rivalry, Wile E. Coyote, The Acme Corproation, Marvin the Martian, the UPA inspired FBI film were all from Chuck Jones. Dante made this a buddy / road movie about DJ and Daffy in a similar vein to the Bob Hope / Bing Crosby movies created by Termite Terrace denizen Frank Tashlin. The seemingly out-of-control story topped off with the abrupt "it was all just a show" ending as well as the way Bugs seemed to have the movie's script memorized, all would have come from the insanely genius mind of Bob Clampett. Dusty Tails represented Tex Avery's
Red Hot Riding Hood
. Heck, the entire satirical nature of the film as well as the glorious cacaophony that some people complained about was a loving tribute to Tex Avery (as well as clips from "
I Love to Singa
" interspersed throughout). The entire Las Vegas scene represent the brutally violent yet well timed genius of many of Friz Freleng's and Bob McKimson's greatest cartoons. I'm sure many other examples of their work are in the film as well but those are just he ones that stand out for me right now.
I'd like to take this moment to talk about Jenna Elfman's character. Apparently, her character Kate Haughton was supposed to represent the people in this world who *ahem* have a hard time appreciating Looney Tunes humour and that through the course of the movie and her growing love for DJ she would see the light by the end. However, when I saw this film in the theatre, that didn't come accross to me. I just felt that she started off kind of cranky and then at the end was just happy. I wasn't sure if her part wasn't written well or that she didn't play it well. I even questioned her qualifications for her playing that part. It was such an "un-Dharma" character. But then, I bought the dvd and saw some of the deleted scenes. To quote Bugs "before the major edits, Jenna Elfman's character was quite a bit crazier". Y'know, Bugs was right. Not only that, her character had more meat to it in those deleted scenes. She did go from 'cold witch' to 'warm-hearted babe' more smoothly. Or at least she would have had those scenes been left in. So her part seem ing lacklustre wasn't her fault after all, the blame falls squarely on the shoulders of whomever sliced her part up. I guess I, the WB execs, and the movie-going public owe Ms. Elfman an apology.
But, that wasn't the only part that suffered. There were many key scenes deleted for one reason or another which made the movie seem more disjointed than it should have been. Apparantly, according to Doyle, there was so much corporate interference that he eventually just threw up his hands and walked out in frustration leaving this movie with NO HEAD WRITER!!
But, considering all the back-lot politics and other set-backs, I think the people who put this film together did a bang up job. Not quite as good as Roger Rabbit, but closer to great that
Space Jam
. Sure, it could have been better, but it could have been a whoooooooole lot worse.
But, like I said, the opinions expressed by both Michael and Jerry are right. The love-letter to the toons Mr. Beck speaks of comes from the head writer, director, animation supervisor, and any other actor or teamster involved who either grew up with these Looney Tunes or found their greatness later in life and then put every ounce of effort into their jobs.
The huge insult that Mr. Barrier talk about is the incredibly thoughtless and half-baked treatment this project was given by heartless executives who second-guessed everything, forced everything to be watered down somewhat, and hardly put any effort into the ad campaign.
I guess for good to exist, evil can't be far behind.
Submit Additional Information:
Do you have anything to add to this page? Have we made any mistakes... or do you ahve any additional information about Looney Tunes: Back In Action? If so, we would love to hear from you. Please send us a quick note with your additions or corrections to this page, and we will make the corrections as soon as possible!
Report Errors / Submit Additional Information