Previous Cartoon | Next Cartoon
Chicken Little
Chicken Little
Chicken Little (2005) Feature Length Theatrical Animated Film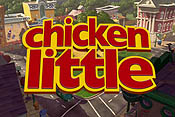 ---
Post your Comments or Review
This page has been viewed 97 times this month, and 6262 times total.
>Unknown Tag: 'short_stud_crew'
Walt Disney Pictures, Walt Disney Feature Animation
Animated Characters: Chicken Little, Buck Cluck, Mayor Turkey Lurkey, Mr. Woolensworth, Foxy Loxy, Runt of the Litter, Abby Mallard, Principal Fetchit, Dog Announcer, Melvin (Alien Dad), Tina (Alien Mom), Alien Cop, Ace (Hollywood Chicken Little), Goosey Loosey, Morkubine Porcupine, Coach, Fish Out of Water, Rodriguez, Acorn Mascot, Umpire, Kirby (Alien Kid), Mama Runt, Hollywood Fish, Hollywood Abby, Hollywood Runt.
Originally Released in 2005.
Running Time: 77 minutes.
Technicolor
U.S.A.
Cartoon Production Information:
Disney's first totally computer-animated film, and the first not released on VHS home video.
Released in 3D in selected theaters on the same day as general release of the regular version.
In early May 2003, Disney studio chief David Stainton put this film on hold while the story was reworked, indefinitely delaying the release date. Stainton commented that "there's a point in every movie where the whole thing falls apart, that moment where you look at it and say, 'We have to retrench.' It was that time."
Budgeted at an estimated $60 million.
In the original fable at which this film was adapted from, Foxy Loxy was a male fox. Here, the fox was changed into a female.
If there is an all-time worst Disney animated feature in the modern era,
Chicken Little
would have to be it. This was the result of Michael Eisner's grand decree that all Disney feature films will be computer generated 3D. And the first film out the gates of Buena Vista Street was this...
Chicken Little came out in the middle of the tense negotiations between Disney and Pixar (which Eisner seemed bent on destroying, too.). Eisner needed a strong contender at the Box Office to remain a player in the negotiations. If the film failed, Pixar could write it's own ticket with Disney.
The final result was in the middle somewhere, but not decisive. The film was a modest success, but with a low budget, it made money. With no clear victor in the Pixar/Disney war, both sides folded. Disney bought Pixar outright, Eisner walked away, and let the Pixar management take over Disney.
The film does prove one thing, though. Its the story, not the medium in which the story is delivered.
Soundtrack:
"Stir It Up," Written by Danny Sembello and Alta Sherral Willis (Allee Willis), Performed by Patti LaBelle and Joss Stone, Produced by Mark Hammond, Recorded by Dave Dillbeck, Mixed by Serban Ghenea, Patti LaBelle Appears Courtesy of Def Soul Classics/Island Def Jam, Joss Stone Appears Courtesy of EMI Music North America;
"One Little Slip," Written by Ed Robertson and Steven Page, Performed by Barenaked Ladies, Produced by Jim Scott and Barenaked Ladies, Recorded by Jim Scott, Mixed by Tom Lord-Alge;
"Ain't No Mountain High Enough," Written by Nick Ashford and Valerie Simpson, Performed by Diana Ross, Courtesy of Motown Records, Under License from Universal Music Enterprises;
"Don't Go Breaking My Heart," Written by Elton John and Bernie Taupin;
"It's the End of the World as We Know It," Written by William Berry, Peter Buck, Michael Mills and Michael Stipe, Performed by R.E.M., Courtesy of IRS Records, Under License from EMI Film & Television Music;
"We are the Champions," Written by Frederick Mercury;
"All I Know," Written by Jimmy Webb, Produced by John Ondrasik, Performed by Five for Fighting, Recorded and Mixed by Frank Wolf, Five for Fighting Appears Courtesy of Aware/Columbia Records;
"Shake a Tail Feather," Written by Otha Hayes, Verlie Rice and Andre Williams, Performed by The Cheetah Girls, Produced by Robbie Buchanan, Recorded by Pieter Schlosser, Mixed by Nathaniel Kunkel, The Cheetah Girls Appear Courtesy of Walt Disney Records;
"Nants' Ingonyama," Music and Lyrics by Hans Zimmer and Lebo M.;
"Raiders of the Lost Ark Theme," Written and Performed by John T. Williams, Courtesy of Lucasfilm, Ltd.;
"Gonna Make You Sweat," Written by Robert Clivills and Frederick (Freedom) Williams, Performed by C & C Music Factory, Courtesy of Columbia Records, By Arrangement with Sony BMG Music Entertainment;
"I Will Survive," Written by Dino Fekaris and Frederick Perren;
"Stayin' Alive," Written by Barry Gibb, Maurice Gibb and Robin Gibb;
"Wannabe," Written by Victoria Beckham, Melanie Brown, Emma Bunton, Melanie Chisholm, Geraldine Halliwell, Matthew Rowbottom and Richard Stannard;
"It's Too Late," Written by Carole King and Toni Kalhrin Stern;
"Lollipop," Written by Julius Dixon and Beverly Ross.
See
The Big Cartoon Image Gallery
for images.
This was the 46th film in the
official Disney list of animated films
.
3D CG Animation.
Commentary:
Disney is under the impression that the road to future profits- and the future of the studio- is through CGI animation. The attitude at the Mouse seems quite clearly to be if it is computer-made, it will make money. To date, that has been mostly true.
Chicken Little
, the company's first full attempt at an in-house, computer animated feature does not say much for the future of Disney as an animation powerhouse.
In the world of CGI animation, this film is mediocre at best- surely better than some of the
Barbie
features my daughter loves so much, but no where near the standards set by ex-Disney partner
Pixar
. And having a few films already under the belts,
Dreamworks
and
Blue Sky
/
Fox
seem to have a better handle on how to make this sort of film. Disney is a late-comer to this genre, and it shows. Much like what happened when studios made the jump to sound films in 1928, Disney seemed to have lost much of what they learned about film making in the preceding era in their eagerness to jump into the next. With the advent of sound, cameras that had learned to roam and fly suddenly found themselves locked down and static. So it is with modern Disney animation; while they may have new, gee-whiz tools at their disposal, they have forgotten many of the lessons- and triumphs- that have gotten them to this point.
The animation of Chicken Little shares much with those original sound films- scenes are blocked out statically and stoically, sequences are held captive by the very technology that should be used to liberate them. There are no grand entrance to the ballroom shots as we saw in
Beauty and the Beast
or thematic tour de force sequences like the opening of
The Lion King
... just an endless succession of equally bland two-shots to tell this story. It makes me wonder just how boring the storyboards must have been- was the goal here just to get anything out, just so long as it could be stamped as "CGI"? This film makes no effort to go anywhere new, much less exciting.
The actual rendering of the film looks as if it missed a step- it seems Disney did not really learn all that much from it's association with Pixar after all. The first step of computer animation is to create- and animate- basic characters. So far, so good. Then, those objects have materials and textures applied to them- skin, clothes, hair, feathers, etc. Then those objects are lit and shaded- at least usually they are. Not so much in this film. Yes, there is some shading, but it seems that the Disney artists were so in love with their texturing, thay really stopped at about that point. I found the textures so overwhelming as to be distracting- I was looking at the comb on Chicken Little, or Runt's pants, or any other number of mundane things that should not have taken my attention away from the film itself.
But the biggest problem this film has it the story itself. To my mind (animation techniques aside), this has been Disney's problems with feature films for a while. With the wonderful exception of
Lilo and Stitch
(which, it should be noted was traditionally animated!), the last ten or so Disney feature animation outings have been dogs. Why? Story. Some were just plain formula, some bland, some high-aiming, but none were inspiring... or memorable. And this film has the worst story of all of them. Compare this with what we have seen from Pixar- who would have thought a story about a fish would be fun? But Pixar pulled it off with a great and entertaining story. The
Toy Story 2
script was even better than the original, by most accounts. Pixar scripts are each original, well written, exciting, funny and include great dialogue... all of the qualities the recent Disney films lack.
The Chicken Little story is not just bad, it is abysmally bad. The story takes about one hours worth of content and stretches it to fill the feature length; this film reads more like an hour-long episode of a TV show. Who is really going to believe the aliens come down to destroy the Earth, just because their child is missing? And then, after vaporizing half the town, they very nicely just un-vaporize it, just like that? Sorry, this may work when you need a quick resolution to a plot problem, but does not feel like anything but laziness by the writers. The whole story is one-dimensional, with none of the depth or richness of the classic Disney films. Ironic that the film is released in a three-dimensional IMAX version- perhaps that is all the dimension this film needed? It is certianly the most dimension or character this film shows.
The characters lack any nuance or evolution; because they are such standard, cookie-cutter characters, they are instantly recognizable as the stereotypes they were designed as. None of the characters step out of the mold they are cast into. Little seemes to closely resemble an avian
Jimmy Neutron
for half the film. And, for some reason, I keep expecting Runt to speak with a German accent. Fish was certainly fun, but here again, no depth or fleshing ut of what could have been a real character. The rest of the animals are little more than caricatures (in looks and behavior) of the species they represent.
Much like Dindal and Fullmer's other Disney film
The Emperor's New Groove
, this film tries incredibly hard to be hip. Just like it's predecessor, it falls flat trying. The first half of the film feels like a really bad teen film, with kids flipping out their phones when the teachers are out of the room, or playing on the differences between the "cool" kids and the dweebs. The reconciliation between Chicken Little and his Dad was nice, but not enough tension is created in the body of the film for it to really have any meaning. It is really too little, too late in a film with very little else to offer.
If I seem to be unusually harsh on this film, perhaps I am. However, I expect more from Disney, and this film comes up lacking in almost every way. This film is probably very good for the 8-10 year old crowd; my 4 year old loved it. But when you stand it up beside the Disney films of just ten years ago, you have to wonder where and why this company got off track. This would have been a fine direct to video release- but no more than that; as part of the Disney legacy, it just shows how far the master has fallen. As a look at the future of Disney as an animation studio, it is a strong indication they have abdicated their throne.
Submit Additional Information:
Do you have anything to add to this page? Have we made any mistakes... or do you ahve any additional information about Chicken Little? If so, we would love to hear from you. Please send us a quick note with your additions or corrections to this page, and we will make the corrections as soon as possible!
Report Errors / Submit Additional Information