Previous Cartoon | Next Cartoon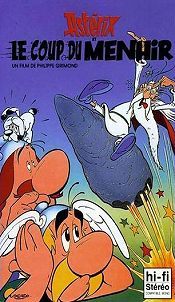 Asterix Et Le Coup Du Menhir
Asterix Et Le Coup Du Menhir
English Title: Asterix And The Big Fight
Asterix Et Le Coup Du Menhir (Asterix And The Big Fight) (1989) Feature Length Theatrical Animated Film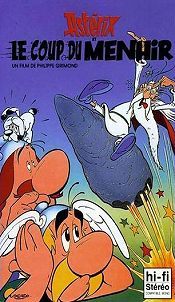 ---
Post your Comments or Review
This page has been viewed 55 times this month, and 914 times total.
Unknown Tag: 'short_stud_crew'
Unknown Tag: 'short_voice_crew'
Unknown Tag: 'short_dir_crew'
Unknown Tag: 'short_prod_crew'
Unknown Tag: 'short_write_crew'
Unknown Tag: 'short_edit_crew'
Unknown Tag: 'short_music_crew'
1989
Gaumont, Gaumont Production, Extrafilm Produktion, Dargaud Films
Gaumont, Jugendfilm-Verleih
Feature Length Theatrical Animated Film
Cartoon Characters: Astérix, Obélix, Le devin Prolix, Abraracourcix - Le chef du village, Bonemine, Panoramix, Le centurion, Optione, Assurancetourix, Bocus, Décurion, Ordralfabétix, Agecanonix, Blocus.
English Version: Vitalstatistix, Caous, Obelix, Cacofonix, Crysus, Impedimenta, Getafix, Prolix, Asterix, Ardeco.
German Version: Asterix, Obelix, Miraculix, Majestix, Lügfix, Zenturio, Optio, Dekurio, Handcus, Gutemine, Automatix, Troubadix, Verleihnix, Madame Methusalix, Methusalix, Madame Verleihnix, Gallier, Römer, Gallierinnen.
Vocal Talent: Roger Carel (Astérix), Pierre Tornade (Obélix), Julien Guiomar (Le devin Prolix), Henri Poirier (Abraracourcix - Le chef du village), Marie-Anne Chazel (Bonemine), Henri Labussière (Panoramix), Roger Lumont (Le centurion), Patrick Préjean (Optione), Edgar Givry (Assurancetourix), Jean-Claude Robbe (Bocus), Gérard Croce (Décurion), Jean-Jacques Cramier (Assurancetourix [Singing Voice]), Yves Barsacq (Ordralfabétix), Paul Bisciglia (Agecanonix), Jean-Claude Robbe (Blocus), Jean-François Aupied [Jean Francois Aupied], Christine Aurel, Adrianne Bonnet [Adrienne Bonnet], Martin Brisac, Pierre Carrère, Dominique Chauby, Bruno Choel, Alain Christie, Jean-Claude Degoros [Jean-Claude de Goros], Murielle Deville, Paule Emanuele.
English Version: Douglas Blackwell (Vitalstatistix), Brian Blessed (Caous), Bernard Bresslaw (Obelix), Tim Brooke-Taylor (Cacofonix), Michael Elphick (Crysus), Sheila Hancock (Impedimenta), Peter Hawkins (Getafix), Ron Moody (Prolix), Bill Oddie (Asterix), Andrew Sachs (Ardeco).
German Version: Jürgen von der Lippe (Asterix), Günter Strack (Obelix), Leo Bardischewski (Miraculix), Wolfgang Völz (Majestix), Christian Marschall (Lügfix), Hartmut Neugebauer (Zenturio), Karl Schulz (Optio), H.H. Müller (Dekurio), Klaus Jepsen (Handcus), Ingeborg Wellmann (Gutemine), Kurt Goldstein (Automatix), Christian Rode (Troubadix), Alexander Herzog (Verleihnix), Ute Brankatsch (Madame Methusalix), Helmut Heyne (Methusalix), Vera Kluth (Madame Verleihnix), Manfred Petersen (Gallier und Römer), Klaus Münster (Gallier und Römer), Andreas Hosang (Gallier und Römer), Raimund Krone (Gallier und Römer), Matthias Klages (Gallier und Römer), Santiago Ziesmer (Gallier und Römer), Henriette Gonnermann (Gallierinnen), Claudia Jakobshagen (Gallierinnen), Eva-Maria Werth (Gallierinnen), Claudia Arndt (Gallierinnen), Angelika Braak (Gallierinnen), Irene Bandmann (Gallierinnen).
Animated By Andy Bartlett, Eric Bergeron [Eric Bergeron (as Bibo Bergeron], Eric Bouillette, Roberto Casale, Anne Chevalier, Roberto Curilli, Daniel DeCelles, Chris Doyle, Serge Elissalde, Marc Eoche-Duval, Pierre Fassel, Manuel Galiana, Bruno Gaumétou, Paul van Geyt, Oszkár Hernádi, Ángel Izquierdo, Mark Koetsier, Brice Mallier, Matias Marcos, Zoltan Maros, Patrick Mate, Roy Meurin, Vivian Miessen, Pedro Mohedano, Wendy Perdue, Gábor Pichler, Børge Ring, Pascal Ropars, Bernard Roso, Stéphane Sainte-Foi, Jan Sanctorum, Thierry Schiel, Kristof Serrand, Rob Stevenhagen [Robert Stevenhagen], Jan Van Buyten, Catherine Vandamme [Cath Van Damme], Jean-Pierre Vandenbroucke, Walter van Gasse.
Animation Director: Keith Ingham.
Assistant Animation Director: Karel Zilliacus.
Supervising Animator: Dave Brewster [Darlie Brewster].
Assistant Animators: Louis Amor [Luis Amor], Alexandre Bartha, Claire Bourdin, Valérie Braun [Valerie Braun], Carmelo Buitrago, Michel Carbonneau, Luc Chamberland, Mireille Deplae, Manuel Doctor, Roxanne Ducharme, Jean Duval, Annie Faudemer, Manuel Javier Garcia Pozo [Manuel J. García], Sophie Gauthier, Tiziano Giulianini, Victoria Goldner, Lucia Gomez, Didier Gourdin, Gizella Maros [Gizella Gregán], Lesley Heddrick [Lesley Headrick], Francisco Alaminos Hódar, Daniel Jeannette, Karen Kewell, Didier Le Bornec, Walter Lehman, Isabelle Lelubre, Lieve Miessen, Eckhardt Milz, Maria Nemeth, Catherine Odet, Odile Pérrin, Catherine Poulain, Philippe Rejaudry, Sophie Rivière, Jonathan Royce, Mireille Sarault, Natasha Sasic, Chris van Alphen [Kris van Alphen], Walter van Gasse, Danny Van Roy, Colette Verjus, Christophe Villez, Gilbert Weppe.
Animation Checkers: Marc Bertin, Christian Bordes.
Animation Posing Artists: Marianne Brooks [Marian Brooks], Anne Chevalier.
Inbetween Artists: Vera Albrecht, Philippe Balmossière, Jean-François Baud, Bruno Bilski, Rafael Diaz Canales, Laurent Cardon, Jean-Paul Chapelle [Jean-Pol Chapelle], Denis Couchon, Patrick Delage, Gwenn Delalande-Roche [Gwen Delalande-Roche], Eric Delbecq, Bob Demuynck, Michel Druart, Sandrine Goalec, Laurent Grizel [Laurent Grisel], Rodolphe Guenoden, Miguel Angel Alaminos Hodar [Miguel Alaminos Hódar], Gérard Kiszel, Catherine Legendre, Javier Pozo Luchena, Ugo Maccari, Daniel MacHale, Alessandro Marcomini, Damien Millereau, Sylvie Pénège, Marcella Pisacane, Patrick Roelens, Julio Santos Rosado Claude Sauvion Babai [Claude Sauvion], Arnaud Sourgnes, Bernard Vandenbucke, Yolanda Velasco, Geert Vergauwen, Augusto Zanovello.
Assistant Painting Director: Soazic Rubenstein.
Painting Supervisor: Mary Aitken.
Assistant Painting Supervisors: Daniel Bertrand, Heidi Packalen, Frédérique Regnier, Raymonde Roso.
Painters: Monique Aguillee, Aby Akeloba, María José Álvarez, Joël Bariller, Claire Benson, Rachel Bing, Myriam Blaustein, Jean-Philippe Boin, Geneviève Bouchacourt, Abdelkalim Bouri, Brigitte Boursereau, Madeleine Beauchesne [Madeleine Camolli-Beauchesne], Véronique Cantero, Belen Cerqueira [Belem Cerqueira], Rémi Champseit, Isabelle Clevenot, Bruno Couette, Nicolas Couvin, Jocelyne Darbonnens, Pierre Delestrade, Philippe Dentz, Laurence Desmartins, Nathalie Devriese, Susana Díez, Frédérique Doyère, Béatrice Duroure, Martine Guigonnat, Gérard Haller, Bénédicte Harvut, Patricia Heurtin, Philippe Hillion, Françoise Langot, Véronique Leborgne, Josette Leger, Pascal Lelubre, Marie-Pierre Lepeintre, Joëlle Le Rai, Eliane Le Sidanner, Fernand Longatte, Marianne Mainenti, Abdul Majeed, Jean-Noël Malinge, Françoise Marsan, Jean-Pierre Mijouin, Tuula Milz, Claude Morin, Éric Mortain, Martine Paumelle, Gabriella Pichler, Stéphane Poumeyrol, Jacqueline Rapoport, Shirin Rezaeiyan, Agathe Roso, Marianne Rousseau, Etienne Sag, Isabelle Seara, Delphine Sekulak, Dominique Sole, Delphine Stein, Agnès Thouvenin, Carole Volaire, Edith Wilsdorf, Duan Duan Wu, Maria Alessandra Zanetti.
Tracing Supervisor: Marie-Agnes Bey.
Tracers: Aurora Barata, Onna Caouissin, Jacqueline Chalmeau, Claudie François, Jacqueline Furno, Jacqueline Gelot, Françoise Gillot, Elisabeth Guyot, Chantal Ledret, Michelle Le Rai, Brigitte Loeb, Frank Miyet, Frédérique Regnier, Françoise Richard, Coraline Yordamlis-Bourgeois.
Tracing Assistants: Laurent Aichhorn, Philippe Capurro, Olivier Cheres, Catherine Gemier, John Lin, Stéphane Montinho, Guy Muyard, Pascale Paoli, Pierre Ralli.
Final Checking Supervisor: Laurence Bonnin.
Final Checkers: Josianne Coran [Josiane Coran], Krikor Hamel.
Reprographics: Denis Brenot, Remy Brenot, Frédéric Burnier, Patrick Chatellet, Abdelali Safraoui.
Layout Directors: Daniel Moignot, Ben Van Voorn.
Layout Artists: Sue Butterworth, Christophe Huthwohl [Christoph Huthwohl], Alexis Lavillat, Zoltan Maros, Annie Petillon.
Background Director: Michel Guérin.
Background Artists: Anne-Cécile de Rumine, Thierry Fournier, Michael Gabriel, Miguel Angel Gil [Miguel Gil], Michel Pisson.
Color Modeler: Marie-Claude Guillot.
Color Model Assistant: Laurence Villevielle.
Model Sheets: Kristof Serrand.
Written By Yannik Voight, Adolph Kabatek.
Based on "Le Devin" and "Le Combat des Chefs" from the series "Les Aventures d'Astérix le Gaulois" by: René Goscinny, Albert Uderzo.
Adaptation (English Version): George Roubicek.
Edited By Jean Goudier.
Production Manager (Paris): Laurence Pourtalé.
Production Supervisor (Paris): Nicolas Pesquès.
Production Manager (Berlin): Christine Wagner.
Production Supervisor (Berlin): Rolf Giesen.
Storyboard Artists: Philippe Grimond, Keith Ingham, François Hemmen, Tapani Knuutila, Antonio Zurera, Sue Butterworth.
Storyboard Coordinator: Christine Wagner.
Storyboard Consultant: Adolf Kabatek.
Sound Mixers: Bernard Leroux, Claude Villand.
Sound Mixing: Auditoriums de Joinville.
Sound Mixing (German Version): ARRI München.
Montage and Sound Effects: Jean Goudier.
Sound Effects: Jean-Pierre Lelong.
Sound Effects Assistant: Mario Melchiorri.
Voice Recordist: Andre Herve [André Hervée].
Sound Re-Recording (English Version): Worldwide Sound, London.
Re-Recording Engineer (English Version): Richard King.
Boom Operator: Michel Ben Said (Michel Bensaid).
Sound Coordinator (German Version): Peter Freund.
Sound Consultant (Dolby-SR): Daniel Gollety.
Special Effects: Gisèle Bonnin.
Visual Effects Supervisor: Frank Schlegel.
Visual Effects: Futureffects.
Chief Camera Operator: Craig Simpson.
Camera Operators: François Darrasse, Bernard Forestier, Roberto Martinez.
Photographer (Paris): Serge Masi.
Photographer (Berlin): Dirk Lehnartz.
Production Administrator (Paris): Françoise Leroy.
Production Administrator (Berlin): Joachim Müller.
Production Assistant (Paris): Jimmy Capron.
Production Assistant (Berlin): Jan-Peter Hintz.
Production Secretaries (Paris): Rabia Drissi, Birgit Lion-Schmutzenhofer [Birgit Lion].
Production Secretary (Berlin): Christine Kistner.
Dialogue Directors (German Version): Sigi Kraemer, Lutz Riedel.
Dialogue Director (English Version): George Roubicek.
Titles: Eurocitel.
Titles (German Version): Studio Bartoschek.
Title Designer (German Version): Renato Casaro.
Voice Director: Gilbert Crozet.
Press Relations (Berlin): Rolf Giesen, Patricia Glück.
Participators: David Ferré, Dariusz Gogol [Darek Gogol], Nick Roberts, Christian Schmidt.
Tracing Director: Marie-Agnès Bey.
Color Director: Mary Ajtken.
Musical Mixing: Mick Guzauski.
Special Thanks: Peter Brewster, Hungarofilm.
Dubbing (German Version): Berliner Synchron, Team Synchron.
Funding (German Version): Filmförderungsanstalt (FFA).
Laboratory: GTC Joinville.
Magnetic Tape: Pyral.
Painting: Studio Mireille Vicat.
Submit Additional Information:
Do you have anything to add to this page? Have we made any mistakes... or do you have any additional information about Asterix Et Le Coup Du Menhir? If so, we would love to hear from you. Please send us a quick note with your additions or corrections to this page, and we will make the corrections as soon as possible!
Report Errors / Submit Additional Information
Cartoon Summary:
While taking on the defence of a Druid attacked by the Romans, Obélix sics a "menhir" (standing stone or megalith, erected as a monument) on his attackers. Unfortunately, it's the Druid who's the unintended target. He loses his reason, his memory, and the formula... (more)