Previous Cartoon | Next Cartoon
Over The Hedge
Over The Hedge
Over The Hedge (2006) Feature Length Theatrical Animated Film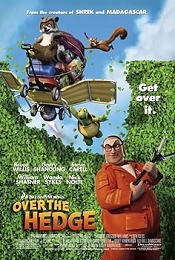 ---
Post your Comments or Review
This page has been viewed 9 times this month, and 3497 times total.
Unknown Tag: 'short_stud_crew'
Unknown Tag: 'short_voice_crew'
Unknown Tag: 'short_dir_crew'
Unknown Tag: 'short_prod_crew'
Unknown Tag: 'short_write_crew'
Unknown Tag: 'short_edit_crew'
Unknown Tag: 'short_music_crew'
2006
DreamWorks Animation, DreamWorks SKG, PDI
DreamWorks Animation, DreamWorks SKG, Pacific Data Images (PDI) [uncredited]
Feature Length Theatrical Animated Film
Cartoon Characters: RJ, Verne, Hammy, Stella, Ozzie, Vincent, Dwayne, Gladys, Lou, Penny, Heather, Tiger, Bucky, Spike, Quillo, Mackenzie, Shelby, Debbie, Police Officer, Janis, Timmy, Skeeter, BBQ Barry, Ranger, Dr. Dennis, Lunch Table Larry, Nugent the Dog, Navistar GPS System.
Vocal Talent: Bruce Willis (RJ), Garry Shandling (Verne), Steve Carell (Hammy), Wanda Sykes (Stella), William Shatner (Ozzie), Nick Nolte (Vincent), Thomas Haden Church (Dwayne), Allison Janney (Gladys), Eugene Levy (Lou), Catherine O'Hara (Penny), Avril Lavigne (Heather), Omid Djalili (Tiger), Sami Kirkpatrick (Bucky), Shane Baumel (Spike), Madison Davenport (Quillo), Zoe Randol (Mackenzie), Jessica Di Cicco (Shelby), Debra Wilson (Debbie), Sean Bishop (Police Officer), Jeannie Elias (Janis), Kejon Kesse .(Timmy), Paul Butcher (Skeeter), Sean Yazbeck (BBQ Barry), Geoffrey Pomeroy (Ranger), Joel McCrary (Dr. Dennis), Lee Bienstock (Lunch Table Larry), Brian Stepanek (Nugent the Dog), April Struebing (Navistar GPS System), Steve Alterman, Erin Lander, Kirk Baily, Jordan Orr [Jordan Del Spina], Jessie Flower, Michelle Ruff, Nicholas Guest, Greyson Spann, David Hiller, Bridget Hoffman, Marcelo Tubert, Sandy Holt, Ariel Winter, Talula Holt.
Produced By Bonnie Arnold, Christian Kubsch.
Associate Producer: Ellen Coss.
Executive Producer: Bill Damaschke.
Co-Executive Producer: Jim Cox.
Animated By Chris Bancroft, Jeremy Bernstein, Arnaud Berthier, Chris Capel, Christopher Lee Capel, Alessandro Carloni, Scott Claus, Melanie Cordan (uncredited), Steve Cunningham, Cassidy Curtis (uncredited), Donnachada Daly, Eric Daniels, Eric Deuel, Bill Diaz, Roberto Espanto Domingo, Thomas Estrada, Raffaella Filipponi, Emilio Ghorayeb (uncredited), Antony Gray, Willy Harber, Jim Hull [James Hull], Jeffrey Joe, Morgan R. Kelly, Aaron Kirby, Chris Kirshbaum, Heather Knight, Kevin Koch, Marek Kochout, Serguei Kouchnerov, Kevin MacLean, Sean McLaughlin, Claire Morrissey, Luci Napier, Fredrik Nilsson, Ben Rush, Jason Schleifer, Sean Sexton, Theodore Ty, Jim Van der Keyl, Chris Wahl, Scott Wright, Kathy Zielinski.
Supervising Animators: Dave Burgess, Paul Chung, Jason Reisig, William Salazar, Kristof Serrand.
Additional Animator: Mariko Hoshi (uncredited).
Animation Staff: Marci Mack.
Animation Rig Engineer: Pia Miniati.
Animation Research and Development: Anna Newman.
Layout Artists: James Bird, Rachel Lagdao, Gary H. Lee, Mark Mulgrew, Keith Reicher, Robert Skiena, David Patrick Valera, Rhiannon Leffanta Wilhelmi.
Rough Layout Artist: David Morehead.
Story Artists: Alessandro Carloni, David Soren.
Additional Story Artist: Todd Kurosawa.
Character Designers: Jakob Hjort Jensen, H.B. "Buck" Lewis, Nicolas Marlet.
Additional Character Designer: Simon Otto.
Production Coordinator (Animation/Effects): Angel G. Salinas.
Written By Len Blum, Lorne Cameron, David Hoselton, Karey Kirkpatrick.
Characters: Michael Fry, T. Lewis.
Additional Dialogue: Chris Poche.
Edited By John K. Carr.
Editorial Supervisor: Shannon Smith.
Editorial and Post-Production Supervisor: James Beshears.
Associate Editors: Mary Blee, Susan Fitzer, Mark A. Hester.
First Assistant Editor: Maurissa Horwitz.
Assistant Editor: Alex McDonnell.
Editorial Assistant: Ryan Case.
Editor (High Definition): Paul Neal.
Editorial Technical Director: Ryan Schnizlein.
Digital Intermediate Producer: Zahida Bacchus.
Post-Production Coordinator: Wayne Hellinger.
Color Timer: Terry Claborn.
Digital Film Colorist: Timothy Peeler.
Negative Cutter: Mo Henry.
Casting: Leslee Feldman.
Casting Assistant: Celeste Leger.
Production Design: Kathy Altieri.
Costume Design: Jane Poole.
Production Manager: Bruce Seifert.
Additional Production Manager: Christian Kubsch.
Senior Production Supervisors: Barbara Cimity, Kate Spencer.
Production Supervisors: Patrice Avery, Alison Fedrick Donahue, Marny Nahrwold, Matt Pomeroy, Craig Rittenbaum, Bethany Wilksen.
Production Supervisor (Script/Recording): Kathy Cavaiola-Hill.
Post-Production Supervisor: Lori Korngiebel.
Post-Production : Pryor Cashman Sherman & Flynn.
Post-Production Facilities: Skywalker Sound.
Sculptor: Damon Bard.
Visual Development Artists: Max Boas, Paul Duncan.
Storyboard Artists: Alessandro Carloni, Will Finn, Steven E. Gordon, Gary Graham, Rodolphe Guenoden, Mark Koetsier, Bill Riling.
Additional Storyboard Artist: Steve Hickner.
Props: Melchior Zwyer.
Supervising Sound Editors: Richard L. Anderson, Thomas Jones.
First Assistant Sound Editor: Josephine Nericcio.
Assistant Sound Editors: Mark Coffey, Andy Sisul.
Sound Designer: Mark Binder.
Original Dialogue Recordist: Larry Winer.
Sound Recordist: Ronald G. Roumas.
Sound Mix Technicians: Juan Peralta, Brandon Proctor.
Additional Sound Mixer: Tony Sereno.
Additional Mixing Engineer: Jeremy Underwood.
Original Dialogue Mixers: Michael Miller, Carlos Sotolongo.
Sound Re-Recordist: Brian Magerkurth (uncredited).
Supervising Sound Re-Recording Mixer: Randy Thom.
Sound Re-Recording Mixer: Gary A. Rizzo [Gary Rizzo].
Sound Editing Services: Technicolor Sound Services.
Sound Effects Editors: Michael Chock [Mike Chock], Steven Lee [Steve Lee], David A. Whittaker.
Sound Effects Recordist: Ken J. Johnson.
Supervising Foley Editor: Reuben Simon.
Foley Editors: Bob Newlan, Rodrigo Ortiz-Parraga, Reuben Simon.
Foley Artists: John Cucci [John T. Cucci], Dan O'Connell.
Foley Mixers: James Ashwill, Richard Duarte.
Foley Recording: One Step Up.
ADR Engineer: Derek Casari.
Assistant ADR Engineer: Danny Reisch.
ADR Recordists: Courtney Bishop, Rick Canelli.
ADR Recording: POP Sound, Warner Bros.
ADR Mixers: Michael Miller, Thomas J. O'Connell, Troy Porter.
Production Coordinator (Modeling and Surfacing): Michael Zavala.
Model Supervisor: Marty Havran.
Model Maker: Heather M. Shepherd.
Character Modeler: Ardie Johnson.
Modelers: Nadja Bonacina, Jaewon Lee, Steve McGrath, John P. Rand, Charlie Ramos, Jeff Wagner, Tony K. Williams.
Animation Technical Director (Dreamworks): Dan A. Walker.
Visual Effects Animator: Stephen Wood.
Effects Animators: Motohisa Adachi, Shinsaku Arima, Julie Anne Mayfield [Julie Anne Brame], Paul F. Bruchhaeuser, Greg Hart, James Jackson, Tim Keenan (uncredited), Andrew Young Kim, Krzysztof Rostek, Taylor Shaw, Zhang Xiao.
Effects Animators (PDI): Laurent Kermel, Alex Ongaro.
Senior Character Animator: Carlos M. Rosas.
Character Animators: Patrick Bonneau, Chung Chan, Melanie Cordan, Nick Craven, Lou Dellarosa, Emilio Ghorayeb, Heather Knight, David Spivack.
Character Animator (PDI/Dreamworks): Kevan Shorey.
Lead Effects Animator: Li-Ming "Lawrence" Lee.
Character Effects Animator Lead: Jeffrey Martin.
Character Effects Animators: Damon Crowe, Fabian Elmers, Ken Faiman, Ashraf Ghoniem, John Truong, Michael Leon Ware.
Additional Effects Animator: Chris Monks.
Completion Artists: Deepa Agarwal, Eli Rod, Hayyim Sanchez.
Lighters and Compositors: Bernard O. Ceguerra, Benjamin Fischler.
Lighter and Compositor (Commercials, DreamWorks Animation LLC): Soo Kyung Kim.
Compositor: Gianni Aliotti.
Lead Lighters: Kate Choi, Amy Christensen, Jongo, Greg Lev, Benjamin Lishka, Robert Lurye, Sean Schur, Marc Scott.
Lead Lighters (DreamWorks Animation): Geoff Harvey [Geoffrey Harvey].
Digital Lighter: Ethan Ormsby.
Lighters: Gianni Aliotti, Carol Ashley, Edward "Ted" Helmers [Edward Helmers], Lauren Hinnen [Rory Hinnen], Cindy Hong, David Jordan, Dan Levy, Eric Roth, Chris Simmons, Curt Stewart, Gabriel White, Melva Young.
Lighters (DreamWorks Animation): Jeff Kasunic, Michael Manza.
Lighting Technical Directors: Cathy E. Blanco, Tarek Elaydi, Michael P. Hamler, Joanna Wu.
Lighting Technician: Matthieu Grospiron.
Production Coordinator (Lighting and Effects): David Juan Bianchi.
Lighting Production Coordinator: Bruce Franklin.
Lighting and Compositing: Aaron Estrada, Igor Lodeiro.
Lighting and Compositing Artist (Dreamworks Animation): Shaun Collaco.
Senior Lighting Artist: Frank Sabia Jr.
Lighting Artists: Lei Han, Amy Rae Jones, Christopher Lexington, Ozgur Ustundag.
Additional Lighting: Don Taylor.
Lead Character Technical Directors: Scott Ballard, Nico Scapel.
Character Technical Director Supervisor: Jeffrey B. Light.
Character Technical Directors: Terran Boylan, Peter Farson, Alec Fredericks, T.J. Galda, Sandy Kao, Frank Mueller, Hongseo Park, Aaron Pfau, Sven Pohle, York N. Schueller, Brent Watkins, Marc Wilhite.
Character Rigging: Yakov Baytler, Aaron Estrada (uncredited).
Head of Character Effects: Andy Lomas.
Character Effects Coordinator: April Struebing.
Character Effects Artist: Sean Fennell.
Character Effects: Philip K. Livingston Jr.
Production Coordinators: Jeff Chasin, Brent Hutchins (uncredited), Christopher Leahy, Stephanie C. Lee, Michael Lynn.
Production Coordinator (PDI): Wendy Berry.
Senior Software Manager: Andrew Pearce.
Senior Software Engineer: Stewart Birnam.
Rendering Software Engineer: Ben H. Kwa.
Software Engineer: Hernan Silberman.
Matte Painting Supervisor (DreamWorks Animation): Ronn Brown.
Matte Painting Coordinator: Pat Sito.
Matte Painting Technical Directors: Daniel J. Brick, John Fuetsch, Salvatore Richichi Jr.
Additional Matte Painting Technical Director: Justin Onstine.
Senior Matte Painter: Caroleen Green.
Matte Painters: Max Boas, Eric Bouffard, Justin Brandstater, Scott Brisbane, Vanessa Cheung, Tony Halawa, Patrick Jensen, Ruben Perez.
Additional Matte Paintings: Michael Collery.
Matte Artist: Eric Bouffard.
Digital Paint Artist: Liz Borges-Herzog.
Senior Texture Painter: Claudia Candia.
Roto/Paint Artist: Amber Stewart Lunderville.
Digital Artists: Paolo deGuzman, Koji Morihiro, Mary Payne, Karla Ventocilla, Lori Williams.
Visual Effects Compositing Engineer: Andrew Bonello.
Senior Research and Development Engineer: Silviu Borac.
Supervising Technical Director: Gregory Brentin.
Technical Directors: Jonathan R. Cummings, Stephen Heidelberg, Samantha Michel, Marty Sixkiller, Allen Stetson, Jessi Stumpfel, Mark R. Wilkins, Greg Wuller (uncredited).
CGI Technical Director: Kolja Erman.
Layout Technical Director: Lok Ming Hwa.
Effects Technical Director: Victor Lew.
Surfacing Technical Director (DreamWorks): Jeff Kasunic.
Surfacing Artists: Bernard O. Ceguerra, Sandy Dong, Andy Harbeck, Robbin Huntingdale, Sully Jacome-Wilkes, Young Song, David Valdez.
Surfacing: Nathalie Buce, Travis Price.
Head of Effects: Mahesh Ramasubramanian.
Visual Effects Lead: Rick Glumac.
Visual Effects Supervisor: Craig Ring.
Visual Effects: David Caeiro Cebrián, William Opdyke, Paul Rademacher, Karen Smith, Kevin Vassey.
Lead Effects Developer: Olcun Tan.
Effects Leads: Christian A. Hatfield [Christian Hatfield], Scott Singer.
Cloth Effects: Kavita Khosla.
Digital Effects Artists: Gokhan Kisacikoglu, Andrew Lyons, Markus Manninen.
Visual Effects: Michael H. Lee.
Effects Artist: Jason Mayer.
Head of Global Pipeline: Mike Chang [Michael A. Chang].
Pipeline Engineer: Barry Kane.
CG Supervisors: Mark Fattibene, Bert Poole, Milton E. Rodriguez-Rios, Dave Walvoord.
Rough Layout Artists/Animatic: Yong Duk Jhun, Conor Kavanagh.
Final Layout Supervisor: Gary Allan Parks.
Recruiter: Dana Vanhove.
Production Engineering Supervisors: Rob Blau, Jim Meyer.
Production Engineers: Holly Allen, Kwesi Davis, Michael J. Henderson, Mark Jackels, Laura Wood.
Editorial Systems Engineers: Christopher Edgar, Paul Parmer.
Systems Engineers: Greg Bulman, Mike Cutler, John Detke, Jeff Lee, Rich Marco, John O'Sullivan, Daniel Rich, Tim Toll.
Effects Engineers: David Eberle, Jim Leuper, Saty Raghavachary.
Engineer: Patrick Danford.
Head of Research and Development: Jim Mainard.
Director of Research and Development: Sanjay Das.
Research and Development Supervisor: Corrin Milewski.
Research and Development: Steve Baker, Will Bilton, Chloe Chao, Reid Gershbein, Eric Griswold, Ronald D. Henderson, Drew Olbrich, Nicholas Long, Joshua F. Richards, Donald Schmidt, Jason Williams, Daniel Yu.
Research and Development Assistants: Miranda Jackson, Megan McDonald.
Development: Tommy Bacorn.
Technology Coordinator: Romney T. Marino.
Technology Supporter: Richard M. Barnes.
Title Designer: Ariandy Chandra.
Production Executives: Kristen D. Chidel, Kristina Reed.
Layout Production Assistants: Matthew Schmidt, Neel Upadhye.
Production Assistants: Karla Drew, Kelley P. Gardner, Eddie Guerra, Brendan O'Connor.
Production Assistant Intern: Karen L. Whitaker (uncredited).
Production Office Coordinator: Larry Weisberg.
Production Communication: Charley Walters.
Publicity Consultant: Ava DuVernay.
Training and Technical Development: Anthony Esposito III, Jason Scott, Michael Sehgal.
Digital Trainer: Juniko Moody (uncredited).
Manager of Technical Resources: Mark M. Tokunaga.
Technical Resource Supervisor: Juli Gumbiner.
Technical Resource Administrators: Daniel Evans, Paul Franz, Pamela Hu, Steven Sorensen, Adam Teninbaum.
Systems Administrators: Bart Feliciano, Scott Kilty, Derek Mann, John O'Sullivan, Stephen E. Ross.
Script Coordinator: Amanda Deering Jones.
Script Researcher: Ray Felipe.
Film and Color Supervisor: Kyle D. Pascucci [Kyle Pascucci].
Lead Film and Color Technician: John Hanashiro.
Film and Color Technician: Baron C. Northrop [Baron Northrop].
Executive Assistant (Hans Zimmer): Andrew Zack.
Assistant (Bonnie Arnold): Jennifer L. Hoskin.
Assistant (Wanda Sykes): Tiffany Moss.
Resource Administrator: Daniel Kirksey.
Story Assistant: Andrea Montana Knoll.
Creative Executive: Michael Lachance (uncredited).
Software Quality Assurance: Peter C. Miller.
Office Manager (Technology): Harbor Peoples.
Researcher: Caprice Ann Ridgeway.
Photo Model: Jack Donovan Saperstein.
Special Thanks: Lorne Balfe, Stephen J. Eads, Stuart Sumida.
Thanks: Fern Lee.
Rendering Services: Hewlett Packard.
Workstations and Servers: Hewlett Packard.
Avid Editing Equipment Provided By: Pivotal Post.
Prints: Technicolor.
Submit Additional Information:
Do you have anything to add to this page? Have we made any mistakes... or do you ahve any additional information about Over The Hedge? If so, we would love to hear from you. Please send us a quick note with your additions or corrections to this page, and we will make the corrections as soon as possible!
Report Errors / Submit Additional Information
Cartoon Summary:
A smart-aleck raccoon wakes up from a long slumber near a retiring turtle. They realize that suburbia has taken over their home while they were sleeping, and that their country home is now in the middle of man's city. Rather than being upset by this, R.J. thinks... (more)