Previous Cartoon | Next Cartoon
An American Tail: Fievel Goes West
An American Tail: Fievel Goes West
An American Tail: Fievel Goes West (1991) Feature Length Theatrical Animated Film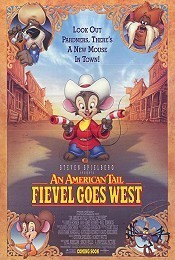 ---
Post your Comments or Review
This page has been viewed 26 times this month, and 4538 times total.
Unknown Tag: 'short_stud_crew'
Unknown Tag: 'short_voice_crew'
Unknown Tag: 'short_dir_crew'
Unknown Tag: 'short_prod_crew'
Unknown Tag: 'short_write_crew'
Unknown Tag: 'short_edit_crew'
Unknown Tag: 'short_music_crew'
1991
Amblin Entertainment, Universal Pictures, Amblimation
Universal Pictures
Feature Length Theatrical Animated Film
Cartoon Characters: Fievel Mousekewitz, Wylie Burp, Mama Mousekewitz, Tanya Mousekewitz, Papa Mousekewitz, Tiger, Miss Kitty, Cat R. Waul, Chula, French Cat, NY and Country Mice, One-Eye Cat.
Vocal Talent: Phillip Glasser (Fievel Mousekewitz), James Stewart (Wylie Burp), Erica Yohn (Mama Mousekewitz), Cathy Cavadini (Tanya Mousekewitz), Nehemiah Persoff (Papa Mousekewitz), Dom DeLuise (Tiger), Amy Irving (Miss Kitty), John Cleese (Cat R. Waul), Jon Lovitz (Chula), Jack Angel (French Cat), Mickie McGowan (as Mickie Mc Gowan) (NY and Country Mice), Patrick Pinney (One-Eye Cat), Fausto Bara, Larry Moss, Vanna Bonta, Nigel Pegram, Philip L. Clarke (as Philip Clarke), Jennifer Darling, Lisa Raggio, Annie Holliday, Lawrence Steffan, Sherry Lynn, David Tate, Lev Mailer, Robert Watts.
Produced By Steven Spielberg, Robert Watts.
Associate Producer: Steve Hickner (as Stephen Hickner).
Executive Producers: Kathleen Kennedy, David Kirschner, Frank Marshall.
Animated By Bibo Bergeron (as Bibo E. Bergeron), Eric Bouillette, David Bowers, Luc Chamberland, Denis Couchon, Nadja Cozic, Ceu D'Elia, Shane Doyle, Raul Garcia, Rodolphe Guenoden, Daniel Jeannette, Piet Kroon, Paul MacDonald, Alain Maindron, Greg Manwaring, Patrick Mate, John McCartney, Roy Meurin, Phil Morris, Mark Povey, Jürgen Richter, Thierry Schiel, Glen Sylvester, Jan Van Buyten, Andreas von Andrian, Ute von Münchow-Pohl, Peter Western (as Pete Western).
Supervising Animators: Nancy Beiman, Kristof Serrand, Robert Stevenhagen (as Rob Stevenhagen).
Assistant Animators: Claudia Aaron,Phil Anderson (as Philip Anderson), Isabelle Beaudoin, Arnaud Berthier, David Berthier, Kevin Brownie, Sylviane Burnet (as Sylvianne Burnet), Roland Chat, Malcolm Clarke, Shari Cohen, Tony Cope, Roxanne Ducharme (uncredited), Mike Eames (as Michael Eames), Connor Flynn, Stephan Franck (as Stephane Franck), Jody Gannon, Maximilian Graenitz (as Max Graenitz), Stephen Grant, John Hill (uncredited), Clark Irving, Jean Kalile, Gerard Kenny (as Gerrard Kenny), Cathy Kiss, Sophie Law, John Lin, Janet McKay (as Janet MacKay), Brenda McKie-Chat, Luba Medekova-Klein, Ignacio Meneu, Eckhardt Milz, Andrew Moss, Fernando Pastor, Stephen Perry (as Steve Perry), Birgitta Pollanen, Silvia Pompei, John A. Power (as John Powers), Rick Richards, Sheryl Sardina Sackett (as Sheryl Sardina), William Salazar, Steffen Schäffler, Andy Schmidt (as Andrew Schmidt), Erik Chr. Schmidt (as Erik Christian Schmidt) Kieron Seamons, Emil Sergiev, Emil Simeonov, Andrea Simonti, Bruce Simpson, Vladimir Todorov, Franck Vibert.
Additional Animators: Georges Abolin, Rudi Bloss (as Wolf-Ruediger Bloss), Mark Bröcking (as Mark Wolfgang Broecking), Miguel A. Fuertes (as Miguel Fuertes), Fabio Lignini, Joe McCaffrey, Quentin Miles, Jean Pilotte, Olivier Pont, Angelos Rouvas.
Breakdown Animator: Richard Smitheman.
Animation Checkers: David Allonby, Lucie Bélanger, Corine Marcel, Tuula Milz, Steve Pegram, Joan Topley.
Animation Research and Development: David Morehead.
Animation Executive: Thad Weinlein
Layout Supervisor: Mark Marren.
Layout Artists: Marco Cinello, Dave Dunnet (uncredited), Brendan Houghton, Tom Humber, Giorgio Mardegan, Armen Melkonian, Antonio Navarro, Panagiotis Rappas.
Background Supervisor: Shelley Page.
Background Artists: Daniel Cacouault, Sean Eckett, Darek Gogol, Walter Kössler (as Walter Koessler), Mike Rose, Rachael Stedman (as Rachel Stedman), Colin Stimpson, Gary Sycamore, Ennio Torresan (as Ennio Torresan Jr.), David Womersley.
Inbetween Artists: Cécile Bender, Shaun Blake, Jamie Kezlarian Bolio (as James Bolio), Bram Calcoen, Stephen Cavalier, Juan Cecilia, David Clarvis, Denise Dean, Heather Doyle, Gavin Emerson, Stuart Evans, Susan Goldberg, Darren Goodacre, Antony Gray, Nina Haley, Paul Hallewell, Debbie Hamed, Nick Harrop (as Nicholas Harrop), Mark Hessler, Janette Hynes, Lawrence Keogh, Sarah Keogh, Veronique Langdon, Alex Lawrence, Roger Lougher, Michaela Müller, David Navarro, Andy Paraskos, Dawn Pearce, Jane Poole, Maria Jesus Rubio, Kay Sales, Christopher Shaw, Jason Shipley, Mark Smith, Robert Smith, Kevin Spruce, John Sweeney, Simon Swift, Lee Taylor, Mathew Taylor (as Matthew Taylor), Marco Trandafilov, Dave Webster (as David Webster), Tim White.
Painters: Brendan Amphlett, Julia Bracegirdle, Helen Buckingham, Graham Chenery, Denise Coates, Jane Dillon, Declan English, Alison Haines, Jason F.E. Hewitt (as Jason Hewitt), Sally Hobson, Ben Horner, Sandra Kemp, Derek L'Estrange (as Derek Lestrange), Shaun McGlinchey, Tanya Morton, Tim Nuttal, Michael O'Neil, Sandra O'Neil, Carmen Parrinello, Susan Patton (as Susan Lamson), Glenn Stevens, Daniel Thomas, Lee Townsend.
Paint Mixer: Karin Adams.
Mark-Up: Nondus Banning-Boddy, Caroline Baxter, Victoria Morrison-Glenys.
Tracers: Patrick Beirne, Belem Cerqueira (as Bethlem Cerqueira), Julie Gleeson, Peter Hynes, Vanessa J. Martin (as Vanessa Martin), Leanne Rich, Marcus Rich.
Xerox Supervisor: Sandy Gordon.
Xerox: Adam Binham, Shaun Caton, Harry Elvin (as Harry R.C. Elvin), Sarah McLoughlin.
Line Test Assistants: Clive Bolger (as Clive James Bolger),Tim Davies, Jane Harrison.
Trace and Paint Coordinator: Matthew Teevan.
Trace and Paint Supervisor: Corona Esterhazy.
Trace and Paint Supervisor (Overseas): E. Jane Gotts (as Jane Gotts).
Trace and Paint Team Leaders: Janice Eason, Brian Holmes, Sarah Marsden, Karen Meek, Karen Narramore, Celine O'Sullivan, Fenella Page, Lorraine Ward, Sue Woodward.
Trace and Paint Deputy Team Leader: Tommy Galligan.
Color Model Designer: Annie Elvin.
Color Modelers: Sarah Fletcher, Alison Flintham.
Scene Planner: Harald Kraut.
Assistant Scene Planner: Karen Hansen.
Checking Supervisor: Frances Jacob.
Final Checkers: Chantal Marsolais (as Chantel Marsolais), Helen O'Brien, Steve Pegram, Michelle Povey, Marianne Rousseau, Jillian Tudor (as Jill Tudor).
Character Designer: Uli Meyer.
Edited By Nick Fletcher (Supervising Editor).
Assistant Editor: Michael Fallavollita (uncredited).
Assistant Picture Editors: Clare De Chenu (as Clare deChenu), Sim Evan-Jones, Andrew MacRitchie, Marcus Taylor, Lesja Zajac.
Laboratory Contact: Ray Adams.
Negative Cutter: Kevin Daley.
Post-Production Coordinator: Brad Goodman (as Bradley Goodman).
Post-Production Associate: Michelle Fandetti.
Color Timer: Mike Stanwick (as Michael Stanwick).
Casting: Valerie McCaffrey, Nancy Nayor.
Casting Assistant: Debbie DeRango.
ADR Voice Casting: Mickie McGowan (as Mickie McGowen).
Art Direction: Neil Ross.
Production Manager: Cynthia Henrich-Woodbyrne (as Cynthia Woodbyrne).
Post-Production Supervisor: Martin Cohen.
Supervising Sound Editors: Louis L. Edemann, Chuck Neely.
Sound Editor: Bernard Weiser (uncredited).
Assistant Sound Editors: Jerry Edemann, Angie Luckey.
Sound Recordist: Charlie Ajar Jr.
Sound Effects Editors: Leonard T. Geschke, Doug Jackson, Nils C. Jensen, Donald J. Malouf (as Don Malouf), Gary Mundheim (as Gary M. Mundheim).
Processed Sound Effects: Mel Neiman.
Foley By: TAJ Soundworks.
Foley Artists: Kevin Bartnof, Hilda Hodges.
Foley Recordist: Marilyn Graf.
Foley Mixer: James Ashwill.
Supervising Re-Recording Mixer: Michael C. Casper.
Sound Re-Recording Mixers: Tom Gerard (as Thomas Gerard), Daniel J. Leahy (as Daniel Leahy).
Supervising ADR Editor: Larry Singer.
ADR Editor: Alan L. Nineberg (as Alan Nineberg).
Assistant ADR Editor: Rod Rogers.
ADR Mixer: Doc Kane.
Dialogue Recorded At: Interlock Studios.
Special Effects Supervisor: Scott Santoro.
Effects Animators: Jon Brooks, Steven Burch (as Steve Burch), Glenn Chaika, Craig Clark, Ed Coffey, Paul van Geyt, Al Holter, Hock-Lian Law, Vito Lo Russo, Brice Mallier, Mike Smith, Alexs Stadermann (as Alex Staderman).
Effects Assistants: Philippe Angeles, Fran Doyle, Mick Harper, Kristine Humber, Pat C. Morton, Amanda Normington (as Amanda Talbot), Barney Russell, H. Grace Waddington (as Grace Waddington), Stephanie Walker.
Effects Inbetweeners: Guner Behich, Michaela Budde, Duncan Henry, Stephen McDermott, John O'Neill, Albert Price, Richard Tang.
Airbrush Artists: Laurent Ben-Mimoun, Christian Schmidt.
Camera Supervisor: Robert Edward Crawford (as Robert Crawford).
Assistant Camera: Deirdre Creed, Jay Watson, James C.J. Williams (as James Williams).
Camera Operators: Stuart Campbell, Tim Francis, Stuart Holloway, Barry Newton, Brian Riley, Russell Tagg, Graham Tiernan, Kevan Wooldridge.
Color Processed By: Rank Film Laboratories.
Driver: Brian Kinch.
Production Coordinator: Colin J. Alexander.
Production Assistants: Tara Cole, Martin Elvin, Jill Hopper, Mark Swift.
Production Executive: Deborah Jelin Newmyer (as Deborah Newmyer).
Production Accountant: Allen Davies (as Allan Davies).
Assistant Production Accountant: Sylvia Mackintosh.
Production Secretary: Jackie Duignan.
Production Consultant (China): Lisa Atkinson (uncredited).
Personnel Coordinator: Kate Mallory.
Personnel Assistant: Lisa-Jane Musselbrook.
Assistant to Director: Angie Carroll.
Assistant (Robert Watts): Barbara Margerrison.
Runners: Steve Austin, Colin Hutton, Jason McDonald (uncredited), Shaun White.
Receptionist: Hattie Berger.
Shipping Clerk: Stacey Hancox.
Tea Lady: Malek Jamal.
Purchasing Assistant: Tara Maloney.
Controller (Amblin): Bonne Radford (as Bonnie Radford).
Technical Supervisor (Premiere): Jon Sharpe.
Titles and Optical Effects: General Screen Enterprises, Pacific Title.
Trace and Paint (Overseas): Pacific Rim Productions (uncredited).
Special Thanks: Bernie Gagliano, Barbara Harley, Robert Johnson, Michael Kelly, Anthony Posner.
Submit Additional Information:
Do you have anything to add to this page? Have we made any mistakes... or do you ahve any additional information about An American Tail: Fievel Goes West? If so, we would love to hear from you. Please send us a quick note with your additions or corrections to this page, and we will make the corrections as soon as possible!
Report Errors / Submit Additional Information
Cartoon Summary:
The adventures of plucky little Fievel Mousekewitz and his family continue in the Wild West in this sequel as the mouse becomes "deputy" in a frontier town and helps bring some feline felons... (more)