Previous Cartoon | Next Cartoon
Quest For Camelot
Quest For Camelot
Alternate Title: The Magic Sword: Quest For Camelot
Quest For Camelot (The Magic Sword: Quest For Camelot) (1998) Feature Length Theatrical Animated Film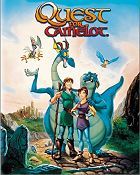 ---
Post your Comments or Review
This page has been viewed 29 times this month, and 4128 times total.
Unknown Tag: 'short_stud_crew'
Unknown Tag: 'short_voice_crew'
Unknown Tag: 'short_dir_crew'
Unknown Tag: 'short_prod_crew'
Unknown Tag: 'short_write_crew'
Unknown Tag: 'short_edit_crew'
Unknown Tag: 'short_music_crew'
1998
Warner Bros. Feature Animation, Turner Feature Animation
Warner Bros. Pictures
Feature Length Theatrical Animated Film
Cartoon Characters: Kayley, Garrett, Baron Ruber, Cornwall, Two-Headed Dragon, Devon, Lady Juliana, King Arthur, Merlin, The Griffin, Bladebeak, Sir Lionel, Lynnit, Ayden, Singer.
Vocal Talent: Jessalyn Gilsig (Kayley), Andrea Corr (Kayley- singing), Sarah Freeman (Young Kayley), Cary Elwes (Garrett), Bryan White (Garrett- singing), Gary Oldman (Baron Ruber), Don Rickles (Cornwall), Eric Idle (Devon), Jane Seymour (Lady Juliana), CÚline Dion (Lady Juliana- singing), Pierce Brosnan (King Arthur), Steve Perry (King Arthur- singing), John Gielgud (Merlin), Bronson Pinchot (The Griffin), Jaleel White (Bladebeak), Gabriel Byrne (Sir Lionel), Jessica Hathaway (Lynnit), Frank Welker (Ayden), Linda Harmon (Singer [uncredited]).
Animated By Cinzia Angelini, Claire D. Armstrong, Dale Baer, Richard Baneham, Laurent Benhamo, David B. Boudreau, Dan N. Boulos, Adam Burke, Alberto Campos, Jennifer Cardon, Tod Carter, Luc Chamberland, Michael A. Chavez, Yarrow T. Cheney, Jesse M. Cosio, Alain Costa, Ricardo Curtis, Bob Davies, James A. Davis, Murray Debus, Jeffrey P. Etter, Lauren J. Faust, Steve Garcia, Heidi Guedel Garofalo, Kent Hammerstrom, Adam Henry, Ben Jones, Leon G. Joosen, Ernest Keen, Ken Keys, Julianna Korsborn, Sean Leaning, Paul Lee, Quentin Miles, Sean Mullen, Jacques Muller, Randal L. Myers, Melina Sydney Padua, Stephen Perry, Scott T. Petersen, Anna Saunders, Thierry Schiel, Michael Schlingmann, Sharon Smith, Sean Springer, Gerben Steenks, Paul Stone, Mike Swindall, Derek L. Thompson, Vladimir Todorov, Jan Van Buyten, Jim W. Van der Keyl, Duncan Varley, Roger L. Vizard, Pete Western, Larry D. Whitaker, Mark A. Williams, John D. Williamson, Ryan Jeremy Woodward, Gabriele Zucchelli.
Lead Animators: Lennie K. Graves, Alyson Hamilton.
Lead Animator ("Ayden"): Mike Nguyen.
Lead Animator ("Bladebeak and Minions"): Stephan A. Franck.
Lead Animator ("Devon and Cornwall"): Dan Wagner.
Lead Animator ("Garrett"): Chrystal S. Klabunde.
Lead Animator ("Juliana"): Cynthia L. Overman.
Lead Animator ("Kayley"): Nassos Vakalis.
Written By Kirk De Micco, William Schifrin, Jacqueline Feather, David Seidler.
Novel "The King's Damosel": Vera Chapman.
Edited By Stanford C. Allen.
Associate Editors: Albert Coleman, Ken Solomon.
Assistant Editors: Jennifer Dolce, Evan Fisher.
Scanners: Simon Edwards, Edwin Shortess.
Lead Animator ("Ruber"): Alexander Williams.
Key Assistant Animators: Marcus Arnull, Paul A. Bauman, David Bombardier, Franck Bonay, Sheila Rae Brown, Kimie Calvert, Tony Cope, John Eddings, Helga Egilson, Ruth Elliott, Bernard Georges, Victoria Goldner, Anne Heeney, Natalie Higgs, Ilona M. Kaba, Helen Kincaid, Wantana Martinelli, SoonJin Mooney, Celeste Moreno, Sung Noh, Bob Quinn, Domingo C. Rivera Jr., Joe Roman, Kyung S. Shin, Claudia Sturli, Maureen Trueblood, Michael A. Venturini, Tran M. Vu, Mitchell Walker, Dave Webster, Robin White.
Assistant Animators: Beverly J. Adams, Andrew M. Beall, Gordon R. Bellamy, Alexandra Boiger, Wanda L. Brown, Ivan Camilli Rivera, Yebbi Cho, Chris Clarke, Jeffrey D. Clark, Heidi D. Daven, Chris Drew, Deborah Dryland, Greg Fleming, Trine Frank, Gerry Gallego, Fiona Gomez, Hilary Gough, Helena Grant, Andrew Griffiths, Nick Hellman, Ken H. Kim, Darren Kordich, Nick Large, Sophie Law, Cath Lowdell, Simon Loxton, Karen Marjoribanks, Vanessa J. Martin, Peter Mays, James McArdle, Kamye Miessen, William Mims, Paul Mota, Tao Nguyen, Doug E. Ninneman, Hae Sook Park, Nicole Pascal, Eugenios Plakias, Andrew J. Ramos, Antonella Russo, Christian Ryltenius, Jason S. Sallin, Matthew Schofield, Steve Smith, Jennifer M. Stillwell, Yevgeniya Suzdaltsev, Richard C. Trebus Jr. (uncredited), Helen S. Tse, Terry Walsh, Una Woods, Miri Yoon.
Head Effects Animator: Michel GagnÚ.
Effects Animators: Jon Brooks, John Dillon, Marc Ellis, Volker Pajatsch, Antonio Palermo, David Pritchard, Paul Smith, Tim Walton.
Special Effects Animators: Steven Burch, Gary Sole.
CGI Artist/Animator: Adam Dotson.
CGI Animator: Sebastien Linage.
CG Animators: Brad Booker, Corey Hels, Tim Keon.
CGI Effects Animator: Kevin Oakley.
Head of Clean-Up: Marty Korth.
Associate Head of Clean-Up: Sheldon Borenstein.
Clean-Up Supervisor (United Kingdom): Julia Bracegirdle.
Clean-Up Character Lead ("Ayden"): June Myung Nam.
Clean-Up Character Lead ("Bladebeak and Minions"): Karenia S. Kaminski.
Clean-Up Character Lead ("Devon and Cornwall"): Scott R. Bern.
Clean-Up Character Leads ("Garrett"): Eric J. Abjornson, Jose Antonio Cerro.
Clean-Up Character Lead ("Griffin"): Robert Tyler.
Clean-Up Character Lead ("Juliana" and "Arthur"): Doris A. Plough.
Clean-Up Character Leads ("Kayley"): Nathalie Gavet, Lureline Kohler.
Clean-Up Character Lead ("Ruber"): Don Parmele.
Additional Clean-Up Animators: Monica Brufton, Michael Cole, Carol Davies, Nigel Davies, Angeline de Silva, Annie Elvin, Peter Gambier, Joanne Gooding, Nicholas Harrop, Janette Hynes, Michael A. Lerman, Samantha Malone-West, Nicola Marlborough, Karen Narramore, Tom Newman, Brent Odell, Theresa Smythe, Debbie Spafford, Ronan Spelman, Theresa J. Whatley, Sue Woodward.
Clean-Up Consultant: Dori Littell Herrick.
Head of Backgrounds: Brian Sebern.
Background Artists: Mannix Bennett, Ruben Chavez, Hye Coh, William J. Dely Jr., Dennis Durrell, James D. Finn, Greg Gibbons, Annie Guenther, Andrew R. Phillipson, Craig D. Robertson, Jonathan C. Salt, Kim Spink, Nadia H. Vurbenova, Scott Wills.
Background Assistants: Christopher E. Brock, Joel Parod, Wei M. Zhao.
Breakdown Artists: Steve Aguilar, Peter Paul R. Bautista, James R. Burks, Patrick T. Dailey, Miriam L. Goodman, Jennifer L. Jarmel, Diane Kim, Henry Kim, Patrice Leech, Christine T. Mallouf, Robert G. Nigoghossian, Francisco Rosales, Rudy Rosales, John Rosen, Allison E. Sgroi, Stephen R. Steinbach.
Breakdown Artist ("Lady Juliana"): Cathlin G. Hidalgo.
Inbetween Animator: Matthew Maners.
Inbetween Artists: Rasmus Andreasen, Brian Boylan, Greg Checketts, Catherine M. Choi, Simon W.E. Clarke, Guy Donovan, Camilla C. Fougner, Yelena Geodakyan, Guadalupe Hernandez, Suzanne F. Hirota, Marianne Rasmussen Jensen, Dirk Keters, Kevin Koch, Kari Pearson Lancaster, Ho Young Lee, Rudi S. Liden, Richard Lowdell, Steve Martin, Shannon C. O'Connor, James Dean O'Shea, Maiken Rix, Bryan Rogers, Daisy Lee Schofield, Angela M. Sigurdson, Leona N°rdstrom Valentin, Viorel Voronca, Elyse M. Whittaker-Paek.
Rough Inbetweeners: Claire Bramwell-Pearson, Dave Coogan, Joanne Coughlin, Ruth E. Daly, Phil E. Langone, Boowon Lee, Lane Lueras, Joe Mulligan, Greg Ramsey.
Ink and Paint Artist: Steve Kindernay.
Digital Ink and Paint Artist: Dawn Gates.
Background Painters: John Gosler, Natasha Gross, Rachael Stedman, Gary Sycamore, Sue Tong.
Digital Background Painters: Craig R. Kelly, Briar Lee Mitchell.
Heads of Layout: William H. Frake III, Jeff Purves.
Layout Artists: Andrea Blasich, Karen Hamrock, Sven H÷ffer, Arlan Jewell, Conor W. Kavanagh, HervÚ Leblan, Davy C. Liu, Emil Mitev, Gary Mouri, Chris Scully, Audrey Stedman, Pamela B. Stefan, Robert J. St. Pierre, Craig Voigt, Todd Winter, Brian Woods, Jennifer C.L. Yuan.
Layout Assistants: Bryan D. Andrews, Norman R. Cabral, Louis E. Gonzales, Kory S. Heinzen, Rolando B. Mercado, Ben Metcalf, Simon Rodgers, Lisa Souza, Bill Thyen.
Final Animation Checkers: Dennis Bonnell, Freddie Vaziri.
Animation Checker (2-D and 3-D Animation): Daryl Carstensen.
Animator Consultant: Stan Green.
Animation Supervisor (A-Film): Jesper M°ller.
Animators (A-Film): Meelis Arulepp, Svetlana Bezdomnikova, Padraig Collins, Luca Fattore, Stefan Fjeldmark, Michael Helmuth Hansen, Silvia Hoefnagels, Christian Kuntz, J°rgen Lerdam, Anders Madsen, Martin Madsen, Fernando Moro, Janus Sorgenfrey Pedersen, Ando Tammik.
Key Assistant Animators (A-Film): Uffe Danielsen, Hope Devlin Kristiansen, Thomas Fenger, Rigmor Toker°d.
Assistant Animators (A-Film): Ahto Aaremńe, Morten Bramsen, Margo Busch, Elisabeth Damkjaer, Kristiina Didrik, Mette Fenger, Henrik Hansen, J°rgen Hansen, Karin Hjort, S°ren Jacobsen, Tinna Jespersen, Herle Maria KŘhl, Riina KŘtt, Malene Laugesen, Aavi Levin, Tom Lock, Malle Mńenurm, Lars Nielsen, Merike Peil, Gunhild R°d, Jesper Ezme S°rensen, Evelin Temmin, Raivo Tihanov, Krista Vanam÷lder.
Layout Supervisor (A-Film): Matthias Lechner.
Layout Artists (A-Film): Marcus Hoogvelt, John Koch, Jens M°ller.
Background Supervisor (A-Film): Matthias Lechner.
Background Painters (A-Film): Thomas Dreyer, Bjarne Hansen, Peter Kielland.
Clean-Up Supervisor (A-Film): Bj÷rn Pedersen.
Clean-Up Supervisor (A-Film Estonia): Tine Karrebaek.
Animators (Heart of Texas Productions): Frank Gabriel, Tom King.
Key Assistant Animators (Heart of Texas Productions): Deborah Abbott, Dan Abraham, Jim Battaglia, David Koppenhaver, Erica Missey, Jeanette Moreno, Lance Myers, Jimmy Tovar, Gabriel Valles.
Inbetween Artists (Heart of Texas Productions): Richard Bartholomew, Lisa Bozzetto, Cynthia Crowell, Walt Holcombe, Aaron Long.
Clean-Up Supervisor (Heart of Texas Productions): Jeff Foucart.
Assistant Clean-Up Supervisors (Heart of Texas Productions): Bonnie Brantley, Manuel Carrasco.
Supervising Animator (UK): Russell Hall.
Layout Supervisor (UK): Brendan Houghton.
Background Supervisor (UK): Ray Rankine.
Animator (United States): Ralph L. Fernan.
Background Supervisor (U.S.A.): Jeff Richards.
Assistant Animators (Yowza Animation): Vittoria Bologna, Denise Bradshaw, Ron Chevarie, Mike Demur, James McCrimmon, Ron Migliore, Paul Mota, Royston Robinson.
Inbetween Artists (Yowza Animation): Elsie Chen, Rowena Cruz, Gloria Hsu, Karen Kewell, Oleh Prus.
Submit Additional Information:
Do you have anything to add to this page? Have we made any mistakes... or do you ahve any additional information about Quest For Camelot? If so, we would love to hear from you. Please send us a quick note with your additions or corrections to this page, and we will make the corrections as soon as possible!
Report Errors / Submit Additional Information
Cartoon Summary:
Ousted knight of the round table Ruber plots to steal the legendary sword Excalibur, which he promptly loses. An adventurous girl, a young blind hermit and a two-headed dragon race to find the lost sword Excalibur to save King Arthur... (more)