Previous Cartoon | Next Cartoon
We're Back! A Dinosaur's Story
We're Back! A Dinosaur's Story
We're Back! A Dinosaur's Story (1993) Feature Length Theatrical Animated Film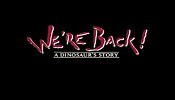 ---
Post your Comments or Review
This page has been viewed 136 times this month, and 7822 times total.
Unknown Tag: 'short_stud_crew'
Unknown Tag: 'short_voice_crew'
Unknown Tag: 'short_dir_crew'
Unknown Tag: 'short_prod_crew'
Unknown Tag: 'short_write_crew'
Unknown Tag: 'short_edit_crew'
Unknown Tag: 'short_music_crew'
1993
Amblin Entertainment
Universal Film Manufacturing Company
Feature Length Theatrical Animated Film
Cartoon Characters: Buster, Dr. Bleeb, Captain Neweyes, Dweeb, Rex, Elsa, Woog, Vorb, Professor Screweyes, Mother Bird, Louie, Stubbs the Clown, Cecilia.
Vocal Talent: Blaze Berdahl (Buster), Julia Child (Dr. Bleeb), Walter Cronkite (Captain Neweyes), Charles Fleischer (Dweeb), John Goodman (Rex), Felicity Kendal (Elsa), René Le Vant (Woog), Jay Leno (Vorb), Kenneth Mars (Professor Screweyes), Rhea Perlman (Mother Bird), Joe Shea (Louie), Martin Short (Stubbs the Clown), Yeardley Smith (Cecilia), J.D. Daniels, Nigel Pegram, Ron Karabatsos, Jessica Anderson, Christy Kelly, Zachary Ball, Alexandra Large, Barbara Barnes, Marilyn Leobner, Bendar Bashir, Jonathan McCracken, Katherine Battison, Jennifer Rich, Michael Benz, Rick Richards, Jamie Bolto, Liza Ross, Cory Bonder, Lindsay Schmidtdann-Borek, Jana Shelden, Bill Capizzi, Aaron Teich, Jim Carter, Matthew Tein, David Clark, Shelley Thompson, Gillian Chat, Dick Vosburgh, Dixie Crespi, Jessica Waite, James Watt, Sandra Dickinson, Jessica Wray, Peter Eliot, Eliza Yoder, Lou Hirsch, Sarah Zielinski, David Holt, Desiree Zondag, Justin Isfeld, Shannon Zondag, Larry King.
Produced By Steve Hickner.
Executive Producers: Kathleen Kennedy, Frank Marshall, Steven Spielberg.
Co-Producers: Thad Weinlein.
Animated By Rudolphe Guenoden, Nicolas Marlet, David Bowe, Patrick Mate, Daniel Jeannette, William Salazar, Andreas Von Andrian, Fabio Lingnini, Jan Vas Boyten, Quentin Miles, Miguel A. Fuertes, Denis Couchon, Jergen Richter, Glenn Sylvester, Todd Waterman, Michael Eames, Franck Vibert, Johnny Zeuthen, Olivier Pont, Georges Abolin, Jacques Mueller, Phil Morris, Eric Bouillette, Arnaud Berthier, Alain Costa, Oskar Urretabizkata, Rudi Blocs.
Additional Animation: David Berthier, Luc Chamberland, Emanuela Cozzi, Stephanie Franck, Maxamillan Graenitz, Steve Horrocks, Andrea Simonti, Pete Western.
Senior Assistant Animators: Shari Cohen, Julia Woolf, Roland Chat, Isabelle Beaudoin, Tony Cope, Brenda Mckie-Chat, Lura Medekova-Klein, Fernando Pastor, Steve Perry, Silvia Pompei, Emil Sergien, Emil Simenon.
Assistant Animators: Claudia Aaron, Philip Anderson, Cecile Bender, Jamie Bolio, Sylvianne Bormet, Steve Cavalier, Odile Comon, Cecilia Esteves, Stuart Evans, Nathalie Gavet, Anthony Gray, Louise Haley, Nick Harrop, Paul Jesper, Phillipe Cerrun, Vernique Landon, Sean Leaning, Ivelina Nacheva, David Navarro, Dawn Pearce, Jane Poole, Rick Richards, Kay Sales, Andrew Schmidt, Kieron Simmons, Kevin Spruce, Karen Stephenson, Simon Swift, Richard Tang, Matthew Taylor, Vladmir Todorov, Daniela Topham, Stephanie Walker, Mark Williams, Claire Bramwell-Pearson, Eric Delbecq, Tony Ealey, Adam Heller, Katrin Harjean, Gontran Hoarau, Carl Linton, Pierre Lyphoudt, Janet Mackay, Andrew Moss, Sylvia Mueller, Vittorio Pirajno, Jean Francois, Rey Marco Trandafilov, Denise Dean.
Edited By Michael Trent.
Supervising Editor Sim Evan-Jones.
Assistant Editors: Clare Dechem, Marcus Taylor, Andrew Malritchie, Jennifer Keys, Kieran Evans, Rob Green.
Additional Crew:
Casting: Valerie McCaffrey, Nancy Nayor.
Production Manager: Hal Waite.
Art Director: Neil Ross.
Character Designer: Carlos Granger.
Storyboard Supervisors: Tom Humber, Darek Gogol.
Layout Supervisor: Peter Moehrle.
Background Supervisor: Colin Stimpson.
Special Effects Supervisor: Steve Moore.
Color Separation Supervisor: Annie Fluin.
Checking Supervisors: Corona Esterhazo, Frances Jacob.
Supervising Digital Colorist: Douglas Ikeller.
Camera Supervisors: Stuart Campbell, Graham Tiernan.
Scene Planning Supervisor: Harold Kaaut.
Storyboard Artists: Alex Lawrence, Geoff Clowes, Erik L. Schmidt.
Supervising Layout Artist: Marco Cinello.
Layout Artists: Brendan Houghton, Clive Hutchings, Glenn Jeffs, David Kenyon, Douglas Kirk, Herve Leblan, Mark Marrin, Damon O'Beirne, Das Petrov, Tony Pulham, Panagiottis Rappas, Chris Scully.
Assistant Layout Artists: Lee Taylor, Neal Petty.
Layout/Background Coordinator: Victoria Morrison.
Blue Sketch Artist: Adam Binham.
Scene Planners: Jean Maluta, James Williams, Jim Francis.
Color Designer: Daniel Cacovault.
Additional Art Direction: Colin Stimpson.
Background Artists: Des Marchalier, Ennio Torresan, Marcos Mateu, Steven Albert, Natasha Gross, Walter Koessler, Mike Rose, Shelley Page, Gary Sycamore.
Inbetweeners: Patrick Beirne, Shaun Blake, Aleisa Bloom, Julia Bracegirdle, Belem Cerqueira, Cathy Childs, David Clarvis, Pierre Coffin, Boja Djukic, Paul Hallewell, Debbie Hameo, Louise Keating, Sarah Keogh, Caran Marsden, Vannesa Martin, Jason McDonald, Stephen Morgan, Karen Narramore, Scott Pleydell-Pearce, Andy Paraskos, Mark Smit, Aksel Studsgarth, Francesca Talbot, Sylvaine Terriou, Tim White, Sue Woodward.
Effects Animation: Mike Smith, Steven Burch, Jon Brooks, Garrett Wren, Mick Harper, Hock Lian Law, Jeff Topping, Leonard F.W. Green, Phillipe Angeles, Dan Turner, Alex Stadernan, Steven McDermott.
Effects Assistant Animators: Guner Behich, David Berkinshaw, Michaela Budde, Francine Chassagnae, James Clow, Fran Doyle, Natalie Garcean-Turner, Duncan Henry, Earl Hibbert, Rossanna Lyon, Gilvia Mazz, Patsy Morton, Antonio Palermo, Albert Price, Gary Sole, Heather Tailby, Jerry Verschoor, Grace Waddington.
Effects Inbetweeners: Joe Berger, Paul Houlihan, Lilas Leblan, Lee Townsend.
Effects Coordinators: Kristine Humber, Pamela Johnson.
Color Separation Coordinator: Barry Goff.
Color Separation Key Artists: Sky Bone, Janet Cable, Jane Dillon, Helen Ingham, Shawn McGinchley, Leanne Rich, Lorraine Bird.
Color Separation Artists: Caroline Baxter, James Bird, Tanya Blair, Helen Buckingham, Karen Church, Lucy Fellowers, Segan Friend, Gerard Gallego, Brian Holmes, Lorea Howe, Wayne Kennedy, Susan Lamson, Ron McNim, Deidre Hazel O'Flaherty, Carmen Parrinello, Leo Taylor, David Walker, Martin Wiseman, Jonathan Wren, Karin Adams, Derek LeStrange.
3-D Sculptures: Phillipe Angeles.
Checking Coordinator: Steve Pegram.
Animation Checkers: Joan Topley, Corine Marlec, Helen O'Brien, Marian Rousseau, Nondos Banning-Boddy, Deborah Campbel, Michael Myers, Eithne Quinn, Chantal Marsolais, Janice Eason, Cindy Mohrle, Shawn Caton.
Color Model Supervisor: Jane Gotts.
Color Modelists: Alison Flintham, Julie Gleeson.
Key Frame Painter: Sarah Fletcher.
Camera Operators: Brian Riley, Craig Simpson.
Junior Camera Operators: Deidre Reed, Sam James.
Direct Grab Operators: Tommy Galligan, Peter Murray, Victoria Trudgedon, Peter Brady, Jason Sallin, Trevor Williams.
Computer Generated Image, Rhythm & Hues: Bert Terrieri.
Rushes: Christian Hogue, Cal Limited, Roger Guyett.
Line Test Supervisor: Tim Davies.
Line Testers: Chris Knights, Clive Boler, Phill Kemp.
Production Assistants: Hattie Berger, Colin Hutton, Sophie Law.
Production Librarian: Martin Elvin.
Production Secretary: Louise Barrett.
Human Resources Assistant: Tara Moloney.
Assistant Production Accountant: Tarn Harder.
Accountant/Purchasing Assistant: Tina McConnell.
Junior Production Assistant: Stacey Hancox.
Driver: Brian Kinch.
Receptionist: Kim McHugo.
Casting Assistant: Debbie Derango.
Music Performed By: London Symphony Orchestra, London, England And Musicians Of The A.F.M. Local 47.
Ink, Paint And Digital Effects: American Film Technologies, Inc.
Executive Producers For Aft: Art Martel, David Hamby, Barry Sandrew.
Executive In Charge Of Production: Joe Mazzuca.
Amblin Production Executive: Ronne Radford.
Production Coordinator: Colin J. Alexander.
Post-Animation Coordinator: Matthew Teevan.
Directors' Assistant: Mark Swift.
Assistant To Mr. Spielberg: Bonnie Curtis.
Lead Production Assistant: Bill Hoppek.
Post-Production Supervisor: Stephen Barker.
Supervising Production Accountant: Allan Davies.
Production Accountant: Sylvia Mackintosh.
Human Resources Manager: Kate Mallory.
Facilities Manager: Caven Cummings.
Computer Manager: Alex Volvosek.
Production Management And Supervision: Sean Lurie, Jan Panek, Alex Johns, Ron Alonzo, Claudia Ravelo, Ana Cruz, Rita Perez.
Digital Color Model/EFX: Stephen Childers, Richard Turner, Tia Marshall.
Technical Coordination: David Morehead, Douglas Cooper, Darin Hollings.
Art Coordination: Shauna Stevens, Isabel Graczyk, Barbara Nase.
Digital Compostion: John "Woody" Wodynski, Celine Peiker, Jane Jackowskie, Eric Fuss, Brandi Stevens, Rachel Lagado, Ken Anderson.
Quality Control: Robert Cuilty, Gabriel Garcia, Clifford Presley.
Post Operations: David "Scott" Murdock, Neil Partyka, David Morris.
Digital Archiving: Joel Pederson, John Goldkamp, Karin Buskirk.
Character Builders: Jim Kammerud, Marty Fuller, Pascal Blais.
Light Box Animation: Yori Lange, Colin Tanner.
Additional Electronic Ink And Paint/Digital Compositing: Kidley Wright, Motionworks USAnimation.
Live Action Models: Laura Penta, John Savage, Robert Grayson, Alan McMahon, Kieron Connelly.
Orchestrations: Don Davis, Arthur Kempel, Thomas Pasteiri.
Supervising Music Editor: Jim Henrickson.
Music Copyist: Joanne Kane.
Music Scoring Mixer: Shawn Murray.
Supervising Sound Editor: Campbell Askew.
Supervising Re-Recording Mixers: Rick Alexander, Gerry Humphries.
Re-Recording Mixers: Jim Bolt, Tim Cavafen, Andy D'Addario, Dean Humphries, Robin O'Donoughue.
Recordist: Albert Romero.
ADR Mixer: Alan Holcy.
Sound Effects Editor: Robert Gavin.
Assistant Sound Editors: Michael Trent Marksale, Geraldine Turner.
Special Sound Effects: Dave Lawson.
Dialogue Editor: Bill Trent.
Foley Artists: Pauline Griffith, Jennie Lee Wright.
Foley Recordist: Joan Bateman.
Effects Graphics: Bernie Gagliano.
Live Action Effects: Martin Gutteridge.
Color Timer: Mike Stanwick.
Negative Cutter: Kuna Cutting, Gary Burritt.
Lad Contact: Ray Adams.
Titles And Optical Effects: Pacific Title, General Screen Enterprises.
Title Art: Hans Bacher, Hudson Talbott.
Dialogue Recorded At: Interlock Studios, Los Angeles The Bridge, London Sound One, New York Soundtrack, London.
Music Recorded At: Air Studios, Lyndhust Hall, London, England Landsdown Studios, London, England Todd-Ao/Glen Glenn Studios, Los Angeles.
Re-Recorded At: Universal Studios Sound Facility, Los Angeles Twickenham Studios, London, England.




Clifford, The Big Red Dog Used With The Permission Of Scholastic, Inc.
Snoopy And Woodstock © 1958 United Features Syndicate, Inc. Reproduced By Permission
Spiderman (tm) And © Marvel Entertainment Group, Inc. All Rights Reserved



Special Thanks To R.H. Macy And Co., Robert Johnson, American School, St. John's Wood, Stan Ratoff

Original Soundtrack Available On MCA Cds And Cassettes

Animation Produced At Amblimation Studios, London, England
Color Processed By Rank Laboratories And Foto-Kem/Pototronics
Color By Deluxe
Eastman Color Film

© 1993 Universal City Studios And Amblin Entertainment, Inc.
All Rights Reserved.



Country Of First Publication: United States Of America.
Universal City Studios And Amblin Entertainment Are The Authors Of This Motion Picture For Purposes Of The Berne Convention And All National Laws Giving Effect Thereto.

The Characters And Events Depicted In This Photoplay Are Ficitious. Any Similarity To Actual Persons, Living Or Dead, Is Purely Coincidental.

This Motion Picture Is Protected Under Laws Of The United States And Other Countries. Unauthorized Duplication, Distribution, Or Exhibition May Result In Civil Liability And Criminal Prosecution.
Submit Additional Information:
Do you have anything to add to this page? Have we made any mistakes... or do you ahve any additional information about We're Back! A Dinosaur's Story? If so, we would love to hear from you. Please send us a quick note with your additions or corrections to this page, and we will make the corrections as soon as possible!
Report Errors / Submit Additional Information
Cartoon Summary:
Four prehistoric dinosaurs are transported to modern-day Manhattan, where they get mixed up in the plight of Louie, a runaway boy, and Cecilia, a poor little rich girl.