Previous Cartoon | Next Cartoon
Atlantis: The Lost Empire
Atlantis: The Lost Empire
Atlantis: The Lost Empire (2001) Theatrical Cartoon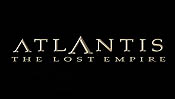 by Dave Koch
---
Post your Comments or Review
This page has been viewed 154 times this month, and 6743 times total.
Unknown Tag: 'short_stud_crew'
Unknown Tag: 'short_voice_crew'
Unknown Tag: 'short_dir_crew'
Unknown Tag: 'short_prod_crew'
Unknown Tag: 'short_write_crew'
Unknown Tag: 'short_edit_crew'
Unknown Tag: 'short_music_crew'
2001
Walt Disney Pictures
Buena Vista Pictures Distribution
Theatrical Cartoon
Cartoon Characters: Milo James Thatch, Jebidiah Allardyce "Cookie" Farnsworth, Gaetan Moliere (The Mole), Helga Sinclair, Commander Lyle T. Rourke, Preston B. Whitmore, Dr. Joshua Sweet, Kashekim Nedakh (King of Atlantis), Vincenzo "Vinny" Santorini, Audrey Ramirez, Wilhelmina Bertha Packard, Fenton Q. Harcourt, Princess Kidagakash (Princess Kida).
Vocal Talent: Jim Varney (Cookie), Michael J. Fox (Milo Thatch), Claudia Christian (Helga), James Garner (Commander Rourke), Phil Morris (Dr. Joshua Sweets), Florence Stanley (Wilhelmina Packard), David Ogden Stiers (Fenton Harcourt), Cree Summer (Princess Kida), Corey Burton (Moliere (The Mole), John Mahoney (Preston Whitmore), Leonard Nimoy (Atlantian King), Don Novello (Vinnie Santorini), Jacqueline Obradors (Audrey).
Additional Voices: Jim Cummings, Pat Pinney, Steve Barr, Mickie Mcgowan, Jack Angel, Bob Bergen, Rodger Bumpass, Jennifer Darling, Paul Eiding, Luck Hari, Sherry Lynn, Phil Proctor, Bill Striglos, Catherine Bott, Liz Constantine, Dessislava Stefanova, Sarah Eyden.
Animated By John Pomeroy (Milo, Supervising Animator).
Supervising Animator, Dr. Joshua Sweet: Ron Husband.
Supervising Animator, Helga Sinclair: Yoshimichi Tamura.
Supervising Animator, Captain Rourke: Mark Surrey.
Supervising Animator, Wilhelmina Packard, Mrs. Harcourt: Dave Pruiksma.
Supervising Animator, Vinnie Satorini: Russ Edmonds.
Supervising Animator, Cookie, Preston Whitmore: Shawn Keller.
Supervising Animator, Audrey: Anne Marie Bardwell.
Supervising Animator, Gaetan Moliere [Mole]: Anthony de Rosa.
Supervising Animator, King of Atlantis, Kashekin Nedakh: Mike Cedeno.
Supervising Animator, Princess Kidagakash [Kida]: Randy Haycock.
Supervising Animator, Leviathan: Mike "Moe" Merell.
Written By Tab Murphy.
Story: Kirk Wise, Gary Trousdale, Joss Whedon, Bryce Zabel, Jackie Zabel, Tab Murphy.
Head of Story: John Sanford.
Storyman: Kevin Harkey.
Edited By Ellen Keneshea.
Additional Crew:
Art Director: David Goetz.
Artistic Coordinator: Christopher Jenkins.
Artistic Supervisors, Story: John Sanford.
Artistic Supervisors, Layout: Ed Ghertner.
Artistic Supervisors, Background: Lisa Keene
Artistic Supervisors, Cleanup: Marshall Toomey
Visual Effects: Marlon West.
Computer Graphics Imagery: Kiran Bhakta Joshi

"Where The Dream Takes You"
: Diane Warren.
Music By: Diane Warren, James Newton Howard.
Performed By: Mya.
Produced By: Ron Fair, Söl Survivor, Robbie Buchanan.
.
Production Manager: Igor Khait.
Assistant Artistic Coordinator: Kirk Bodyfelt.
Manager, Digital Production: Aimee Scribner

Caps Supervisors
: Thomas Baker.
Animation Check: Barbara Wiles.
2d Animation Processing: Robyn L. Roberts.
Color Models: Karen Comella.
Paint/Final Check: Hortensia M. Casagran.
Compositing/Digital File Services: James "Jr" Russell.
Digital Film Print: Brandy Hill.
Technical Coordinator: Ann Tucker.
Paris Artistic Supervisors
: Joaquim Royo Morales.
Visual Effects Supervising Animator: Thierry Chaffoin.
.
Production Design: Mike Mignola, Matt Codd, Ricardo Delgado, Jim E. Martin.
Character Design/Visual Development: Jean Gillmore, Michael Cedeno, Rick Maki, Marcelo Vignali, Lisa Keene, Robh Ruppel, Anne Marie Bardwell, Matsune Suzuki.
Story: Kevin Harkey, Chris Ure, Todd Kurosawa, Kelly Wightman, Dean Deblois.
Additional Screenplay Material By: David Reynolds.
Story Artists: John Sanford, Kevin Harkey, Kelly Wightman, Dean Deblois, Todd Kirosawa, Chris Ure.

Layout
: Tom Shannon.
Journeymen: Jeff Beazley, Peter Bielicki, Scott Caple, Fred Craig, Gary Mouri, Jim Schlenker, Allen Tam.
Key Assistants: James Aaron Finch, Denise Blakely Fuller, Lam Hoang, Denise Klitsie.
Assistants: Shawn Colbeck, Mina Ho, Mark Kalesniko, Brian Lee Kesinger, Diane Lu, Lisa Souza.
Blue Sketch: Madlyn Zusmer O'Neill, Bill Davis, Noel Johnson, Monica Albracht Marroquin.
Milo
: John Pomeroy.
Animators: Joe Haidar, Oliver Thomas, Bill Waldman, Ralph Palmer, Jay Jackson, Steven Pierre Gordon, Mario Menjivar, Dougg Williams, Doug Krohn, Robb Pratt, Larry White, Dave Burgess.
Rourke
: Mike Surrey.
Animators: Danny Galieote, Mark Koetsier, Chris Wahl.
Princess Kida
: Randy Haycock.
Animators: Richard Hoppe, David Moses Pimentel, David Berthier, Kristoff Vergne, Andrea Simonti.
Vinny
: Russ Edmonds.
Dr. Sweet
: Ron Husband.
Helga
: Yoshimichi Tamura.
Animators: Marco Allard, Juanjo Guarnido.
Audrey
: Anne Marie Bardwell.
Mrs. Packard/Mr. Harcourt
: Dave Pruiksma.
Animator: Mike D'Isa.
Preston Whitmore/Cookie
: Shawn Keller.
Moliere
: Anthony De Rosa.
Atlantean King
: Michael Cedeno.
Leviathan
: Mike "Moe" Merell.
Animators: Jay N. Davis, Brian Wesley Green.
Assistant Animator: Darrell Johnson.
.
Miscellaneous Animators: Georges Abolin, Chris Sauve, Bill Recinos.
Rough Inbetweeners: Jean-Luc Ballester, Casey Coffey, Wendie Lynn Fischer, Benjamin Gonzalez, Gontran Hoarau, Grant Hiestand, Nicolas Keramidas, Ely Lester, Michael Lester, Gary D. Payne, Kevin M. Smith, Wes Sullivan, Aliki Theofilopoulos, Michael Wu.
Character Sculptures: Kent Melton, Raffaello Vecchione

Digital Production

Model Development
: Bruce D. Buckley.
Motion TD: Paul Seidman, Carlos Cabral.
Model Development TD: Gary Telfer.
Modeler: Erica Cassetti.
.
Look Development & Lighting
: Marcus Hobbs.
Look Development TDs/Lighting Artists: Li-Ming Lawrence Lee, Iva S. Itchevska, Andrea Losch, Chris Hummel, Pei Dieleman, Raymond Hetu.
Texture Map Painter: Sonserae Leese.
Production Software
: Robert Rosenblum.
Production Software: Robert Falco.
.
Scene Set-Up: Faye Tipton, Tina Lee Barra, Galen Schliem, Scott Mankey, Kenneth C. Gimpelson.
Backgrounds: Jennifer Ando, Barry Atkinson, Olivier Besson, Gregory Alexander Drolette, Deb Du Bois, Jean-Paul Fernandez, Brad Hicks, Jason Horley, Nathan Hughes, George Humphry, Michael Kurinsky, John Lee, Sai Ping Lok, David Mc Camley, James J. Martin, Patricia Millereau-Guilmard, Don Moore, Pierre Pavloff, Philip Phillipson, Mia Raynis, George Taylor, Maryann Thomas.
Digital Re-Touch Painters: Christine Laubach, Nancy Olivet Ramirez

Clean-Up Animation
Milo
: Alex Topete.
Key Assistants: Dorothea Baker Paul, Jesus Cortes.
Assistants: Todd H. Ammons, Dan Bowman, Brigitte Franzka-Fritz, Cynthia Jill French, Arturo Alejandro Hernandez, Denise Meehan.
Breakdown: Christenson M. Casugo, Aidan Flynn, Gary J. Myers, Al Salgado, Raul Aguirre (uncredited).
Inbetweeners: Drew Adams, Lara Wahlberg Almond, Mike Greenholt, Kenny Huynh, Kim Moriki Zamlich, Daniel Schier.
Rourke
: Tracy Mark Lee.
Key Assistants: Jacquie Sanchez, Ginny Parmele.
Assistants: Kevin M. Grow, Annette Morel.
Inbetweener: Taik Lee.
Princess Kida
: Juliet Stroud-Duncan.
Key Assistants: Steve Lubin, Sean Gallimore.
Assistant: Teresa Eidenbock.
Breakdown: Tao Huu Nguyen.
Inbetweener: Mac Spada.
Vinny
: June Fujimoto.
Key Assistant: Celinda S. Kennedy.
Assistant: Marty Schwartz.
Breakdown: Cynthia Landeros.
Dr. Sweet
: Marianne Tucker.
Key Assistant: Susan Lantz.
Assistants: Mary Measures, Don Parmele.
Inbetweener: Suzanne Hirota.
Helga
: Florence Montceau.
Assistants: Serge Bussone, Christine Chatal Poli, Jérôme Guillaud, Christine Landès-Tigano.
Breakdown: Céline Papazian.
Audrey
Lead Key: Ruben Procopio.
Key Assistant: Marsha W. J. Park-Yum.
Assistants: Chan Woo Jung, Ed Murrieta.
Breakdown: Frank Dietz.
Mrs. Packard/Mr. Harcourt
: Stephan Zupkas.
Key Assistant: Karen Hardenbergh.
Assistant: Diana Coco.
Breakdown: Adam York.
Preston Whitmore/Cookie
: Margie Daniels.
Key Assistant: Jamie Kezlarian Bolio.
Assistant: Doug Post.
Breakdown: Nickolas M. Frangos.
Moliere
: Nancy Kniep.
Key Assistants: Richard D. Rocha, Gail Finkeldei Frank, Merry Kanawyer Clingen.
Atlantean King
: Marty Korth.
Key Assistant: Eric Pigors, Wes Chun, Brian B. Mc Kim.
Assistants: Janet Heerhan Kwon, Rick Kohlschmidt, Sue Sugita.
Breakdown: Raul Aguirre, Jr., Eun Sang Jang, Domingo Rivera, Tran M. Vu.
Miscellaneous
: Marshall Toomey.
Key Assistants: Sue Adnopoz, Miriam Mc Donnell, Terry Wozniak.
Assistant: Kris Heller.
Visual Effects Animation
Visual Effects Animators: John Armstrong, James Dev. Mansfield, Etienne Aubert, Allen Blyth, Dan Chaika, Bruce Heller, Ted Kierscey, James Kuo, Dorse A. Lanpher, Dan Lund, Steve Moore, Mark Myer, Cynthia Neill Knizek, Masa Oshiro, Mouloud Oussid, Tonya Ramsey, Matsune Suzuki.
3d Efx Supervising Animator: Michael Kaschalk.
Effects Key Assistants: Marko Barrows, Mathilde Danton, Ty Elliott, Geoffrey C. Everts, Ray Hofstedt, Elizabeth Holmes, David M. Kcenich, Maria Nemeth, Amanda J. Talbot, Michael Anthony Toth, Karel Zilliacus.
Effects Assistants: Kim Burk, Ivan Kassabov, Gregory Regeste, Lisa Reinert, Van Shirvanian.
Effects Breakdown: Steven J. Filatro, Jean-Paul Orpinas, Ron Pence, Jeff Plamenig

Editorial

Associate Editor: John Carr.
First Assistant Editor: Carol Folgate.
Assistant Editor: Mary Blee.
Avid Assistant Editor: Bill Shaffer.
Animation Editors: James Melton, Hermann H. Schmidt.
Casting By: Ruth Lambert, C.S.A., Mary Hidalgo, Matthew Jon Beck, Associate.
Atlantean Language Developed By: Marc Okrand.
Speech/Dialect Coach: Susan Hegarty.



Production

Production Manager, Paris: Coralie Cudot-Lissillour.
Administrative Manager: Margaret "Maggie" Walsh.
Production Accountant: Andrea Paul.
Assistant Production Managers
Story And Sweatbox: Todd J. Winton.
Editorial: Catherine A. Jones.
Layout: Tone Thyne.
Animation: Connie Nartonis Thompson.
Digital Production: Alaina Yohe.
Backgrounds: Daniela Mazzucato.
Clean- Up: Lesley Bentivegna.
Visual Effects: Michele Mazzano.
Production: Kevin Wade.
Paris Animation: Frederika Pepping.
Paris Clean-Up: Etienne Longa.
Paris Visual Effects And Backgrounds: Alexandra Skinazi.



CAPS Management

Manager Color Models: Holly E. Bratton.
Manager Disk Space & Retakes: Brenda Mcgirl.
Assistant Manager Scene Planning: Katherine A. Irwin.
Assistant Production Manager Animation Check: Cathy Leahy.
Assistant Production Manager
Color Models: Julie Vieillemaringe.
Assistant Manager Disk Space And Retakes: Ben Lemon.
Assistant Manager Camera: Jeanne E. Leone-Sterwerf.



Scene Planning

Scene Planners: S.J. Bleick, Annamarie Costa, Eric Gervais-Despres, Cynthia Goode, Mark A. Henley, Ronald J. Jackson, David J. Link, Scott McCartor, Rafaël Vicente.
Scene Planning & Efx Data Entry: Laura L. Jaime, Sherri H. Villarete.



Animation Check

Assistant Supervisor: Karen S. Paat.
Senior Checker: Mavis Shafer.
Animation Checkers: Jan Adams, Nicolette Bonnell, Janette Hulett, Denise M. Mitchell, Helen O'Flynn, Kathleen O'Mara-Svetlik, Gary G. Shafer, Karen Somerville.



2d Animation Processing

Assistant Supervisors: Karen N. China, Gareth P. Fishbaugh.
Digital Mark-Up: Lynnette E. Cullen.
2d Animation Processors: David Braden, Jo Ann Breuer, Corey Dean Fredrickson, Robert Lizardo, Michael Alan Mcferren, Richard J. Mcferren, Stacie K. Reece, David J. Rowe.



Color Models

Assistant Supervisor: Ann Sorensen.
Color Model Stylists: Maria Gonzalez, Fergus J. Hernandez, Debbie Jorgensborg, Sylvia I. Sanchez, Penny Coulter, Heidi Lin Mahoney.



Paint

Assistant Supervisors: Irma Velez, Russell Blandino, Phyllis Estelle Fields.
Color Model Mark-Up: Bill Andres, Sherrie Cuzzort, Beth Ann McCoy-Gee, Grace H. Shirado, David J. Zywicki, .
Registration: Karan Lee-Storr, Leyla C. Amaro Pelaez, Paint Mark-Up: Carmen Regina Alvarez, Roberta Lee Borchardt, Casey Clayton, Patricia L. Gold, Bonnie A. Ramsey, Myrian Ferron Tello.
Painters: Carmen Sanderson, Joyce Alexander, Kirk Axtell Ii, Phyllis Bird, Joey Calderon, Ofra Afuta Calderon, Janice M. Caston, Florida D'ambrosio, Robert Dettloff, Michael Foley, Kent Gordon, Debbie Green, David Karp, Angelika R. Katz, Kukhee Lee, Deborah Jane Mooneyham, Margarito Murillo, Karen Lynne Nugent, Dolores Pope, Rosalinde Praamsma, Saskia Raevouri, Yolanda Rearick, Heidi Woodward Shellhorn, Christine Schultz, Fumiko Roche Sommer, S. Ann Sullivan, Roxanne M. Taylor, Tami Terusa, Christina Elaine Toth, Britt-Marie Van Der Nagel, Arthur Zaslawski.



Final Check

Assistant Supervisor: Teri N. McDonald.
Final Checkers: Lea Dahlen, Misoon Kim, Sally-Anne King, Catherine Mirkovich-Peterson.



Caps Compositing

California Unit
Assistant Supervisor, Compositing: Timothy B. Gales.
Digital File Services: Joseph Pfening.
Florida Unit
Assistant Supervisor, Compositing: Jason Leonard, Robert Buske.
Compositor: Earl Scott Coffman.



Digital Film Printing
Camera/Film
Recorder Operators: John D. Aardal, John Derderian, Jennie Kepenek Mouzis.
Quality Control: Chuck Warren.
Reuse & Stock Librarian: Vicki L. Casper.
Music
Orchestrations By: Jeff Atmajian, Brad Dechter, Pete Anthony, Frank Bennett, Jon Kull, James Newton Howard.
Electronic Score Produced By: James T. Hill.
Score Conducted By: Pete Anthony.
Choir Conducted By: Nick Ingman.
Score Recorded And Mixed By: Shawn Murphy.
Additional Engineering By: Jonathan Allen, Bill Schnee.
Song Engineered By: Mike Ross.
Song Mixed By: Dave Pensado.
Supervising Music Editor: Jim Weidman.
Music Editor: David Olson.
Temp Music Editor: Mark Green.
Music Production: Shawne Zarubica.
Music Production Manager: Tom Macdougall.
Music Technology Manager: Andrew Page.
Music Production Coordinator: Deniece Larocca-Hall.
Music Production Assistant: Joel Berke.
Music Contractor: Sandy De Crescent.
Choral Contractor: Isobel Griffiths, Ltd.
Choir Master: Natural Voices, London, England: Jenny O'Grady.
Music Preparation: Jo Ann Kane Music Service, Dakota Music Service, Ltd.
Production Assistant To The Producer: Patti Conklin.
Production Secretary: Charles "Chip" Church.
Administrative Assistants: Kathleen Violet Grey, Kelsi Taglang.
Communications Coordinator: Troy Alan Knutson.
Video Reference/ Dialogue Recording: Shari B. Ellis.
Video Reference/Sweatbox: Jeff Moznett.
Caps Production Coordinator: Kirsten A. Bulmer.
Caps Administrative Coordinator: Rikki Chobanian.
Paris Production Coordinator: Valérie Matranga-Delaine.
Production Assistants: Rudy Cardenas-Rios, Charlene Moncrief, Frøydis Bøe, Ninka K. Mortensen-Clerin, Jeffry G. Georgianni, Clint G. Reagan, Joey Huynh, John Damien Ryan, Karen Kageyama, Brian G. Smith, Christelle Kam, Nora Quinn Souffir, Renato Lattanzi, Robert Stemwell, Nicolas Lefebvre, Marc Nathaniel Stone, Sean Mcandrew, Debbie Vercellino, Mary Jo Miller, Amy Wong, Mike Miller, Suzy Zeffren-Rauch, Allyson Mitchell.
Additional Visual Development: Vince Addante, Hans Bacher, Chen Yi Chang, Peter Clark, Don Dougherty, John Emerson, Robert Gibbs, Ed Gombert, Dennis Greco, Eric Hanson, Mike Humphries, Cynthia Quimpo Ignacio, Kenneth Knight, Davey Liu, Henry Mayo, J. Joseph Mahoney, Sue C. Nichols, Alex Nino, Andrew Ramos, Oskar Urretabizkaia, John Watkiss, Roland Wilson, Kelvin Yasuda.
Additional Animation: Tom Bancroft, Patrick Delage, Dominique Monfery, Barry Temple, J C Tran-Quang-Thieu.
Additional Rough Inbetweeners: Paulo R. Alvarado, Noreen Beasley, George Benavides, Larry R. Flores, Ed Gabriel, Cindy Ge, Neal Goldstein, Chris Hubbard, Paul Mcdonald, Joseph Mateo, Bob Persichetti, Bobby Alcid Rubio, Chris Sonnenberg, Kathleen Thorson, Ronnie Williford.
Additional Digital Production: Jennifer Behnke, Michelle Lee Robinson.
Additional Backgrounds: Jason Buske, Carl Jones, Kelly Mcgraw, Leonard Robledo, Tom Woodington.
Additional Clean-Up Animation: Laurence Adam-Bessière, Javier Espinosa Bañuelos, Patricia Ann Billings Malone, Dan Bond, Claire Bourdin, Philippe Briones, James Burks, Ryan L. Carlson, Christophe Charbonnel, Farouk Cherfi, Nicole De Bellefroid, Jeroen Dejonckheere, Bernard Dourdent, Donna Dubuc-Curtis, Thomas Estrada, Raymond Fabular, Maria Angela Iturriza Freire, Cliff Freitas, Pierre Girault, Gizella Maros Gregan, Matthew Haber, Ray Harris, Dietz Toshio Ichishita, Myung Kang Teague, Kompin Kemgumnird, Jody Kooistra, Kari Pearson Lancaster, Ludovic Letrun, Leticia Lichtwardt, Daniel Yoon Taek Lim, Brian Mainolfi, Philippe Malka, James Anthony Marquez, Mike Mckinney, Benoît Meurzec, Lieve Miessen, Jan Naylor, Anne Pellerin, David Recinos, Allison Renna, Mary Jean Repchuk, Nicolas Ruedy, Natasha Dukelski Selfridge, Pierre Seurin, Chun Yin Joey So, Hugo Soriano, Phirum Sou, Trevor Tamboline, Sylvaine Terriou, Bill Thinnes, Peggy Tokonogy, Marc Tosolini, Xavier Villez, Cathie Karas Wilke, Eunice (Eun Ok) Yu.
Additional Visual Effects Animation: Michael Cadwallader Jones, Kevin Lee, Brian Lutge, Mauro Maressa, Joey Mildenberger, Phillip D. Vigil, Virgilio John Aquino, Jay Baker, Steve Blakey, Chris Darroca, Angela Diamos, Kristin Fong-Lukavsky, Mabel Gesner, Peter F. Pepe, Philip Pignotti, Steve Starr, John Tucker, Melinda Wang, Nicole A. Zamora.
Additional Caps: Paulino Randall McFerren, Pierre Sucaud.
Additional Production Support: Eric Alvarez, Sylvie Bennett-Fauqué, Jennifer Brown, Amy Beth Clark, Jamal M. Davis, Dino De Marco, Peter Del Vecho, François Desnus, Flynn Falcone, Evariste Ferreira, Christine Griego, Krissie Kaufman, Nicoletta Marcialis, Taylor Milne, Aisling O'Gorman, Tim Pauer, Patrick G. Ramos, Anna Strasser, Gypsy Vozoff, Judy Wolf.
Additional Production Accountants: Liza Breuninger, Christine McCallum, Glen Gagnon, Nancy Guo-Gustafsson, Debbie Hagman, Frank William Knittel, Jr. .
Video Reference Cast
Kida: Jennifer Burns.
Helga: Dawn Heusser.
Stunts: Dan Speaker.
Milo: Tone Thyne.
Video Reference Crew
Camera: Al Vasquez, Tom Smith, Randy Yamanouye.
Costumes/Props: Akeime Mitterlehner, Alison Schmidt.
Technology Managers
Manager, Media Group: Thomas Moore, Jr.
Manager, Management Applications: Kevin John Hussey.
Manager, Systems Software Development: Graham S. Allan.
Manager, Systems: Jeff Rochlin.
Manager, Technical Support: Mark Dawson.
Manager, Technical Services: Mark M. Tokunaga.
Manager, Traditional Animation Software: Todd Scopio.
Senior Manager, Software: John Henry Brooks.
Render I/O: Lorenzo Russell Bambino, James Colby Bette, Jimmie A. Nelson, Jr., Alan A. Patel, Elkeer Zaldumbide Pratt, Bradley L. Smith, Ann Ta, David W. Thompson, Kevin Waldvogel.
Technology Support: Brett Achorn, Heidi Marie Andersen, Richard M. Barnes, Dale R. Beck, Glenn C. Bell, Jawad Benchikhi, Janet E. Berlin, Cathy E. Blanco, Michael S. Blum, Robert Edward Boas, Michael C. Bolds, Aileen Brimecombe, Brad Brooks, Scott Burris, Letha L. Burchard, Brent Burley, Judith A. Cardinale, Mark Carlson, William T. Carpenter, Steven C. Carpenter, John Cejka, Lawrence Chai, Loren Chun, Peter L. Chun, Michael Clay, Ray C. Coleman, Troy Conrad, Tom Corrigan, Patrick Dalton, Nolan R. Davis, Margaret A. Decker, Lyly Mai Do, Elena Driskill, Jeffrey Edwards, Jerry A. Eisenberg, Norbert Faerstain, Thomas J. Fico, Marc Fleury, David Patrick Flynn, Kevin G. J. Freels, Scott Garrett, Massimiliano Gasparri, Mark W. Gilicinski, Sean J. Goldman, Steven L. Groom, Gregory S. Heflin, David R. Hernandez, Paul Hildebrandt, John D. Hoffman, Shannon R. Howard, James P. Hurrell, Darrian M. James, Danny Jewell, Marc Jordan, Kevin E. Keech, Kimberly W. Keech, Daniel C. Kim, Technology Support Cont., Mark Kimball, Michael D. Kliewer, Joseph M. Lohmar, John Edward Lopez, James Macburney, Jean Mandonnet, Michael McClure, Kevin A. McGuire, Mark A. McLaughlin, Dayna B. Meltzer, Christophe Meslin, Elizabeth Meyer, G. Kevin Morgan, Christopher D. Mihaly, Thaddeus P. Miller, Jack Muleady, Jeff Nash, Tom Naylor Ii, Troy Norin, David Oguri, Mabel Lim Okamura, David E. Ortega, Tamara R. Payton, Julie Ann Reelfs, Patrick Robin, Nathalie Antoniolli Roca Ripoll, Kaizhen Ruan, Michael Saitta, Atiq Sajawal, Nasser B. Salomon, Fe Alcomendas Samala, James Samuel Sandweiss, Matthew F. Schnittker, Arthur H. Shek, Jeffrey L. Sickler, Chris Springfield, John Stimson, Chuck Stoner, Byron Stultz, Yun-Chen Sung, Sandy Sunseri, Joe Suzow, Rasmus Tamstorf, Bond-Jay Ting, Laurie Tracy, Roy Turner, Tamara Valdes, Carl Villarete, Jon Y. Wada, Sahara Elizabeth Ford Wernick, Doug White, Derek Wilson, Tomas A. Wong, Fran R. Zandonella, Michael Zarembski.
Post Production
Post Production Supervisor: Lori Korngiebel.
Post Production Coordinator: Katie Hooten.
Post Production Manager: Sue Bea Montgomery.
Post Production Administrator: Heatherjane Smith.
Video Post Production Coordinator: Robert H. Bagley.
Post Production Engineer: Michael Kenji Tomizawa.
Post Production Sound Services Provided By: Skywalker Sound, A Division Of Lucas Digital Ltd., Marin County, California.
Sound Designer & Supervisor: Gary Rydstrom.
Re-Recording Mixers: Gary Rydstrom, Tom Johnson.
Original Dialogue Recordist: Doc Kane.
Supervising Sound Editors: Michael Silvers, John K. Carr.
Assistant Sound Designer: Shannon Mills.
Sound Effects Editors: Ken Fischer, David Hughes.
ADR Editor: Michael Silvers.
Assistant Sound Editors: Marcie Romano, Steve Slanec.
Foley Editors: Mary Helen Leasman, Susan Sanford.
Foley Artists: Dennie Thorpe, Jana Vance.
Foley Mixer: Tony Eckert.
Foley Recordist: Frank "Pepe" Merel.
Sound Effects Assistant: Dee Selby.
Mix Technicians: Jurgen Scharpf, Juan Peralta.
Re-Recordist: Brian Magerkurth.
Multimedia Administrator: Dominique Patard.
Machine Room Operators: Travis Crenshaw, Gabriel Guy.
Additional Dialogue
Recorded: Jackson Schwartz, Tom Maydeck, Vince Caro.
Black & White Processing: John White.
Color Timer: Terry Claborn.
Negative Cutters: Mary Beth Smith, Rick Mackay.
End Credit Titles By: Buena Vista Imaging.
Title Design By: Brian King.
Projection: Don Henry, Ken Moore, Deem Rahall.
Telecine Operator: Robert J. Hansen.
Prints By: Technicolor(r)
Produced And Distributed On: Eastman Film.
Special Thanks To William F. Atwater, Ph.D., Director, U.S. Army Ordnance Museum, Dale Pate & Jason Richards At The Carlsbad Caverns, Walt Stanchfield



Remembering Our Friend Jim Varney




And To The Following Support Staff At Walt Disney Feature Animation Whose Tireless Efforts Made This Film Possible: Gina Aarniokoski, Meabh Agnew, Eileen Aguirre, Jenny Aleman, Kathy Alexander, Alexandrea Andrews, Marcia Arreola, Karen Bailey, Marie-Claude Banville, Barbara Bele, Rik Bomberger, Tamara J. Bonnell-Truitt, Janien Boudreaux, Karen Marcia Boyd, Charline F. Boyer, Edward Derian Boyke, Barri Brennan, Sheila Brown, Lisa Buch, Herb Burd, Tim Campbell, Fox Carney, Nhi Hua Casey, Sally Catic, Tenny Chonin, Brandy Contreras, Fred Cox, Sarah Ann Crawford, Patricia Dal Piaz-Giaretta, Missy Dallas, Maureen Davis, Michael B. Davis, Sophie Decoopman, Stephanie Dees, Thalia Del Razo Tamariz, Véronique Delion, Robert Dias, Elihane Martinez Disquin, Dave M. Drulias, Pamela Dugan, Christian M. Elsensohn, Doug Engalla, Erika Erickson, Nancy Evans, Melissa Fawl, Patti Ferrari, Yvett Merino Flores, Bobby L. Fowler, Jr., Matt Foyer, Jill Elizabeth Franklin, Lynne Freels, Chad Frye, Randy Fukuda, Marcelo Gaete Zanetta, Dolorès Gaiffe, Michele L. Garrett, Bruno Gaumétou, Ron Gillen, Donald Glenn, Ramiro Camilo Gomez, Caleb Gonzalez, Thomas Greer, Brian Arthur Griffith, Leo Sulat Gullano, Harold Gutierrez, Kirsten Taylor Hall, Ann Hansen, Jackie Hardaway, Bonnie Holmoe Hays, Louis Alonso Hernandez, Tiffany Herrington, Christopher A. Hibler, Jeri Howard, Larry Ishino, Roy Ishkanian, Jean-Marc Isidor, Bill James, Amindra "A.J." Jayasinghe, Claudine M. Kahn, Avetik "Avo" Karapetyan, Heather Kayne, Joël Kerneïs, Tamara N. Khalaf, Scot Kimberley, Jason Kincaid, Jennifer Jo Klocki, Nadine Landeau, Didier Latchimy, Tammy Lawless, Didier Lissillour, Jay Lockwood, Isabelle Lugnier, Melinda Macumber, Dan Madigan, Stacey Manfull, Jeff Maniccia, Tamaryn Matsuyama, Diane Mellen, Terri Lynn Miki, Christopher James Miller, John-Philip "Jay" Miller, Judy Moravitz, Bob Morgan, Joe Morris, Zineb Mounaji, Doug Nichols, Stephen Odle, Rick Roybal Olivarez, Shelley Ovrom, Dustin Pappas, Michele Jeanne Perez, Kim Lorang Phillips, Daniel Pickett, Karla Plesums, Bonnie Popp, Jessica Posada, Marty Prager, Raphaëlle Preynat, Vivian G. Procopio, Andy Ramos, Richard Ramsey, Evelyn G. Redfield, Kristina Reed, Royal Riedinger, Susan Rios, Juanita Rios-Mediano, Brenda Y. Rodriguez, John Rojano, Ana Carranza Romero, Eduardo A. Ruiz, Marilyn Saenz, Francis Vincent Salata III, Joanna Samija, Paule Samson, Ken Sandberg, Jack Sera, Jim Schelgel, Jan Schraner, Rajesh Sharma, Kris Shedarowich, Claire Sierka, Kent Silveira, Jason M. Sogolow, Jack Dean Stauss, Walt Sturrock, Verna Takeyama, Jeff Templeton, Ian Truitner, Matt Tsugawa, Peter John Vaughan, Korey Watari, Pam Waterman, Michael Wessel, Chuck Westmore, Patrick White, Anthony Williams, Phillip Williams, Eric A. Wood, Lisamarie Worley, Tamara F. Wren, Nadia Zylberstein-Wilhelm, Kathleen Yom.




MPAA # 38177

Copyright ©MMI Disney Enterprises, Inc.
All Rights Reserved
Distributed By Buena Vista Pictures Distribution
Submit Additional Information:
Do you have anything to add to this page? Have we made any mistakes... or do you ahve any additional information about Atlantis: The Lost Empire? If so, we would love to hear from you. Please send us a quick note with your additions or corrections to this page, and we will make the corrections as soon as possible!
Report Errors / Submit Additional Information
Cartoon Summary:
An inexperienced young adventurer becomes the key to unraveling an ancient mystery when he joins up with a group of daredevil explorers to find the legendary lost empire of Atlantis. At the center of it all is naοve-but-determined museum cartographer Milo... (more)