Previous Cartoon | Next Cartoon
Maleficent
Maleficent
Maleficent (2014) Feature Length Theatrical Animated Film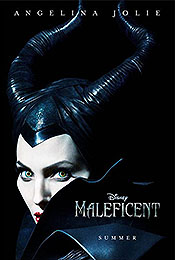 by Dave Koch
---
Post your Comments or Review
This page has been viewed 136 times this month, and 2200 times total.
Unknown Tag: 'short_stud_crew'
Unknown Tag: 'short_voice_crew'
Unknown Tag: 'short_dir_crew'
Unknown Tag: 'short_prod_crew'
Unknown Tag: 'short_write_crew'
Unknown Tag: 'short_edit_crew'
Unknown Tag: 'short_music_crew'
2014
Walt Disney Pictures, Roth Films, Moving Picture Company
Walt Disney Studios Motion Pictures
Feature Length Theatrical Animated Film
Cartoon Characters: Maleficent, Thistletwit, Knotgrass, Princess Aurora, King Stefan, Prince Phillip, Diaval, Leila, Shepherd, Flittle, King Henry, Pixie Reader, General Andson, Court Jester, Courtiers, Stefan's Generals, Soldiers, Palace Guards, King Henry's Generals, King Henry's Soldiers.
Vocal Talent: Angelina Jolie (Maleficent), Juno Temple (Thistletwit), Imelda Staunton (Knotgrass), Elle Fanning (Princess Aurora), Isobelle Molloy (Young Maleficent), Ella Purnell (Teen Maleficent), Vivienne Jolie-Pitt (Toddler Princess Aurora), Sharlto Copley (King Stefan), Brenton Thwaites (Prince Phillip), Sam Riley (Diaval), Hannah New (Leila), Jamie Sives (Shepherd), Lesley Manville (Flittle), Kenneth Cranham (King Henry), Marama Corlett (Servant), Steven Cree (Overseer), Kara Lily Hayworth (Pixie Reader), Mark Caven (General Andson), Oliver Maltman (Advisor), Damon Driver (Court Jester), Tim Treloar (Farmer), Stephan Chase (General 1), Gary Cargill (Kings Nobleman), John Heartstone (Soldier, Courtier), Stephanie Elstob (Dancer), Ceri Jerome (Dancer), Leo Suter (Young Man), Chris Leaney (Servant in the Wing Room), Christian Wolf-La'Moy (Courtier), Tom Swacha (Courtier), Daniel Harland (Courtier), Karen Mkrtchyan (Courtier), Steven John Nice (Courtier), Julian Seager (Stefan's General), Scott Bradley (Stefan's General), Jamie Maclachlan (Soldier), James Ayling (Stefan's Guard), Richard Summers-Calvert (Stefan's Guard), Matt Hookings (Stefan's Soldier), Jimmy Pethrus (Palace Guard), Adam Bond (Palace Guard), Joăo Costa Menezes (Palace Guard), Alfred Camp (King Henry's General), Liam McKenna (King Henry's Captain), Craig Izzard (King Henry's Soldier), Andrew James Porter (King Henry's Soldier), Lasco Atkins (King Henry's Soldier), Matthew John Morley (King Stefan's Soldier), (King Henry's Soldier), Craig Garner (Blue Suit Performer), Jo Osmond (Blue Suit Performer), Karen Anderson (Blue Suit Performer), Jo Osmond (Blue Suit Performer), Edd Osmond (Blue Suit Performer), Lee Edward Jones (Blue Suit Performer).
Produced By Don Hahn, Joe Roth.
Executive Producers: Sarah Bradshaw, Angelina Jolie, Palak Patel, Matt Smith.
Producer EPK: Scott Michael Murray.
Written By Linda Woolverton.
Rewrites, uncredited: Paul Dini.
Rewrites: John Lee Hancock.
Original Disney Animated Film "Sleeping Beauty" By: Erdman Penner.
Original Disney Animated Film "Sleeping Beauty" Additional Story By: Joe Rinaldi, Winston Hibler, Bill Peet, Ted Sears, Ralph Wright, Milt Banta.
Traditional tale "La Belle au Bois Dormant" By: Charles Perrault.
Edited By Chris Lebenzon, Richard Pearson.
Casting: Lucy Bevan.
Supervising Art Director: Frank Walsh.
Senior Art Director: David Allday.
Art Directors: Robert Cowper, Elaine Kusmishko, Paul Laugier.
Production Designers: Dylan Cole, Gary Freeman.
Set Decorator: Lee Sandales.
Costume Designer: Anna B. Sheppard.
Photography: Dean Semler.
Production Supervisor: Donald Sabourin.
Art Finisher: Nikkie Grimshaw.
Contact Lens Coordinator: Jemma Scott-Knox-Gore.
Contact Lens Designer/Painter: Cristina Patterson Ceret.
Crowd Hairdresser: Kathryn Fa.
Crowd Makeup & Hair Supervisor: Julia Vernon.
Daily Crowd Hairdresser: Amanda Finlay.
Hair & Makeup Daily: Lois McIntosh.
Hair And Make Up Trainee: Alice Moore.
Make Up Artist, Crowd: Jessica Brooks.
Makeup & Hair Artist: Debbi Salmon.
Makeup And Hair Trainee: Charlotte Mileham.
Makeup Artist: Charmaine Fuller.
Makeup Artist, Performance Capture: Hilla 'Lali' Peer, Brittania Perri.
Makeup Dailies: Lynn Jackett.
Makeup Designer: Paul Gooch.
Prosthetic Department: Ailsa Lawson.
Prosthetic Makeup Designer: David White.
Prosthetics Coordinator: Fawn Muller.
Prosthetics Trainee: Harvey Smith.
Special Effects Teeth: Chris Lyons.
Special Makeup Effects Artists: Bill Sturgeon, Cerina Knott, Colin Shulver, Jon Moore.
Special Makeup Effects Artist, Angelina Jolie: Arjen Tuiten.
Standby Optician: Farah Beegun.
Assistant Costume Designers: Oliver Garcia, Maja Meschede, Vivienne Jones, Jane Clive, John Norster.
Costume Assistants: Stella Atkinson, Peter Edmonds, Helen Jerome, Rupert Steggle.
Costume Breakdown Artist: Nicola Belton.
Costume Buyers: Claire Hardaker, Kay Manasseh.
Costume Cutters: Melanie Carter, Joan Staley.
Costume Daily: Sonia Booth.
Costume Makers: Jane Bogunovic, Estelle Cleary, Esther Himer, Emma Lloyd, Gemma Rasmussen, Rebecca Sellors, Trethanna Trevarthen.
Costume Prop Maker: Marianne Elgaard-Bendtsen.
Costume Props: Wesley Harland, Ian Jones.
Costume Supervisor: David Crossman.
Costumer To Angelina Jolie: Sabrina Calley.
Head Jewellery Maker: Naomi Critcher.
Head Textile Artist: Steve Gell.
Jewellery Makers: Helen Christie, Holly Dobson.
Key Costumers: Russell Barnett, Calandra Meredith.
Milliner: Susan MacKenzie.
Set Costumer: Perry Goyen.
Stunt Costumer: Nat Van Halle.
Textile Artists: Liv Murton, Jessica Scott-Reed.
Wardrobe Jewellery Maker And Leather Worker: Sarah Rose.
Wardrobe Master: William Steggle.
Workshop Seamstress (Uncredited): Avedian Lora.
Makeup & Hair Artist: Rebecca Cole.
Contact Lens Optician: Richard Glass.
Special Makeup Effects Artist: Rick Baker.
Crowd Hair And Makeup Artist: Roo Maurice.
Prosthetic Makeup Artist: Roz Abery.
Prosthetics Production Manager: Sacha Carter.
Junior Makeup & Hair Artist: Sally Rose Davidson.
Production Manager: Simone Goodridge.
Contact Lens Technician: Sinead Sweeney.
Makeup/Hair: Soleil Jackson.
Crowd Makeup And Hair: Sophia Knight.
Special Makeup Effects Artists: Stuart Richards, Susie O'Sullivan.
Post Production Executive: Todd London.
Makeup & Hair Artist: Tony Lilley.
Contact Lens Technician: Victoria Warrington.
3D Generalist: Robert Hochstoeger.
3D Set Designer: Gregory Fangeaux.
Action Prop Buyer: Rebecca Thomas.
Animatic Editor: Jeremy Thompson.
Art Department Assistants: Damian Léon Watts, Hugh McClelland, John Merry, Thomas Wingrove.
Art Department Coordinator: Gabriela Dolenska.
Art Department Runner: Luke Sanders.
Artificial Crystal Technician: Emily Hubbard.
Assistant Art Director: Tom Whitehead.
Assistant Buyer: Rachel Cutler.
Assistant Production Buyer: Elly Meyrick.
Assistant Set Decorator: Ben Barrington-Groves.
Blue Screen Carpenter: Richard Fox.
Carpenter: John Allen.
Character Designers: Daphne Yap, Howard Swindell, Jerad Marantz, Michael Kutsche.
Chargehand Standby Propman: Bradley Torbett.
Concept Artists: Arnaud Valette, Craig Shoji, Daniel May, Dominic Lavery, Justin Goby Fields, Kimberley Pope, Klaus Skovbo, Luca Nemolato, Magdalena Kusowska, Nick Ainsworth, Paul Catling, Ravi Bansal, Simon McGuire, Steffen Reichstadt, Nuttavut Baiphowongse.
Construction Buyer: Mark Russell.
Construction Coordinator: Laura Davison.
Construction Electrician: Paul Zippo.
Construction Manager: Brian Neighbour.
Construction Medic: Claire Hall.
Creature Designer: Jared Krichevsky.
Decor Artist: Rhiannon Fraser.
Drapery Man: Laurent Ferrie.
Drapesman: Mark McCabe.
Dressing Propman: Mark Smith.
Graphic Artist: Dominic Sikking.
Graphic Designers: Laura Dishington, Tina Charad.
Greens Department Coordinator: Justin Richards.
Hod Prop Modeler: Duncan McDevitt.
Illustrator: Jonathan Bach.
Junior Draftsmeb: Kate Pickthall, Claire Fleming.
Key Greensman: Jon Marson.
Model Maker Trainee: Mairi Claire Bowser.
Production Buyer: Kate Venner.
Propshop Supervisor: Craig Narramore.
Property Masters: Adam McCreight, David Balfour.
Props Storeman: Marlon Cole.
Props: Edward Griffiths, Amanda Ward, Gregor Telfer, Kate Murray, Sophie Tarver, Dan Frye, Eddie Tycer, Roy Halfpenny, Tom Sinden.
Scenic Artist: Rohan Harris.
Sculptors: Christiane Barbknecht, Thomas Smith.
Second Unit Chargehand Stand-By Prop: Gary Dawson.
Second Unit Standby And Dressing Props: Jack Salkeld.
Set Decoration Assistant: Alice Phelps.
Set Designers: Matt Wynne, Suzanna Smith.
Set Dresser: Philip Higgs.
Stand By Blue Screen Stag: Alan Titmus.
Stand-By Carpenter: Joe Cassar.
Standby Painter: Eddie Wolstencroft.
Standby Plasterer: Mick Chubbock.
Standby Props: Joe Bovington.
Stand-By Props: Reshoot: Eliot Maidment.
Stand-By Rigger: Wolfgang Walther.
Stand-By Stagehand: Adam Rashbrook.
Supervising Plasterer: Steve Court.
Character Designer: Bryan Wynia.
Character Animator: Elwaleed Suliman.
Layout Artist: Janek Lender.
Storyboards: Giles Asbury, John Greaves, Mark Moretti, Martin Asbury.
Senior Animators: Ken Satchel King, Kevin Labanowich, Jee Young Park.
Animators: Stewart Alves, Dan Blacker, Amaury Coljon, Brecht Debaene, Rex Fang, Andrew J. Farrell, Svein Ferkingstad, Ben Krolick, Ted Lister, Lee McNair, Andrew Ogawa, Thibault Pansiot, Blaine Toderian, Vincent Truitner, Keith Patrick Turner, Magnolia Ku Lea, Adam Slater, Liz Bernard.
Previs Animation Artist: Robert Diaz.
Pre-Visualization Animator: Scott Paquin.
3D Integration Camera Assistant, Digital Domain: Thomas H. Frederick.
3D Lighting Artist: Chris Wilson.
3D Scanning Specialists: Nick Soothill, Jean-Marc Rulier, Joseph Severn, Jennifer Brand.
Assistant Data Wrangler: Ross Clark.
Assistant Data Wrangler: Dan Pearson.
Assistant Visual Effects Editor: Kevin J. Jolly.
Associate Production Managers, Digital Domain: Clint Spillers, Matthew Voynovich.
Associate Visual Effects Coordinator: Mairin Platt.
Capture Technical Director: Framestore: Aron Merritt.
CG Modeler: MPC: Maurizio De Angelis.
Character Animator: MPC: Arslan Elver.
Character Effects Supervisor: Sho Igarashi.
Character Effects Artist: Elliot Rosenstein.
Character FX Artist: Chelsea Whittet.
Character Look Development Artist: Teru Yoshida.
Cloth Technical Director: Tyler Cayce.
Compositing Supervisor: Hamish Schumacher.
Compositors: Mark Bortolotto, Shane Flaherty, Kalle Peterson.
Compositors, Digital Domain: Paul Chapman, Rommel Shamoun.
Compositor, MPC: Fathima Feminň, Daniel Frade, Miguel Santana, Valentin Struklec.
Creature Artist: Antony Nguyen.
Crowd TD: Becki Wilson.
Crowd Technical Director: MPC: Gina Pentassuglia.
Digital Artists: Abhishek Ghorui, Stefano Giorgetti, Stephen Molyneaux, Daniel Moy, Rahul Sharma.
Digital Compositors: Luca Bellano, Marco Cantaluppi, Jayesh Chavan, Kaelen Cohen, Natalia Diaz, Michael Harrison, Olivier Jezequel, Dhumal Sagar, Stefan Susemihl, Marco Tudini.
Digital Compositors, MPC: Daniel Gonzalez Solozabal, Dillan Nicholls, Tony Peck, Kristian Rejek, Shane Christopher Wicklund.
Digital Coordinators, Digital Domain: Rafael Colon, Lori Talley, My Linh Truong.
Digital Effects Supervisor: Darren Hendler.
Digital Matte Painters: Carlo Balassu, Giovanni Casadei, Tiziano Fioriti, Monique Williams, Alyssa Zarate, Matthew Gilson, Oleksiy Golovchenko, Melaina Mace.
Digital Modeler / Technical Animator: Stephanie Pocklington.
Digital Production Administrator: Matt Marshall.
Digital Production Administrators, Digital Domain: Melissa Cell, Enoch Davis, Sheik Ghafoor.
Digital Production Manager, Walt Disney Pictures: Toby White.
Digital Technician: Chris Greybe.
Effects Artist: Digital Domain: Anthony Zalinka.
Effects Technical Directors: Simone Ciliani, Abdel Halim Garess, Igor Jovanovic, Clementine Lo, Cornelius Porzig, Ville-Matti Vasama.
Environment Technical Directors: Gábor Reikort, Dale Pretorius, Melanie Lowe.
Groom Artists: Martin Hession, Francesco Lupo, Jean Bultingaire, Rory Woodford.
Grooming Technical Director: Dennis Petkov.
Head Of 3D Services: 4dmax: Duncan Lees.
Head Of Assets: MPC: Elliot Newman.
Head Of Layout: MPC: Stanley A. Dellimore.
Head Of Layout: MPC Vancouver: Scott Eade.
Head Of Lighting: MPC: Patrick Ledda.
Head Of Operations: 4dmax: Louise Brand.
Head Of Production: Digital Domain: Jason Dowdeswell.
Image Based Lighting Digital Artist: Digital Domain: Jesse James Chisholm.
Integration Artists: Danny Garcia, Vincent Cheng, Michael DeBeer.
Layout Artists: Ummi Gudjonsson, Oli Clarke, Sam Cox.
Layout TD: Micha Boström, Quentin Sur.
Layout TD / VFX Editor: Kristin Pratt.
Layout TD: MPC: Ruth Asensio.
Layout/Crowd Artist: MPC: Sandra Murta.
Lead 3D Matte Artist: MPC: Juan Jesús García.
Lead Animator: Jeremy Mesana.
Lead Compositors: Joe Pavlo, Ben Perrott, Abdullah Ecirli, Ana Laura Esperón.
Lead Creature Effects TD: MPC Vancouver: Jason McKeeman.
Lead Crowd TD: MPC London: Marco Carboni.
Lead Crowd Technical Director: Francesc Izquierdo.
Lead Data Wrangler: Dominic Ridley.
Lead Data Wrangler: Second Unit: Mike Woodhead.
Lead Digital Compositor: MPC: Vincent Papaix.
Lead Effects Technical Director: MPC: Kevin Mah.
Lead Layout Artist: Cameron Sonerson, Paul Arion.
Lead Lighting Artist: Chris Elmer.
Lead Lighting Technical Directors: Juan S. Gomez, Diego Guerrero, Dann Tarmy, Jason Gagnon.
Lead Roto Animation: MPC: Kukal Prasanth.
Lead Roto/Prep Artist: MPC: Marc Taganas.
Lead Texture Artist: Paul Nelson.
Lead Texture Artist: Digital Domain: Ben Neall.
Lead Texture Artist: MPC: Arnaud Valette.
Lead Texture/Look Development Technical Director: Erik Gronfeldt.
Lighting & Look Development Technical Director: MPC: Pornthep Wongkitigumjorn.
Lighting Artisst: Lester Chung, Owen Jones, Stephan Skorepa.
Lighting Supervisor: Christopher Nichols.
Lighting TDs: James Carson, Alastair Ferris-Leak, Marc Menneglier, Teh-wei Yeh, Tosin Akinwoye, Taeyoung Kim.
Lighting/Look Development Technical Director: Benjamin Rabaste.
Machmove Artists: Hardik Trivedi, Hazra Anup, Ganesh Lamkhade, Sathiyakumar, Nidhi Agarwal, Sujay Kumar G., Suraj Makhija, Madhu Sharan, Vasantharajan.g.d, Sudip Dutta, Dinesh K. Bishnoi, Nitheesh P.C., Swati Shamsundar Malu.
Matte Painter: Asuha Yasuda.
Matte Painter: MPC: Igor Staritsin.
Media Systems: Digital Domain / Systems Support: Digital Domain: Manesh Shafiei.
Modeling And Texturing: MPC: Gianpietro Fabre.
Modellers: Kapil Dev Anand, Daveed Kaplan, Jake Harrell, Mahadevan Vishal, Joep Peters, Laurent Herveic, Jakob Kousholt.
Modeller: MPC: Sakharkar Anjum.
Motion Capture Artist: Alia Dong-Stewart.
Motion Capture Technical Director: Jeremy Schichtel.
Motion Control Operator: Tomi Keeling.
Motion Control Producer: Ryan Fear.
Motion Control Supervisor: Ian Menzies.
On-Set Data Wrangler: Marc Jones.
On-Set Stereo Supervisor: Richard Baker.
Paint Artist: Manish Pachauri, Amey Sakpal.
Paint/Prep Artist: Mark Fry, Sagar Wakankar.
Photographer: 4dmax: Dora Maud.
Pipeline Technical Directors: Dean Broadland, Natt Mintrasak.
Plate Supervisor: Digital Domain, Venice: Scott Edelstein.
Post Visualisation Artists: Leonard Barrit, Leif Einarsson, Evelyn Cover, Joe Henderson, Sarah Delucchi, Carl Frytz.
Postvisualization Artists, The Third Floor: Keren Albala, Matt McClurg, Suzanne Cipolletti.
Prep Artist: Hemant Khairnar, Alexandre Prod'homme.
Previs Animator: The Third Floor: Jason McDonald.
Previs Artist: Matt Bauer, Matthew Smart.
Previs Artist: The Third Floor: Michelle Blok.
Previs Artist: The Third Floor: Margaux Durand-Rival.
Previs Artist: The Third Floor Inc.: Mads Simonsen.
Previs Modeler: Mitchell Marciales.
Previs Production Coordinator: Rose Hancock.
Previs Senior Coordinator: Charlotte Adams.
Previs Shot Creator: The Thrd Floor Inc / Previsualization Artist: Jason Ivimey.
Previs/Postvis Artist: Herman Lee.
Previsualization Lead Artist: Faraz Hameed, David Weinstein.
Previsualization Artists: Stewart Ash, Jason Brown, Shoghi Castel De Oro, Jordan Emerick, Pätrick Gehlen, Roger Liu, Brett Magnuson, Alex Moon, Marcelino Newquist, Brian Pace, Jacopo Sebastiani, Maria Serrano, Dan Tindell, Joffrey Zeitouni.
Previsualization Postvis Supervisor: Scott Hankel.
Pre-Visualization Producer: Duncan Burbidge, Kerry Shea.
Previsualization Supervisor: Mark Nelson.
Previz Artist: Elwaleed Suliman.
Pre-Viz Matchmove Artist: Diego Pastor Bartoli, Maxwell Smith.
Production Support: Matt Rock.
Recruiter: Digital Domain: Eva Hoentzsch.
Rigging TD: Marc English.
Roto Artist: Shashank Tandle.
Roto Prep Supervisor: Paula Bell.
Roto/Paint Artist: Mauricio D. Ricaldi, Prashant Raj.
Senior Animator: Digital Domain: Cameron Folds, Neil Lim Sang.
Senior Character Technical Director: Davide La Sala.
Senior Compositor: Timothy Michael Cairns, Mark Larranaga, Jason Selfe.
Senior Compositor: MPC: Natalie MacDonald.
Senior Creature Effects Technical Director: Wade Wilson.
Senior Crowd TD: MPC: Jeffrey Burt.
Senior Development Modeler: Digital Domain: Marco Di Lucca.
Senior Effects Technical Director: Kristaan Cain, Sumit Pabbi.
Senior Lighting Technical Director: Sanjay Panchal.
Senior Lighting Technical Director: The Moving Picture Company: Alec Knox.
Senior Lighting/Lookdev TD: Arturo Orgaz Casado.
Senior Matte Painter: Tracey McLean.
Senior Matte Painter: MPC: Xin Zhou.
Senior Modeler: MPC: Bogdan Dubovyk.
Senior Previz Artist: Hunter Athey.
Senior Rigger: Matthieu Fiorilli.
Senior Visual Effects Coordinator: Ben Aghdami.
Senior Visual Effects Supervisor: Carey Villegas.
Shader: Kazuki Takahashi.
Software Engineer: Novaira Masood.
Software Engineer: Digital Domain: John Johansson.
Stereo Animator: Tarin Lucas, Assunta Garruto.
Stereo Compositor: Alex Hatfield.
Tech Anim And Cloth, MPC: Andrea Rosa.
Techanim Head Of Department: Angela Magrath.
Technical Animation Technical Director: Allyn Lawson.
Technical Animator: Victor Pillet.
Technical Animator, MPC Vancouver: Francesco Pinto, Alan Zheng.
Technical Director: Luke Gray.
Technical Director: Digital Domain: Alex A. Fleming.
Texture Artist: Hailey Moore.
Texture Artist: Digital Domain: Jamie Bowers.
Texture Artist: MPC: Solene Chan-lam, Chris Mulcaster.
Texture Lead: Digital Domain: Ben Dishart.
Texture Painter: MPC: Leigh van der Byl.
Texturing And Modeling: Anto Juricic.
Tracking/Matchmove Technical Director: Digital Domain: Montu Jariwala.
VFX Coordinator: MPC: James Turner.
VFX Department Manager: MPC: Chris Jestico.
VFX Editor: Craig Sheppard.
VFX Supervisor: MPC: Adam Valdez.
Virtual Production Lab Supervisor: April Warren.
Virtual Production Supervisor: Gary Roberts.
Visual Effects: Jeff Dotson, Gabriela Pruszkowska, Andrew Wood.
Visual Effects Accountant: Evan Feuerman.
Visual Effects Artist: Daniel Buck, David Frylund Otzen, Andrew Hutton, Julien Lasbleiz, Oliver McCluskey, Bastien Mortelecque, Benoit Rimet, Alessandro Sabbioni, Federico Scarbini, Swain Shiv, Klaus Skovbo, Arvind Sond, Chris Stefiuk, Ashley Tilley.
Visual Effects Assistant Data Wrangler: Sophie Anderson.
Visual Effects Consultant: Mattias Bergbom.
Visual Effects Coordinator: John Baer, Janelle Day, Nicole Duncan, Samantha Fazackerley, James Greig, James Grummitt, Josie Henwood, Meghan O'Brien, James Purdy, Samantha Rocca.
Visual Effects Data Coordinator: Scott Fritzshall.
Visual Effects Data Manager: Disney: Simon Bennett-Leyh.
Visual Effects Editor: Paul M. Wagner.
Visual Effects Editor: Digital Domain: Francisco Ramirez.
Visual Effects Lead Compositor At MPC: Izet Buco.
Visual Effects Lead: Digital Domain: Brett Ellis.
Visual Effects Photographer: MPC: James D. Kelly.
Visual Effects Producer: Barrie Hemsley.
Visual Effects Producer: Digital Domain: Kelly L'Estrange.
Visual Effects Production Accounting Manager: Marc Ostroff.
Visual Effects Production Assistant: Gavin Foden.
Visual Effects Production Assistant: MPC: Sarah Williamson.
Visual Effects Production Coordinator: MPC: Clare McLaughlin.
Visual Effects Production Manager: Rupert Smith.
Visual Effects Survey Supervisor: Holly Gosnell.
Visual Effects Technical Director: MPC: Matthew Novak.
Assistant Director: Set: Tom Payton.
Base Third Assistant Director: Sandrine Loisy.
Crowd Second Assistant Director: Nanw Rowlands.
First Assistant Director: Richard Whelan.
First Assistant Director, Additional Photography: Gerry Gavigan.
First Assistant Director, Second Unit: Nick Heckstall-Smith.
Key Set Production Asistant, Additional Photography: Sam Barry-Parker.
Second Assistant Director: Samar Pollitt.
Second Assistant Director, Additional Photography: Alex Gavigan, Tom White.
Second Assistant Director, Second Unit: William Dodds, Tom Rye.
Second Second Assistant Director: Dan Channing-Williams.
Second Unit Director: Simon Crane, Cedric Nicolas-Troyan.
Third Assistant Director: Samuel Andrew Smith.
Third Assistant Director, Aerial Unit: Saloum N'Jie.
Third Assistant Director, Daily: Ben Quirk.
Third Assistant Director, Second Unit: Holly Gardner, Robert Madden.
Special Effects: Charlie Graovac.
Special Effects Assistant Coordinator: Alana Kirkpatrick.
Special Effects Senior Technicians: Manex Efrem, Alexander Gunn, Terry Jones.
Special Effects Supervisor: Michael Dawson, Dominic Allan, Ben Broadbridge, Jamie Corbould, Doug McKenna, Martin 'Marty' McLaughlin, Declan O'Donnell, Neil Toddy Todd.
Special Effects Trainee: Andrew Ellwood, Nicholas Ellwood.
Wire Rigger: David Broadfoot.
A Camera Focus Puller: Additional Photography: Ashley Bond.
Additional First Assistant Camera: 2nd Unit: Chris Clarke.
Additional Grip: Emmet Cahill.
Additional Second Assistant Camera, Second Unit: Tobias Marshall.
Additional Video Assistant: Chris Cavanagh.
Aerial Director Of Photography: John Marzano.
Assistant Camera: Paul Wheeldon.
Assistant Digital Imaging Technician, Second Unit: George Rumsey.
B Camera Key Grip: John Flemming.
B Camera Second Assistant: Second Unit: Alex Bender.
Balloon Light Technician: Ingo Gardner.
Best Boy: Stewart Monteith.
Best Boy, Second Unit: Lee Eldred.
Camera Operator: "A" Camera, Second Unit: Peter Field.
Camera Operator: "B" Camera, Steadicam Operator: Tony Jackson.
Camera Operator: "B" Camera, Second Unit: Oliver Loncraine.
Camera Operator, Motion Capture: Gareth Hughes, Steve Brooke Smith.
Camera Trainee: Dominique Cheung.
Camera Trainee, Dailies: Alex Finlayson, Harry Gamble, Louise Harris.
Camera Trainee, Second Unit: Katerina Diakoyanni.
Camera Trainee, Second Unit, Dailies: Alistair King.
Central Loader, Main Unit: Elliot Purvis.
Central Loader, Second Unit: Luke Cairns.
Daily Electrician: Rob Dowling.
Daily Second Assistant Camera: Second Unit: Gabriel Hyman.
Desk Operator: Graham Driscoll.
Desk Operator: Second Unit: Jaime Fletcher.
Digital Imaging Technician Assistant: Rick James.
Digital Imaging Technician Trainee: Joe Dibble.
Digital Imaging Technician, Second Unit: Dan Carling, Fabio Ferrantini, Callum Just.
Digital Imaging Technician, Splinter Unit: Nye Jones, Mustafa Tyebkhan.
Digital Imaging Technician, Visual Effects Unit: Adam Shell.
Director Of Photography, Second Unit: Fraser Taggart.
Director Of Photography,: Splinter Unit: Peter Talbot.
Electrical Engineer: Stuart Hurst.
Electrician, Second Unit: Alan Grayley.
First Assistant Camera: Kenny Groom, David Penfold.
First Assistant Camera, Dailies: Miles Proudfoot.
First Assistant Camera, Aerial Unit: J. Glyn Williams.
First Assistant Camera, Second Unit: Robert Palmer, Dean Thompson.
First Assistant Camera, Splinter Unit: Rod Marley.
Focus Puller: Jon Webb.
Gaffer: James J. Gilson.
Gaffer, Second Unit: Martin Smith.
Grips: David Armstrong, Luke Myslowski, James Ray-Leary.
Grip Trainee: Additional Photography: Tom Stansfield.
Grip: "B" Camera: Jack Flemming.
HD Video Assist Operator: Splinter Unit: Nick Kenealy.
Key Grip: Splinter Unit: Peter Myslowski.
Libra Technicians: Dave Freeth, Brad Maloney, Gareth Viner.
Lighting Technicians: Conor Finlay, Michael-Daniel-King.
Phantom Download Technician: Additional Photography: Laura Jean Healey.
Rigging Gaffer: Ronnie Phillips.
Russian Arm Operator: Toby Plaskitt.
Second Assistant Camera: Adam Dorney.
Second Assistant Camera: Alan Hall.
Second Assistant Camera, "A" Camera: Ray Meere.
Second Assistant Camera, Dailies: Ben Foat, Morgan Spencer, Alex Teale.
Second Assistant Camera, Second Unit: Natasha Back, Francesco Ferrari, Andrew Jones, Dean Morrish.
Second Assistant Camera: Second Unit, Dailies: Alison Lai.
Second Assistant Camera, Splinter Unit: Roland C. Phillips.
Standby Electrical Rigger: Aaron Montgomery.
Steadicam Operator, Second Unit: Julian Morson.
Still Photographer: Frank Connor.
VFX Camera Operator: Stephen Murphy.
Video Assist Operator: Dominic Rau.
Video Assist, Additional Photography: Cristina Cretu.
Video Assistant: Cameron Davidson.
Video Assistant: Steve Petrie.
Video Assistant, Dailies: Claire Louise Fraser.
Video Playback Assistant: Richard B. Shean.
Video Playback Operator: Dan Hartley.
Video Trainee: C.A. Cooper.
Videographer: Nathan Wiley.
Assistant Editors: Elizabeth Czyzewski, Tom Davis, Christine Kim.
Apprentice Editors: Nathaniel G. Fuller, Jeremy Richardson.
Digital Intermediate Systems Administrator: Neil Harrison.
Digital Lab Technician: Jamie Payne.
Editorial Department: Sara Coppola.
First Assistant Editors: Joseph C. Bond IV, Sean Thompson.
Music Editor: Thomas S. Drescher.
Musician, Piano: Aaron Shang.
Orchestrators: Jeff Atmajian, Jon Kull.
Technical Supervisor Dailies: Judith Babcock.
Boom Operator: Steve Finn.
Boom Operator, Pickups: Enda Callan.
Boom Operator, Second Unit: Tristan Tarrant.
Co-Supervisor: Keith Dawson.
Creature Design Sculptor: Antony Nguyen.
Floor Supervisor: Second Unit: Stephen Hutchinson.
Foley Mixer: Corey Tyler.
Modellers: Kirby Allen, David 'Pinkie' Thomas.
Production Sound Mixer, Second Unit: Paul Munro.
Production Sound Mixer, Additional Photography: Barry O'Sullivan.
Sculptor, Cinovation Studios: Steve Koch.
Senior Special Effects Technician: Vince Abbott, Caimin Bourne, Stuart Heath, Stuart Wishart.
Snow Effects Design: Paul Denney.
Snow Effects Floor Supervisor: Oliver Guy-Watkins.
Snow Effects Technician: Craig DalyMark Hutchinson, Alex Landrum Jr., Tom Stroud.
Snow Effects Technician, Dailies: James Payton.
Sound Maintenance: William Towers.
Sound Mixer: Chris Munro.
2nd Hod Facilities: Stephen Pike.
Assistant Transportation Captain: Roy Clarke.
Camera Truck Driver: Malcolm Cooper.
Directors Driver: Paul Allen.
Drivers: Darren Aitchison, Brendan O'Gorman.
Driver, Construction Truck: Hendrik De Jonker.
Facilities Assistant: Simon Essery.
Facilities Manager: Paul Howitt.
Production Driver: Darren Fenny.
Transportation Captain: Gerry Gore, Marc Kelly, Shahin Moatazed' Keyvany, Stephen Lawrence, Terry Pritchard.
Unit Driver, Additional Photography: Pete Newman.
Riding Double: Liam Mckenna: Olly Rowland.
Stunt Department Coordinator: Clare Glass.
Stunt Coordinator: Eunice Huthart.
Stunt Doubles for Angelina Jolie: Nellie Burroughes, Bonnie Parker.
Stunt Double, Sharlto Copley / Stunts: Martin Wilde.
Stunt Double, Young Maleficent: Rachelle Beinart.
Stunt Horse Rider: Chris Manger.
Stunt Performer: Andy Butcher, Nick Chopping, David Collom, James Cox, Jason Curle, Nicholas Daines, Levan Doran, Dan Euston, Pete Ford, Oliver Gough, David R. Grant, Bobby Holland Hanton, Elliot Hawkes, Paul Howell, Cristian Knight, Sarah Lochlan, Nick McKinless, Erol Mehmet, Andy Merchant, Casey Michaels, Rory Mulroe, James Pavey, Ian Pead, Justin Pearson, Douglas Robson, Marcus Shakesheff, Shane Steyn, Ryan Stuart, Roy Taylor, Arran Topham, Andy Wareham, Calvin Warrington-Heasman, Marlow Warrington-Mattei, Reg Wayment, William Willoughby, Annabel Elizabeth Wood, Steen Young, Nina Armstrong, Lloyd Bass, Jonathan Cohen, Rob Cooper, Aldonio Danny Freitas, Bradley Farmer, Richard Hansen, Paul Lowe, Rob Pavey, Simon Whyman.
Stunt Rigger: Marc Mailley.
Utility Stunts: Annabel Canaven.
Account Assistant: Charles Larcombe.
Accounting Assistant: Andy New.
Additional Runner: Alfie Oldman.
Additional Set PA: Katie Hodgkin.
Additional Set Production Assistant: Amy Quelch.
Aerial Coordinator: Marc Wolff.
Aerial Operations Coordinator: Lucia Foster Found.
Aerial Operations Manager: Andy Stephens.
Armoury Coordinator: Caroline Wilson.
Armoury Modelmaker: Tim Wildgoose.
Assistant Accountants: Amanda Fernie, Alex Kerr.
Assistant Location Manager: Duncan Broadfoot.
Assistant Production Coordinators: Kate Bone, Glenn Diot.
Assistant Production Coordinator, Second Unit: Valeria Bullo.
Assistant Script Supervisor: Marianne Huet.
Assistant Script Supervisor, Additional Photography: Roxanne Cuenca.
Assistant Script Supervisor, Second Unit: Cristina Manlises.
Assistant To Executive Producer: Michael Mann.
Assistant Unit Manager: Eleanor Downey, Samson Haveland.
Assistant to Cedric Nicolas-Troyan: Nadiya Luthra.
Assistant to Mr. Crane: Susana Torres.
Body Double: Catherine Laine.
Cashier: Paula Chidgey.
Cast Assistants: Tommaso Colognese, Charlotte Draper.
Catering Production Assistant: Becky Sands.
Construction Accountant: Holly Bates.
Crowd Production Assistant, Dailies: Matt Bensley.
Dialogue Coachs: Barbara Berkery, Elspeth Brodie.
Dialogue Coach, Miss Fanning: Sandra Frieze.
Dialogue Coach, Miss Jolie: Catherine Charlton.
Digital Assets Coordinator, The Walt Disney Studios: Joe Carhart.
Double, Young Stefan: Lee Edward Jones.
Environmental Supervisor: Angus Ellis.
Executive Assistant To Director: Jules Baker-Smith.
Facilities Assistant: Kerry Gissing.
First Assistant Accountants: Joe Beckwith, Dougal Cadiou.
Floor Runner, Dailies: Harry Hewitt, Jason Rickwood.
Home Economist: Katharine Tidy.
Horse Rider: Mark Payne.
Key Location Assistants: Ben Firminger, Jon Hills.
Key Production Assistant: Michelle Davis.
Key Set Production Assistant: Additional Photography: Darren O'Connell.
Legal Services: Production: Tariq Mirza.
Location Coordinator: Lindsey Powell.
Location Manager: Teresa Darby.
Location Assistants: Santiago Placer, Kimberley White.
Location Marshall, Dailies: Louis Cooper Robinson, Turner Hodsoll.
Location Runners: Daniel Hillary, David Powell.
Medics: Garry Marriott, Linda Jayne Roberts.
Military Advisor: Paul Hornsby.
Military Trainers: Billy Budd, Patrick Cullen.
Payroll Accountant: Rebecca Wolf.
Payroll Accountant, Additional Photography: Nessa King.
Picture Double, Young Maleficent: Charlotte Williams.
Production Accountant: Celeste Talaszek.
Production Accountant, Reshoots: Becky Maxwell.
Production Controller: Michael Lewis.
Production Coordinator: Jami Chan.
Production Coordinators, Additional Photography: Stephanie Bamberg, Emma Mallett.
Production Secretarys: Richard Rogan, Edward Squires.
Script Supervisor: Jo Beckett.
Script Superisor, Splinter Unit: Diana Dill.
Second Payroll Accountant: Helen Searle.
Set Armorer: Dan Johnson.
Set Production Assistants: Chaz Johnson, Eman Kazemi, Phoebe Vale Markham, Nick Page, Sam Rook.
Set Production Assistant, Additional Photography: Natasha Fournel.
Set Production Assistant, Reshoots: Lorena Wright.
Set Production Assistants, Second Unit: Jack Ivins, Michela Marini.
Set Runner: Additional Photography: Ed Ripley.
Stand-Ins: Richard Manlove, Norman Campbell Rees.
Stand-In: Angelina Jolie: Caridad Angus.
Stand-In: Sharlto Copley & Sam Riley: Jason Horwood.
Studio Teacher: Laura Gary.
Supervising Location Manager: Bill Darby.
Transport Office Coordinator: Paula Hind.
Travel And Accommodation Coordinators: Claudia Cimmino, Tylie Cox.
Unit Manager: Rob Campbell-Bell.
Unit Production Assistant: Craig Luck.
Unit Publicist: Rob Harris.
VFX Element Unit Production Coordinator: David Zealey.
Weather Consultant: Richard Wild, Tristan Battersby, Luke Clare, Charlie Elson, Emma Gunnery, Steven Johnson, Chor Man, Mark Martin, David Ware, Tamlyn Samuels.
Thanks: Stephen Dryer.
Submit Additional Information:
Do you have anything to add to this page? Have we made any mistakes... or do you ahve any additional information about Maleficent? If so, we would love to hear from you. Please send us a quick note with your additions or corrections to this page, and we will make the corrections as soon as possible!
Report Errors / Submit Additional Information
Cartoon Summary:
The untold story of Disney's most iconic villain from the 1959 classic "Sleeping Beauty," reveals the events that hardened Maleficent's heart and drove her to curse the... (more)