Previous Cartoon | Next Cartoon
Mars Needs Moms
Mars Needs Moms
Alternate Title: Mars Needs Moms!
Mars Needs Moms (Mars Needs Moms! , Mars Needs Mums) (2011) Feature Length Theatrical Animated Film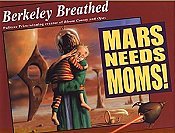 by Dave Koch
---
Post your Comments or Review
This page has been viewed 84 times this month, and 3298 times total.
Unknown Tag: 'short_stud_crew'
Unknown Tag: 'short_voice_crew'
Unknown Tag: 'short_dir_crew'
Unknown Tag: 'short_prod_crew'
Unknown Tag: 'short_write_crew'
Unknown Tag: 'short_edit_crew'
Unknown Tag: 'short_music_crew'
2011
Walt Disney Productions, ImageMovers Digital
Walt Disney Studios Motion Pictures
Feature Length Theatrical Animated Film
Vocal Talent: Seth Green (Milo), Dan Fogler (Gribble), Joan Cusack (Mom), Elisabeth Harnois (Ki), Mindy Sterling (Supervisor), Kevin Cahoon (Wingnut), Tom Everett Scott (Dad), Jacquie Barnbrook (Martian), Matthew Henerson (Martian), Adam Jennings (Martian), Stephen Kearin (Martian), Amber Gainey Meade (Martian), Aaron Rapke (Martian), Julene Renee (Martian), Kirsten Severson (Martian), Matthew Wolf (Martian), Raymond Ochoa (Martian Hatchling), Robert Ochoa (Martian Hatchling), Ryan Ochoa (Martian Hatchling), Meredith Wells (Martian Hatchling), Teagan Wells (Martian Hatchling), Seth Robert Dusky (as Seth Dursky) (Milo), Gavin Bryson Thompson (Martian Hatchling [uncredited]), Marianne Bennett, Jo McGinley, Dan O'Connor (as Daniel James O'Conner), Edi Patterson.
Directed By Simon Wells.
First Assistant Director: David H. Venghaus Jr.
Second Assistant Director: Jeffrey Schwartz.
Second Second Assistant Director: Gregory J. Pawlik Jr.
Second Assistant Director (Additional Photography): Larry D. Katz.
Second Unit Director: Garrett Warren.
Produced By Steven J. Boyd, Jack Rapke, Steve Starkey, Robert Zemeckis.
Associate Producer: Ryan Chan.
Line Producer: Peter M. Tobyansen.
Animated By Jason Behr, Jeremy Bolan, Bryon Caldwell, Mike Dacko, Cameron Folds, Rena M. Fowler, Oz Gani, Dan Kunz, Jax Lee, Jean Lin, Jonathan Lyons, Yuhon Ng, Tal Peleg, Roland Vallet.
Animation Supervisors: Stéphane Couture, Keith Kellogg, David Shirk.
Crowd Animation Supervisor: Craig Halperin.
Senior Animator: Jimmy Almeida.
Senior Character Animator: Brett Schroeder.
Character Animator: Brett Schroeder.
Lead Animation Technical Director: Tom Meade.
Digital Trainer (Lighting and Surfacing): Dan Sukiennik.
Edited By Wayne Wahrman.
First Assistant Editor: Brett Schlaman.
Assistant Editors: Bryan Lamoureux, Alison Learned Wolf, Ken O'Keefe.
VFX Editor: Jessica Rubin.
Editorial Consultant: R. Orlando Duenas.
Digital Intermediate Producer: Bruce Lomet.
Digital Intermediate Editors: Everette Webber, Mark Sahagun (uncredited).
Digital Intermediate Data Manager: Ashley Farber.
Digital Intermediate Colorist: Jason Fabbro.
Digital Asset Manager: Jason Brown.
Digital Preparation: Nathan Schauf.
Additional Crew:
Director of Photography: Robert Presley.
Camera Operators: Brian Garbellini, Maurice K. McGuire, Dale Myrand, Tony Olivieri, Nick Paige, Christopher A. Schenck, Benjamin Spek.
Assistant Camera: John Meyers.
Still Photographers: Joseph Lederer, Jim Sheldon.
Key Grip (Motion Capture): Dennis Hoerter.
Grip: Roberto A. Ramirez.
Video Engineer: Chris Wagganer.
Video Recordist: Roger C. Johnson.
Production Design: Doug Chiang.
Art Directors: Brian Flora, Norman Newberry, Mike Stassi.
Assistant Art Directors: Scott Herbertson, Philip Keller, Jeff Wisniewski.
Art Department Coordinator: Andrea Carter.
Art Coordinator: Genevieve Elkin.
Art Department Production Assistants: Jennifer Bash, Chris Bonura.
Art Department Assistant: Zack Bunker.
Concept Artists: Darren Bacon, Kinman Chan, Garrett Fry, Paul Hamblin, Lei Jin, Roel Robles.
Concept Sculptors: Robert E. Barnes, Tony McVey.
Concept Model Makers: Nick Bogle, Jeff Brewer, Fon Davis, John Duncan, Pierre Maurer, Roy Sutherland.
Concept Designers: Jason Merck, Emmanuel Shiu.
Character Designer: Brian Matyas.
Character Design: Vladimir Todorov.
Set Designers: Richard F. Mays, David Moreau, Jim Wallis.
Digital Set Designers: Michael C. Biddle, David Chow.
On-Set Dresser: Lawson Brown.
Lead On-Set Carpenter: Fred O'Connor.
Assistant Property Masters: Michael D'Imperio, Bensen Ho.
Mocap Propshop Foreman: Jack Cornelius.
Mocap Prop Maker: Holly Sudduth.
Mocap Carpenter: Colin Dennis.
Construction Coordinator: John Villarino.
Construction General Foreman: Bobby Mara.
Researcher/Archivist: Gregory Bossert.
Visual Development: Kevin Conran.
Welding Foreman: Alan Droeger.
CG Generalist: Landis R. Fields IV.
Makeup Department Head: Tegan Taylor.
Makeup Artist: Gabriel De Cunto.
Special Makeup Effects (Key Lab Technician): Carlton Coleman.
Production Department Managers: Jenny Head Appleton, Anna Fields.
Associate Production Department Managers: Tommy Kiser, Zoe Aimee Zaitzeff.
Production Manager: Brian Brecht.
Associate Production Managers: Johnny Duguid, Ben Hadden, Jennifer Hsyu.
Assistant Production Manager: Juan Bronson.
Unit Production Manager: David M. Bernstein.
Production Supervisor: Gabriela Rios.
Post-Production Supervisor: Regina Carney.
Supervising Sound Editor: Dennis Leonard.
Assistant Supervising Sound Editor: Kim Foscato.
Assistant Sound Designer: Leff Lefferts.
Foley Artist: Sean England.
Foley Recordist: Corey Tyler.
Foley Mixer: Nia Hansen.
Assistant Re-Recording Mixer: Scott R. Lewis.
Additional Re-Recording Mixer: Colette Dahanne.
Boom Operators: Peggy Names, Cary Weitz.
Boom Operator (Additional Photography): Jesse Kaplan.
Fisher Boom Operator: Thomas Giordano.
Supervising Dialogue and ADR Editor: Richard Quinn.
ADR Stage Engineer: Derek Casari.
Production Pro Tools Operator: Mark Agostino.
Special Effects Supervisor: Michael Lantieri.
Lead Motion Capture Technical Director: Joel Pennington.
Motion Capture Technical Directors: Brendan Abel, Sarah Back, Kirk Chantraine, Alexandre Frazao, Jason Rush, Damon Shelton, Andrew B. Smith.
Motion Capture Technicians: Favian Beltran, Ronaldo A. Benaraw, Jonathan A. Berry, Oded Kassirer, Jarrod Kozeal, Ron Rhee, Derek Salemme, Jeremy Schichtel, Keven Viragh-Begert.
Motion Capture Artists: Alia Dong-Stewart, Kirk Dunne.
Motion Capture Production Assistants: Jenn Grundstad, Suzanne C. Robertson.
Motion Capture Lead: John Root.
Motion Capture Stage Lead: Ben Guthrie.
Motion Capture Supervisor: Gary Roberts.
Motion Capture Tracking Assistant: Brett Skaggs.
Motion Capture Editor: Kevin Wang.
Motion Capture Crew: Joel Prihoda.
Motion Capture: Tom Armbruster.
Digital Artists: Robert Adams, Kathryn Capri, Brad Falk.
Digital Effects Artist: Andrew Butler.
Digital Compositors: Joseph Bailey, Jesse Russell, Jason Yanofsky.
Digital Producer: Mei-Ming Casino.
Digital Production Manager: Yvette Memory.
Digital Matte Painting Supervisor: Guy Riessen.
Digital Matte Painters: Garrett Fry, Matthew Gilson, Annemieke Loomis Hutchins.
Digital Effects Supervisor: Ryan Tudhope.
Shot Layout: Robert Adams.
Shot Finishing Artist/Compositor: Marc Machuca.
Directors Layout Artists: David Aguilar Gomez, Tricia Barrett, Pablo Chavez, Shawn Hull, Michael M. Walsh.
Lead Layout Technical Director: Kerry Lee.
Performance Layout Technical Director: Derrick Lau.
Directors Layout Technical Director Supervisor: April Warren.
Directors Layout Technical Directors: Jose Astacio, Nicholas Pierre Brown, Eugene Chung, Anthony Jacob, Dean Lewandowski, Justin Stockton, Paolo Joel Ziemba.
Lead Character Technical Director: Anton Dawson.
Character Technical Directors: Pedro Aleman, Scott Englert, Pascal Hang, Ofer Koren, Noah Mizrahi, David Northcutt, Chad Vernon, Emre Yilmaz.
Lead Character Effects Technical Director: Kevin Kelm.
Character Effects Technical Directors: Adam Chrystie, Joseph Clark, David Dame, Dax LaFleur, Lucy Maxian, Vicky McCann, Carolyn Wong.
Lead Character Rigger: Nathan Frigard.
Character Rigging Supervisor: Tim Coleman.
Lead Character Finaler-Rigger: Geordie Martinez.
Senior Grooming Hair Technical Director: Ohkba Ameziane-Hassani.
Technical Development Lead: Nicholas Apostoloff.
Layout Artists: Ryan D. Chan, Alison Kellom, Kwan Wayne Yu Yee.
Camera and Layout Artist: Steven Kirchner.
Layout Technical Directors: Sarah Back, Olivia Bouwkamp, Mark Lipsmeyer.
Visual Effects Coordinator: Zoe Aimee Zaitzeff.
Visual Effects Supervisor: Kevin Baillie.
Visual Effects Supervisor (Matte World Digital): Craig Barron.
Visual Effects Editorial: Timothy Eaton.
Visual Effects Technical Director: Allan Gersten.
Visual Effects Production Assistant: Reny Preussker.
Visual Effects: Michael Hall, Katelyn Takens.
Additional Visual Effects: Matte World Digital.
Pre-Vis Artists: Matt Bauer, Austin Bonang, Kevin J. Williams.
Pre-Visualization: The Third Floor.
Compositing Tech Supervisor: Jonathan Egstad.
Compositor/Finishing: Siksit Boonyodom.
Senior Compositor/Lighting Technical Director: Ralph Procida.
Lead Lighting and Compositing (ImageMovers Digital): Alex Prichard.
Lighting and Compositing Artists: Christopher J. Logan, Scott G. Trosclair, Kelly Walsh.
Digital Lighting and Compositing Artist: Richard Liukis.
Lighting and Compositing Technical Director: Ryan Rogers.
Assistant Technical Directors (Lighting/Compositing): James Sathre, Bryan Trowbridge.
Senior Compositor: Woei Lee.
Lighting and Compositing: Michael Leung, Yi Zhao.
Lighting and Compositing (Walt Disney Animation Studios): Jorge Obregon, Osiris Pérez.
Senior Effects Technical Director: Michael Brainerd.
Effects Technical Director: Rony Edde.
Research and Development Engineers: Margarita Bratkova, Mark C. Colbert.
R&D Developer: Nate Reid.
Effects Supervisor: Doug Creel.
Effects Artists: Derek Cheung, Michael Janov.
Lighting Department Manager (Walt Disney Animation Studios): Mike Huang.
Senior Lighting Technical Director (Image Movers Digital): Scott Palleiko.
Lighting Technical Directors: Arun P. Chidambaram, Diego Garzon, Edward Helmers, Ryan Rogers, Juwana Samman.
Assistant Technical Directors Lighting/Shading: Christopher J. Logan.
Lighting Supervisor: Brian Kulig.
Lighting Lead: John Stillman.
Lighting Artists: Derek Nelson, Jason Yanofsky.
Lead Lighter: Jongo.
Lighter: Jon Krummel.
Modeling Supervisor: Ann Sidenblad.
Senior Modeler (Image Movers Digital): Can Tuncer.
Lead Modelers: Matthew Cioffi, Steve Rheinfrank.
Modelers: Po-Ming Chu, John "JD" Daniel, Brent Wong, Yuki Yamamura.
Modeler/Texture Artist: Andrew Hwang.
CG Modelers: Chris Patrick O'Connell, Ridley Roger.
Character Modelers: Mark Kobrin, Shraga Weiss.
Studio Comp Lead: Michael Clemens.
Senior Production Engineering Technical Director: Gerald Tiu.
Production Engineering Technical Directors: Purnell Davis, David McGraw.
Production Engineer: Novaira Masood.
Scanning Coordinator: Donnalee Austen.
3D Scan Technician: Yoshi DeHerrera.
3D Scanning: Frederick George Stuhrberg.
Assistant Technical Directors: Greg Denton, Stewart Graff, Nick von Tagen.
Stereoscopic Technical Director: Cruz DeWilde.
Stereoscopic Supervisor: Anthony Shafer.
Simulation Artist: Jennifer Downs.
Lead Texture Painter: Stéphanie Dubé.
Texture Artists: Rebecca Heskes, Vita Pei-Ying Hsieh.
Surface/Texture Artist: Janelle Schneider.
Resource Technical Assistants: Nino Ellington, Omar Garcia, Brad Isdrab, Michael Oregon, Siyu Song.
Look Development Lead: Chu Tang.
Look Development Artist: Suzanne Smith.
Look Development: Brent Elliott, David B. Menkes, Christos Obretenov.
Lead Technical Directors: Brad Fox, Jonathan Harman, Ian Jenkins.
Technical Directors: Kevin Hong, Barry Kane, Paul A. Mais, Colleen O'Hagan, Maggie Oh, Josh Paller, Jonathan D. Penney.
CG Supervisor: David "Rudy" Grossman.
Associate CG Supervisors: Ryan Galloway, Piotrek Krawczyk.
General Manager (Image Movers Digital): Christian Kubsch.
Supervising Technical Director: Euan K. MacDonald.
Systems Engineer: Steven J. Madonna.
Motion Editor: Dave Preciado.
Producer: Sandra Scott.
Facial Acquisition Hardware Technician (Gribble Entertainment): Daniel James Weber.
Stunt Coordinator: Garrett Warren.
Assistant Stunt Coordinators: Mark Ginther, Nito Larioza.
Stunt Performer: Ilram Choi, Geovanny Corvera, Mark Musashi.
Stunts: Richard Epper, Shawn Kautz, Frank Torres.
Utility Stunts: Colin Follenweider, Justin Riemer.
Stunt Riggers: Steve Upton, Morgan Williams.
Stunt Double (Elisabeth Harnois): Tarah Paige.
Stunt Double (Seth Green): Jason Sanfilippo.
Stunt Double: Alicia Vela-Bailey.
Casting Associate: Toby Guidry.
Costume Supervisor (Mocap): Anthony Almaraz.
Mocap Costume Assistant: Shoghig Gagossian.
Key Costumer: David Fernandez.
Set Costumers: Stacy L. Tyson, Carrie Ysais.
Costumer: Erich A. Muller.
Specialty Costumes: Leticia Sandoval.
Transportation Captain: Graham Ready.
Transportation Consultant: Joel Marrow.
Driver (Mr. Fogler): Gary "Little G" Williams.
Drivers: Robert Gaskill, James A. Lundin, Wayne Roberts, Bobby Tacker.
Digital Registrar: Ana Birch.
Clearances: Cathleen Brown.
Production Secretary: David Buehrle.
Key Set Medic: Sarah Catizone.
Key Office Production Assistant: Jennifer Davis.
Office Production Assistant: Spencer Taylor.
Set Production Assistant: Erin Stern.
Production Assistants: Barry Curtis, Chris Davis, Jenn Grundstad, Crystal Munson, Scott Sener, Clayton Shank, Amy Venghaus.
Principal Engineer: Patrick Danford.
Unit Publicist: Paulette Dauber.
Production Accountant: Susanne Lariviere.
First Assistant Accountant: Rebecca Feldman (as Rebecca Feldman McLaughlin).
Second Assistant Accountants: Kirby C. Fortenberry, Mike McLaughlin.
Construction Accountant: Kirby C. Fortenberry.
Payroll Accountant: Angela Randazzo.
Production Coordinators: Brandon Foster, Laura C. Bowers, Corie Zhang.
Production Coordinator (ImageMovers Digital): Ashley Koons.
Assistant Production Coordinators: Christie Kwan, Paula Stier.
Studio Teacher: Laura Gary.
Technical Documentation: Susan Boylan Griffin.
Technical Assistant: Christopher Medley-Pole.
Creator (Alien Language): Stephen Kearin.
Production Video Supervisor: Ian Kelly.
Script Supervisor: Luca Kouimelis.
Director of Information Technology: Tom Lafferty.
Production Controller: Susanne Lariviere.
Systems Administrators: Timothy McCormick, Christopher S. Patterson, Doug Swam.
Choreographer: Julene Renee.
Recruiter: Rosanna Server.
Storage Architect: David Tsao.
Puppeteer: April Warren.
Catering: Café Joël, Reel Chefs Catering.
Expendables: Direct Tools & Fasteners.
International Monitoring Agency: Intelligent Media.
Walkie Rentals: Rockbottom Rentals.
End Titles: Scarlet Letters.
Hair and Makeup Trailers: Star Waggons.
Star Trailers: Star Waggons.
Submit Additional Information:
Do you have anything to add to this page? Have we made any mistakes... or do you ahve any additional information about Mars Needs Moms? If so, we would love to hear from you. Please send us a quick note with your additions or corrections to this page, and we will make the corrections as soon as possible!
Report Errors / Submit Additional Information
Cartoon Summary:
A young boy named Milo gains a deeper appreciation for his mom after Martians come to Earth to take her away.