Previous Cartoon | Next Cartoon
Tinker Bell And The Great Fairy Rescue
Tinker Bell And The Great Fairy Rescue
Alternate Title: Tinker Bell: A Midsummer Storm
Tinker Bell And The Great Fairy Rescue (Tinker Bell: A Midsummer Storm) (2010) Feature Length Direct-To-Video Animated Film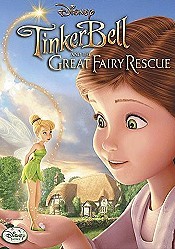 by Dave Koch
---
Post your Comments or Review
This page has been viewed 103 times this month, and 2517 times total.
Unknown Tag: 'short_stud_crew'
Unknown Tag: 'short_voice_crew'
Unknown Tag: 'short_dir_crew'
Unknown Tag: 'short_prod_crew'
Unknown Tag: 'short_write_crew'
Unknown Tag: 'short_edit_crew'
Unknown Tag: 'short_music_crew'
2010
DisneyToon Studios
Walt Disney Home Video
Feature Length Direct-To-Video Animated Film
Cartoon Characters: Dr. Griffiths, Iridessa, Tinker Bell, Rosetta, Silvermist, Terence, Vidia, Bobble, Clank, Driver, Mrs. Perkins, Lizzy, Fawn.
Vocal Talent: Michael Sheen (Dr. Griffiths), Raven-Symoné (Iridessa), Mae Whitman (Tinker Bell), Kristin Chenoweth (Rosetta), Lucy Liu (Silvermist), Jesse McCartney (Terence), Pamela Adlon (Vidia), Rob Paulsen (Bobble), Jeff Bennett (Clank, Driver), Faith Prince (Mrs. Perkins), Lauren Mote (Lizzy), Angela Bartys (Fawn), Cara Dillon (Narrator), Bob Bergen.
Produced By Helen Kalafatic, Margot Pipkin.
Associate Producer: Jan Hirota.
Executive Producer: John Lasseter.
Animated By Sameer Arab, Shailesh Arote, Munesh Babhulgaonkar, Nitin Balakrishnan, Siddhesh Bhandare, Abhijit Daripkar, Sandeep Deshpande, Gaurav Dubey, Michael Galbraith, Angie Glocka, Nirmal Gopinath G., Shekhar Gujar, Maharshi Joseph, Sreejith Kaladharan, Sandeep Kalambe, Nitin Khambalkar, Harish K., Chaitanya Limaye, Allwyn Lopes, Aju M., Evan Mayfield, Emil D. Melni, Mayur Mistry, Mahesh M.S., Ruchir Nabar, Biju Nair, Mangesh Nevarekar, Tejashree Pachpute, Gaurav Pal, Majnu Panicker, Tanaji Parit, Chandrakant Patil, Hemant Patil, Vinay Patil, Mamata Pawar, Bony Pinto, Madhur Pole, Rajendra Praveen, Mahesh Pujari, Stanley Rajesh Selvamani, Hiren Shah, Shashank Shinde, Jitesh Tandale, Swapnali Terse, Shinoj T.J., Onil Vaidya, Nidhish Vasudevan, Rajeev Vedak, Sanjeev Vedak, Kurra Vikram.
Animation Director: Sheryl Sardina Sackett.
Animation Supervisor: Pushkaraj Bagwe.
Lead Animators: Rohan Mandke, B.D.V. Prasad.
Animation Production Manager: Ashish Thapar.
Assistant Animation Support: Michael Greenholt.
Story Artists: Dan Abraham, Becky Cassady, Jun Falkenstein, Kevin Gollaher, Lawrence Gong, Arturo A. Hernandez, John Howley, Chris Hubbard, Frank Nissen, Shane Zalvin.
Additional Story Artists: Will Finn, Kevin Harkey, Jason Lethcoe, John Pomeroy.
Surfacing Leads: J.R. Karthikeyan, Manivannan Madhesan, Muriel Mantri.
Surfacing Artists: Kailas Avhad, Debarshi Biswas, Ashok B.K., Viresh Dawade, Namdev Dhanwade, Sachin Divkar, Kiran S. Hotkar, Manjunath G. Khatavate, Rashmi Mahadevan, Surendran Narayanan, Santosh Patil, Supriya Pendurkar, Jayaprakash P.J., Appala Raju N., Biju Raphel, Mintu Sajeevalal, Shirish Sarpotdar, Prashant Shivankar, Suneel Sutar, S. Muthukrishnan Swaminathan, Mangesh Zagade.
Foliage Lead: Clinton Remedios.
Foliage Artists: Sonali Chaugule, Sudarshan Havale, Chandan Maji, Bhattacharya Saikat, Rohit Sali.
Layout Manager: Navneet Verma.
Layout Lead: Seshu Kumar Kota.
Layout Artists: Swapanil Choudhary, Prafulla Naik, Deepti Pareek, Nizamuddin Sheik, Sachin Thakkar.
Cloth Simulation Leads: Poorva Adarkar, Souradip Biswas, Samiran Chakrabarty, Bapi Modak, Amish Pathak, Siddhi Rawool, B. Balaji Reddy, Arun Saini, Amit Kumar Tembhare, Ajay Trivedi, Kiran Vaidya.
Background Designer: Barry Atkinson.
Hair and Fur Artists: Kumar M. Naveen.
Hair and Fur Artists: Souranath Banerjee, Haresh Dattaram Talvanekar, Yashkumar Vashistha.
Modeling Lead: Artyom Saakian.
Modelers: Vishal Gaikwad, S. Jayakumar, Manoj K.P., N. Vijay Kumar, Ashutosh Mannur, Sreelal P.S., Ketan Thakor, Hitesh Umrania.
Character Modeling: Carl Castelino, R. Durairaj, M. Sathish Kumar, V. Rajaguru, Ed Shurla, R. Srinivasan, A. Thirumurugan.
Character Designer: Ritsuko Notani.
Technical Director: Pete Kranjcevich.
Assistant Technical Director: Tina H.T. Lee.
Facial Set-Up Lead: S. Anandha Sai.
Written By Joe Ansolabehere, Paul Germain, Bob Hilgenberg, Rob Muit.
Story: Jeffrey M. Howard, Bradley Raymond.
Edited By Lisa Linder, Kevin Locarro, Mark W. Rosenbaum.
Negative Cutter: Mary Beth Smith.
Color Timer: Jim Passon.
Additional Crew:
Casting: Jason Henkel.
Casting Coordinator: Heather Henry-Parker.
Art Direction: Fred Warter.
Visual Development Artists: Barry Atkinson, Miguel Gil, Chris Oatley, Christophe Vacher.
Character Visual Sketches: Joel Parod.
Pre-Visual Lead: John Bermudes.
Location and Prop Designers: Ed Ghertner, Dennis Greco, Ron Roesch.
Production Managers: Christopher Craig, Jennifer Teter.
Supervising Sound Editor: Donald J. Malouf.
Sound Re-Recording Mixers: David E. Fluhr, Adam Jenkins.
Sound Effects Editor: Randy Babajtis.
Foley Editor: Nancy MacLeod.
Foley Mixer: James Ashwill.
Lighting Leads: Anupama Devi K., Rajesh Patil, Vara Prasad, T.G. Sathesh.
Lighting Artists: Imran Ali, Abhishek Amin, Ravindra Bhandi, Dalbir Bhurji, Santosh Das, Anil Dixit, K.V.S. Gowtham, Ajay Jain, Ashwin C. John, Harshal Kadam, Kiran Kale, Ashwin Karthik, Chinneri Kishore, Vaibhav Kolge, B. Radha Krishna, Kiran Kumar D.V., Milind Kuri, Tushar Mantri, Deepak Mathur, Kalidasan Mayil, Kedar Nath, Sivakumar Padala, Sanjay Panchal, Pranav Pande, Chaitanya M.R. P., Ajit Potdar, Abhishek Prasad, Pratheesh P.V., Chinneri Ramesh, R. Ramu, P. Srinivasa Rao, Mahendar Reddy, Vineeth Sagar, Ravi Kumar Sangam, Satish Kumar Sangam, Sanjay Sathapaty, Jinish Shah, Viren Shah, Kayur Sheth, Amiy Shrivastava, Gaurav Singh, Anilkumar T., Satish Kumar T., K. Yugandhar, Nimesh Zala.
Senior Compositors: Kaustubh Pawaskar, Raj Sakpal.
Compositing Leads: Milind Bagkar, Brijesh Bharantia, Sumeet R. Chavan, Vilas Patkar, Chetan Waghmare.
Compositing Artists: Sagar Bhojne, Chirag Chauhan, Sharon David, Abhijit Desai, Kush Dhir, Nelson D'Souza, Kartheek Dugyala, Anthony Fernandes, Nilesh Bhaguram Gamre, Arijit Ghosh, Amit S. Jadhav, Srinivas Reddy Kandala, Manoj Keer, Subhadip Malakar, Santosh Manoharan, Nishikant Mohapatra, Shamik Mukherjee, Abhishek Naik, Vinay Naik, Prasanjit Nayak, Sudhir Nayak, Unmesh Nimbalkar, Sayaji Parit, Sachin Patil, G. Naga Prakash, Viral Rathod, Raj Sakpal, Ashish Shah, Sachindra Tiwari, Naveen Kumar V.
Compositor: Harshal Mistry.
Modeling Lead: M. Balasubramanian.
Character Modeler: Carl Castelino.
CG Head of Production: Anish H. Mulani.
CG Production Managers: Rajesh Saran, P.N. Swathi.
CG Producers: Kristin Dornig, Arish Fyzee.
CG Line Producer: Aby John.
CG Supervisor: Jouelle Baracho.
CG Studio Operations: P.J. Gunsagar, Sunil Parekh.
Rigging Lead: Avinash Savant.
Riggers: Manoj Bhandar, Arun Kumar, Ashish Kumar, R. Mani, Mani Kumar M., V. Praveen.
Visual Effects Artists: Manie Bhatia, Sadanand Byahatti, Sunil Chatim, Abhay Chatterjee, Nidell Durham, Alwin Fernandes, Sanjay Francis, Vikas Gupta, K.D. Vinoth Khanna, Santosh S. Khedkar, Shaffi Mahammad, Chaitanya M., Y. Murli, Vijay Paithankar, Hitendra Parmar, Kamlesh Parmar, Ravindra Prajapati, R. Srinivasa Rao, Aditya Rathod, Ashutosh Shah, Mayank Shrivastava, Rohan Singha, Neh Singh, Sameer Sonavane, Sudhanshu Tiwari, Jasmin Vaghasiya.
Pre-Visual Artists: Geoff Darwin, Marc Ellis, Todd Allen Erickson, Christopher Poplin, Charles Trebino, Tanya T. Wilson.
Digital Production Manager: Niki Carras.
Digital Producter: Douglas Little.
Set and Prop Department Coordinators: Raphael Fernandes, Franklin Mascarenhas.
Sequence Leads: Neelesh Gore, Gururaj Sundar.
Matte Painting Lead: Uma Maheshwar Rao.
Matte Painters: E. Srinivasu, Ajay Kamble.
Simulation Supervisor: Abhishek Karmakar.
Effects Leads: Vidit Kundra, Perminder Singh, Anand Suthar.
Effects Production Manager: Priya Saakian.
Front End Lead: John Edgar Park.
Production Coordinators: Jared Heisterkamp, Adam Iscove, Sean Reed.
Production Secretary: Amanda Raymond.
Production Accountant: Jenny Aleman.
Digital Cinema Supervisor: Sebastien Betsch.
Clearances: Cathleen Brown.
Continuity Checker: Deirdre Creed.
End Credits Layout: Amy D'Alessandro.
Submit Additional Information:
Do you have anything to add to this page? Have we made any mistakes... or do you ahve any additional information about Tinker Bell And The Great Fairy Rescue? If so, we would love to hear from you. Please send us a quick note with your additions or corrections to this page, and we will make the corrections as soon as possible!
Report Errors / Submit Additional Information
Cartoon Summary:
Before she was ever introduced to Wendy and the Lost Boys, Tinker Bell met Lizzy, a little girl with a steadfast belief in the power of pixie dust and the magic... (more)