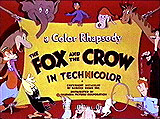 Way Down Yonder In The Corn
Way Down Yonder In The Corn
Way Down Yonder In The Corn (1943) - The Fox and Crow Theatrical Cartoon Series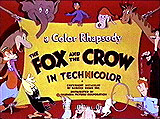 ---
Post your Comments or Review
This page has been viewed 10 times this month, and 1471 times total.
Cartoon Comments:
Way Down Yonder In The Corn
RA
Reviewed by: racauth, June 28, 2014
Color Rhapsody's Fox and Crow series makes one feel sorry for the Fox.
These theatrical cartoons can be counted on to entertain all ages.

Way Down Yonder In The Corn typifies the story of Crow infuriating the Fox
and a chase ensues thru thick and thin. Inventive in the different scenes
from East to West to Pacific - is the reason i gave this an 8 rating. Of course
this cartoon is fine for all ages.

Perplexing to me though is the cartoon graphic Style that seems 1950s instead
of the early 1940s [listed release date of 1943] . A -possible- factual error
is on file with bcdb dot calm to research the release date further.
0 of 1 people found this review helpful
Defenitely "not" a yawner
Reviewed by: Anonymous Cartoon Lover, September 16, 2010
An "8", cause I didn't get the ending :/
Pretty interesting discovery nontheless. I've not know much of these Columbia shorts(*let alone Fox and Crow) I knew of them cause i recently bought a comic book of theirs.
Just like my recent Milt Gross cartoons find, i thoroughly enjoyed this one! Many Avery-esque jokes here. The crows voice was probably the same actor who did the Avery's toons(*sounded familiar) I'll check more rare MGM and Columbia toons out in the future. Thanks!
1 of 5 people found this review helpful