The Black Cauldron
The Black Cauldron
Alternate Title: Taran and the Magic Cauldron
The Black Cauldron (Taran and the Magic Cauldron) (1985) Feature Length Theatrical Animated Film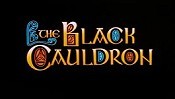 by Dave Koch
---
Post your Comments or Review
This page has been viewed 51 times this month, and 10184 times total.
Feature Length Animated Film
Walt Disney Studios, Silver Screen Partners II
Distributed by: Buena Vista Pictures Distribution
Cartoon Characters: Taran, Eilonwy, Gurgi, Ffewddur Fflam, Dallben, The Horned King, Creeper, King Eidilleg, Doli, Orgoch, Orddu, Orwen, Hen Wen.
Originally Released in 1985.
TechniColor
Running Time: 80 minutes.
U.S.A.
&nbspAdd your own Review
Return To "The Black Cauldron"
Cartoon Comments:
The Black Cauldron
Very Disappointing, as books were great.
Reviewed by: garion, November 18, 2004
Llyod Alexander wrote 5 books in Pyrdain Series. Disney's attempt to turn this into a major film, was proof that Professor Tolkien was very intelligient. He had put in his will and contracts that the rights to his books could nver be sold to Disney as they would destroy the Characters from the Hobbit & Lord of the Rings.

Disney destroyed the characters and story from Taran the Wanderer & Etc.
3 of 9 people found this review helpful
The Black Cauldron
Reviewed by: damfine, November 01, 2003
The least watchable of all Disney features. Everything that could be wrong with a movie is here. Lifeless characters, muddled story, comic relief not that comic or much of a relief.
Avoid at all costs. Dreadful! Makes one ask "What were they thinking?"
3 of 11 people found this review helpful
The Black Cauldron
Ben Burgess
Reviewed by: BenBurgess, July 13, 2002
"THE BLACK CAULDRON" production ('85) was designed exclusively to be in wide screen 70mm format. Disney's first animated film with a PG rating!
The VIDEO release ('98) came out in standard full scene format however. In 1881, which was the beginning of actual production, this film was considered Disney's most expensive animated film ever produced at this time. Ron Miller, the executive producer, took a chance and tried to reach an older audience. By allowing more intense violent scenes that would garnish a PG rating, which at the time was against the Disney stockholder corporate policy of ever producing any PG type film.

(The GWYTHANT SEQUENCE, chase sequence, which is a film classic cinema device to advance the film narrative story.)
(On a side note here, I did the assistant animation with Phil during this time.)

The "CREEPER" character was Phil Nibbelink's design and animation approval 100%. This character stole the show from "GURGI" to everyone's surprise. The angular design and creepy look was all Phil's work in clean ruff 3H black normal pencil in which I assisted on all his animation work through there.

Phil would ok his completed scene. Then I would take the finished animation clean ruff scene to Ten Burman's second floor "B" wing office.
Ted Burman was the Director on these sequences in which Ted would always get a first opinion on the assistant animation acting from layout designer Guy Vasolovich.

Ted wanted to cut corners on production by coming up with the idea of having the animator draw in BLACK PENCIL cleaned up in clean ruff form starting with the animator therefore cutting down on repetitive clean up production time to curtail the $25M cost.

("The GWYTHANT CHASE" sequence.) (to note here)
Phil Nibbelink the Supervising Animator, also designed the "Gwythant" dinosaur messenger teridactiles. I assisted him on most of the scenes through that whole sequence with the Gwythants and Taran. Also, Phil did most of the Taran scenes since he designed the character for the production.
Lauraline Waverley worked with Phil on the long scene of Taran wearing an armored knights' suit also she worked with Phil on some creeper scenes opening the door.

Walt Stanchfield was the main Clean-up Supervisor expert that finalized all the sequences and George Sukara cleaned up allot of scenes through out here. Lenard Robinson did a pan scene of the Gwythant with Taran Getting dragged. Jay Jackson's first animation on the Gwthants were at the very end.

3H -Phil's favorite regular pencil, yellow with red band and pink eraser on top.
The animation Phil created was in graphite pencil for the keys and I assisted him on putting in all the missing drawings as charted. The finished scene was on model and eliminated the clean up department therefore after Ted Burman's video approval a b/w positive reel was shot and approved. The drawings ok'ed avoiding clean up straight to xerox and I/P then to color 65mm Technorama film and the theater near you in wide screen format.
--------------------------------------------
(TECHNICAL STUFF HERE)
Disney's camera department would shoot the 65mm length wise on the film. After the scene exposure and developement the Technorama process of animorphing the image to 65mm on regular 35mm film or actural 65mm film copies were produced optically in special optical printers. The optics department term of this is "Perfs per frame". A "PERF" in a technical sence is a "SPROCKET HOLE" for the camera advancement wheel so the film can travel onwards through the camera and eventually the projector system.
Example: A shot 65mm length wise on 35mm film would be "6 Perfs long". After the Technorama process it will be now on regular 35mm film possibly "3 Perfs long" and ready for the theater projector.
-------------------------------------------

(THE GWYTHANT SEQUENCE, chase scene, which is another film device used in film narrative story telling.)
Phil Nibbelink a Directing Supervisor Animator designed and animated all the "Creeper", "Gwythants", "Taran", "Gypsy Dancer" with crowd, and also the moving pan backgrounds that I worked with him on through out the Gwythant chase sequence.
The animating background is rare in Disney films outside of the original Fantasia.

I assisted Phil on his design and animation of the eire walking dead soldiers, "The Cauldron Born". The bauble Eilonwy used was computer generated and a Disney feature animation first time use of CGI. Tron, a special unit, was another group using another outside source MAGI at the time ('81).

In the early eighties WD studio didn't label lead titles or have a strict line of people in a UNIT system in place. Everyone was contributing to the film. There was a footage sheet handed out every week with all production animation footage added up; but, It wasn't listed like a unit with everyone's title and heirarchy.
("Dragon Slyer" may have been good reference for this film.)


15 of 26 people found this review helpful