Blackboard Jumble
Blackboard Jumble
Blackboard Jumble (1957) - Droopy Theatrical Cartoon Series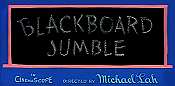 ---
Post your Comments or Review
This page has been viewed 17 times this month, and 4061 times total.
MGM
Cartoon Characters: Droopy, Snoopy, Loopy, Southern Wolf, Teacher.
Originally Released in 1957.
Color, CinemaScope
Running Time: 6:10 minutes.
U.S.A.
&nbspAdd your own Review
Return To "Blackboard Jumble"
Cartoon Comments:
Blackboard Jumble
Ya Gotta Have Patience Man
Reviewed by: darlene0365, February 03, 2003
I LOVE THIS CARTOON! The wolf is by far the best cartoon character I have seen. I love anything he's in.I actually found someone with all these cartoons on vhs and plan on buying them.
2 of 18 people found this review helpful
Blackboard Jumble
My all time Favorite
Reviewed by: redpress, December 15, 2002
This is by FAR my all time favorite cartoon. The confederate wolf has al;ways been my favorite charecter and this toon just makes me hysterical everytime i see it. The wolf indifference and calm is what makes his one liners so damn funny he is his own, straight man and the punk droopy kids just reek havoc from start to finish. I wish i could get this on DVD
3 of 21 people found this review helpful
Blackboard Jumble
All It Takes Is a Little Patience
Reviewed by: Animation_Celebration, December 12, 2002
Everyones favorite wolf from the South is minding his own business as he walks along the road. From a nearby school house, a teacher runs out, apparently losing his mind. When the wolf inquires what the matter is, the teacher explains (while still going into fits) that his students have driven him to insanity. After the teacher runs off, the wolf assumes the title of teacher and states that all it takes to deal with kids is a little patience. Upon entering the school house, the wolf sees his new students. One is a young Droopy and his two siblings. It isn't long before the young, pupil pups begin terrorizing the wolf. After finger painting the wolf a Confederate flag with no stars, one of them bashes the wolf on the head with a mallet, thus producing the stars needed to complete the painting. Another prank includes closing themselves in a locked closet as the wolf does his best to get them out. The wolf places a target on the closet door as he prepares to fire a cannon at it (it's funny because it's so extreme!). But as he walks back to the cannon, the pups sneak out and place the target on the wolf's backside. The wolf fires the cannon and the shell does a 360 turn and hits the wolf on the bum. After more pranks, the wolf's patience has run out. He too begins going crazy! Classic Tex Avery stuff here. The pranks are funny because of the extremity! Also, the wolf's Southern accent is worth many laughs. Excellent cartoon by Avery.
3 of 18 people found this review helpful
Blackboard Jumble
Reviewed by: c-dog, August 23, 2001
I say this in all honesty--and I have seen a lot of cartoons--that I consider "Blackboard Jumble" to be one of the funniest cartoons of all time. It's not really a "Droopy" cartoon per say, since the Wolf steals the show. I have always liked the Wolf, and here he dishes out some of his best one-liner and does so consistently throughout the cartoon. The Wolf from down South will keep you in stitches, even if you're a "cotton-pickin' Yankee!" Long live Tex Avery cartoons!
3 of 4 people found this review helpful