Melody Time
Melody Time
Melody Time (1948) Feature Length Theatrical Animated Film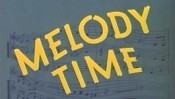 by Dave Koch
---
Post your Comments or Review
This page has been viewed 25 times this month, and 7816 times total.
Feature Length Animated Film
Walt Disney Studios
Distributed by: RKO Radio Pictures, Inc.
Cartoon Characters: Jenny, Joe ("Once Upon a Wintertime")
Bee ("Bumble Boogie")
Johnny Appleseed, Johnny's Angel, The Old Settler ("Johnny Appleseed")
Little Toot, Big Toot ("Little Toot")
Donald Duck, Jose Carioca, Aracuan Bird ("Blame It On The Samba")
Pecos Bill, Widowmaker, Slue Foot Sue ("Pecos Bill").
Originally Released in 1948.
TechniColor
Running Time: 75 minutes.
U.S.A.
&nbspAdd your own Review
Return To "Melody Time"
Cartoon Comments:
Melody Time
Is up tempo!
Reviewed by: colinf, March 30, 2003
MMM, I obviously disagree with the review above.

I used to work at a holiday camp. Out of season (i.e. winter) the camp was closed, so they put me on night duty at the gate just to call the police incase anyone tried to vandalise or break in. Nothing usually happened, so on went the TV. Over here in Britain, night time telly is awful. Barring the odd excellent Hammer Horror, the movies were usually dross. Howver, one night Melody Time was on (no I don't know why a Disney flick was on a 3am in the morning either), but comparred to the other films I suffered, this was a God send! Admittedly, it is no Fantasia, and I could quite happily live without the rather too cute and over sentimental first section, but the rest of the film is great.

The Trees section is wonderfully animated (and I found it very uplifting on first viewing (yes, isn't our planet beautiful)) - almost up to Fantasia's standards.
Bumble Boogie is just manic. Superb fun.
I've never heard the story of Johnny Appleseed before (being a Brit, I suppose he was more of an American icon) and the story is quite heartning. Only you had to feel sorry for Johnny. Everyone seemed to love his apples, but according to the cartoon, only the animals knew who planted the trees.

Yes, I admit Roy Roger and his clan can prove annoying, especially those two "cute" kids, but I'd rather a film was issued uncut than have sections removed just because they are dated. So it was with some annoyance that I realised that the VHS and DVD releaes of Melody Time have had Pecos Bill's cigarette painted out (or digitally removed). Why? Are kid's suddenly going to copy the antics of a fictious cowboy in a movie over 50 years old. (Thinking about it, I think Goofy's cigarette had been removed from his section in Saludos Amigos too.)
Apart from this shoddy treatment of another persons art (and not to mention very hard work), I find the Pecos Bill story very imaginative and amusing.

So do check this film out - at just over an hour, it doesn't outstay it's welcome.
And here's hoping that Disney DVD will finally issue an version that hasn't been edited.
2 of 10 people found this review helpful
Melody Time
Andrew Hicks
Reviewed by: skiaugusta, September 03, 2002
Pros: The "Little Toot" and "Trees" segments
Cons: The other five segments
Recommended: No

Plot Details: This opinion reveals minor details about the movie's plot

The parade of Disney re-releases continues with the 50th anniversary edition of Melody Time, one of the mediocre cartoon / live action anthologies from the 1940s. After 1997ís video release of Fun and Fancy Free, I assumed the Disney vault had been cleansed of its bad post-war compilations, but this embarrassing piece of fluff proved me wrong. Whereas Fun and Fancy Free only had two real segments, Melody Time has seven and only three short ones Iíd ever watch again.

Most of the segments are in the Fantasia vein of letting the music and visuals tell the story rather than relying on dialogue. Theyíre also in the Fun and Fancy vein of letting stars of the time narrate and sing. I donít know about you, but I donít feel incredibly privileged here in 1998 to hear "Pecos Bill" come from the mouth of Roy Rogers and the Sons of the Pioneers, or to see Carmen Miranda wannabe Ethel Smith spice up "Blame it on the Samba."

Melody Time begins with "Once Upon a Wintertime" (*Ĺ), a story about two pairs of lovers, one human and one furry, who go ice skating, have fights and end up floating away on broken ice floes. Letís just say it doesnít rank up there with Snow White or Dumbo. That segues into "Bumble Boogie" (***), which looks like an outtake from Fantasia. Weíve all seen in other Disney collections this trippy visual of a cartoon bumblebee trying to escape the sound and fury, and itís still cool to watch.

Then comes the familiar Disney version of "Johnny Appleseed" (**), the story of a man who is visited by his guardian angel one day and is told his purpose in life is to plant apple trees. Quite a calling, Iíd say. So Johnny wears a cooking pot on his head, grabs his Bible and bag of appleseed and heads off to introduce the world to the glory of apples. All around the country, you sense, other young men are being called to similar missions. Jimmy Orangeseed, Sammy Peachpit, Greg Cantaloupespore... when will Disney tell their brave stories?

It pretty much sucks, but "Johnny Appleseed" holds a certain nostalgic value for me, if nothing else because we had to sing the theme song before every meal at summer camp when I was a kid. ("Oh, the Lord is good to me, and so I thank the Lord for giving me the things I need -- the sun and the rain and the appleseed.") Itís not the Lordís Prayer, but itíll do in a pinch.

Then thereís the short, beautiful "Trees" (***), based on a Joyce Kilmer poem. It even ends with an allusion to the cross. If Disney had kept this up, Pat Robertson wouldnít be wishing meteors on Orlando.

My favorite part of Melody Time is "Little Toot" (***), even if it is sung by the Andrews Sisters. This is another frequent selection of Disney anthologies, about a rebellious tugboat that frustrates its father tugboat and eventually causes an oceanliner to crash into a seaport city, foreshadowing the end of Speed 2 by a good 49 years. But since itís Disney, after the little tugboat is escorted to the city limits, he manages to find a chance for redemption in an apocalyptic seastorm, foreshadowing the end of The Truman Show by a good 50 years.

Then comes "Blame it on the Samba" (**), where Smith plays her organ and shakes her maracas for a mute Donald Duck and his cartoon parrot cohort to boogie on down. This blend of live action and animation isnít so bad, but most people preferred it the first time, when it was called The Three Cabelleros.

Finally comes the tall tale "Pecos Bill" (*Ĺ). Iíd call it a short tale, actually -- short on entertainment. The only part worthy of note is at the beginning, when Bill is being raised by wolves. He walks into a cave where a group of baby wolves are breastfeeding. Bill crawls into the fray and begins suckling as the camera pans up to show a surprised look of glee on the mama wolfís face. Itís pretty funny, but I know if Disney had kept this up, Pat Robertson would definitely still be calling for meteors to destroy Orlando.
2 of 10 people found this review helpful