Gulliver's Travels
Gulliver's Travels
Gulliver's Travels (1939) Feature Length Theatrical Animated Film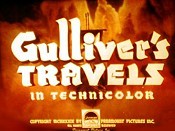 ---
Post your Comments or Review
This page has been viewed 18 times this month, and 4944 times total.
Feature Length Animated Film
Fleischer Studios
Distributed by: Paramount Pictures
Cartoon Characters: Gulliver, Gabby, Princess Glory, King Little, Prince David, King Bombo of Blefiscu, Sneak, Snoop, Snitch.
Originally Released in 1939.
TechniColor
Running Time: 74 minutes.
U.S.A.
&nbspAdd your own Review
Return To "Gulliver's Travels"
Cartoon Comments:
Not At All The Best Gulliver's Travels. Not Even Close.
Me (bcdb1234)
Reviewed by: bcdb1234, November 24, 2005
What On Earth Is Making This Show So Popular?! I Have Looked and looked and exhausted myself searching and searching again and again and over again of the "Famous Classic Tales" 1979 Southern Star / Hanna Barbera Australia starring Ross Martin as Lemuel Gulliver, and Directed by Chris Cuddington, but have found nothing, not VHS, Not DVD, Not LaserDisc, Flash I/II, 8mm, or whatever they have released movies as. There is nothing, nobody seems to remember that 1979 episode but it seems that they are STILL making new copies of the 1939 version, and why am I making such a big deal about this?? Watch both of them (If you can, but I doubt you will be able to) and you will see exactly what I mean. The 1939 one is exactly what that other review said, a strange recreation of Snow White. The Liliputians even look like the Seven Dwarfs and sound like those crazy Mice from Buena Vista / Disney's Cinderella!! The 1979 one is a much better version. He has a British Accent, and It follows the story better, and is more dramatic, unlike the romance theme of the 1939 one. He doesn't smile either, like he does all the time in the 1939 one. The 1939 one is just way too old for today, and was made in 1939, by Fleischer, and if you watch The Evolution Of Tom & Jerry, you will see that when HB were still doing Tom & Jerry, the cartoons were so old that they were produced by Hugh Harman and Rudolph Ising!! Haven't Heard Of Them?? I'm not surprised. But the 1979 Gulliver's Travels is very similar to when Chuck Jones, and Walter Bien, Les Goldman, and Lewis Marshall, and the rest of the Sib Tower 12 Inc. Staff with Music composed by people such as Carl Brandt and Dean Elliott, took over Tom & Jerry, making the show look so good, it seemed futuristic. The picture was great, and Tom's Shorts were as long as they are today, making them much longer than actual shorts were back in the 60s, and they also made "Advance And Be Mechanized", an episode that took place in space. The only difference between Southern Star / Hanna Barbera Australia in 1979 and Sib Tower 12 Inc.'s Tom & Jerry was that it is still popular and more people remember it and they still show it on TV all the time. However, the 1979 Gulliver's Travels nobody seems to remember, nobody remembers Famous Classic Tales, and neither was released on DVD. I can find no evidence of a Famous Classic Tales The Collecter's Edition nor a 1979 Gulliver's Travels video itself. It doesn't make any sense, all of the other rare and valuable movies are still being released, and I thought I would never see a Dr Seuss show ever again. The ones by Chuck Jones and David H. Depatie and Friz Freeling and Hawley Pratt. And Music by Dean Elliott… I hope it still exists. I wish I had another copy of the 1979 one. But the 1939 one is too popular and no matter how old and boring it actually is, it never seems to get old and boring. Hopefully this will change. I hope that someday people will realize that the 1979 one is better, much better.

In Other Words, The 1939 Gulliver's Travels is stupid, and getting stupider and stupider. The 1979 one is MUCH cooler…

1 of 18 people found this review helpful
Gulliver's Travels
Brilliant!
Reviewed by: greedo76, October 26, 2003
Includes the best songs in the cartoon world!
Come home again o´ sailorman. Forever / Faithful.
Its a hap-hap-happy day....
5 of 13 people found this review helpful
Gulliver's Travels
Dan Edwards
Reviewed by: Dan R. Edwards, February 07, 2003
This, of course, is the Paramount/Fleischer Studio response to Disney's "Snow White," in fact, it was the only response it. Walter Lantz, who later would create the imfamous Woody Woodpecker, contemplated a feature based on Alladin through United Artists but soon scraped the idea.

The feature is based somewhat loosely on Swift's tale, although the 'travels' mentioned in the title deal only with his visit to Lilliput.

The Fleischers carefully followed Disney's formula: a fairy-tale story basis, fairly memorable and catchy songs, a collection of memorable characters (Gabby, of course, being the top of that list, as well as some impressive animation (especially the opening scene with the animated ocean waves). Indeed for a while in 1939, it appeared the Fleischers might just overtake Disney as the king of cartoons, but such was not to be. The appearance of Dumbo and Pinochio in 1940 and 1941 pretty well established Disney's reign for the next 40 years.

While 'Gulliver' is certainly an important film in the chronicles of animation history and, in and of itself, was a good film, it has never really achieved the level of a classic. This is unfortunate because there is much artistic skill demonstrated here. When one views the film, it is easy to see that, in many ways, it falls short of what Disney established in Snow White. In rotoscroping Gulliver, the prince and the princess, he fell into the same difficulty that Disney discovered - how to draw lifelike figures without having them appear stiff and unnatural. In an attempt to create a 'cast of thousands,' the Fleishers' overwhelm us with too many secondary characters that look too much alike. Sometimes the story line gives way to too many "bits of business" and side gags (as in a Popeye short) that interfere with the storyline. Besides that, the Fleischer Studio had it roots in New York, Disney in California, thus there is an entirely different 'feel' to the drawing, dialogue, etc. If you listen to the dialogue closely, Lulliput 'sounds' a lot like mid-1930s New York.
In spite of these shortcomings, the film should not be neglected. Unfortunately, many video copies available have apparently been made for poor quality films - in most I have seen, colors have badly faded and significant parts have been lost by splicing. One would hope there is still a pristine copy of the film out there somewhere and that future animation viewers will get a chance to behold its original beauty and sound.
5 of 14 people found this review helpful
Gulliver's Travels
Reviewed by: Nostalgia Kid, February 26, 2002
This is a wondeful animated version of The Jonathan Swift Story.That combines humor with music and morals."Lemuel Gulliver"is seen.Not as a Brittish naval Dr.But as a seaman on a vessel.Which is quickly wrecked during a fall storm at sea.Landing upon The Kingdom of "Lilliput".He inadvertedly becomes involved with a war between the ruler of "Lilliput":"King Little"(Voiced by Jack Mercer)and King Bombo"(The monarch of Blefiscu)over which tune should be performed at the wedding of "Princess Glory"(Voiced by Jessie Dragonette)and "Prince David"(voiced by Lanny Ross).Our hero is spotted and captured by The Town crier"Gabby"(Voice by Pinto Colvig)and the citizens of "Lilliput".But Before long.He not only helps the "Lilliputians"Foil "King Bombo's"Attack on the kingdom.He earns their friendship and he ends the war.By Chaistising "The Foolish Little People"For aruguing stupidly over which over to sing at the royal wedding.And then by Showing them(With The aid of Princess Glory and Prince David)that they can all sing "Faithful"and "Forever"as one anthem.This film does not use the strong pollitical satire of Mr.Swift's novel.But It doesn't need to.The simple story of having disagreements over a simple problem and letting go too far is a plotline that anyone can understand and enjoy.The humor comes more from the bumblings of "Gabby","King Little"and The Three Blefiscuian Spies":Sneak","Snoop"&"Snitch"than from bizzare sight gags and off camera mumblings.Even the songs are tuneful and joyus.Especially:"All's Well"and"It's A Hap Hap Happy Day!".Better than what is played in Mr.Disney's overpraised and unfunny fairy tale:"Snow White".Forget "Snow White"and "Gulliver's Travels Beyound The Moon".This is the real "Gulliver"Movie.Nostalgia Kid.
2 of 5 people found this review helpful