A Charlie Brown Christmas
A Charlie Brown Christmas
A Charlie Brown Christmas (1965) Animated Cartoon Special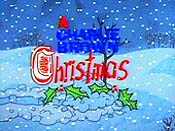 ---
Post your Comments or Review
This page has been viewed 17 times this month, and 7346 times total.
Animated TV Special
Lee Mendelson-Bill Melendez Productions, Charles M. Schulz Creative Associates, United Features Syndicate.
Cartoon Characters: Charlie Brown, Linus Van Pelt, Lucy Van Pelt, Schroeder, Shermy, Pig-Pen, Sally Brown, Frieda, Violet, Snoopy.
Originally Released in 1965.
Color
Running Time: 25 minutes.
U.S.A.
&nbspAdd your own Review
Return To "A Charlie Brown Christmas"
Cartoon Comments:
A Charlie Brown Christmas
Second best Christmas Special
Reviewed by: garion, November 18, 2004
Amazing story, This and the Grinch were always my favorites and are the only 2 I can watch as an Adult.
0 of 7 people found this review helpful
A Charlie Brown Christmas
Pure genius!
Reviewed by: Kiddman, July 25, 2004
I don't even LIKE Christmas or religion, and this is still one of my favorite cartoon specials ever.
1 of 8 people found this review helpful
A Charlie Brown Christmas
Still a simple, great holiday treat
Reviewed by: StevenBailey, February 28, 2004
In terms of animation, it's no great shakes--just a kid on a stage, reciting a Bible story. But for me, Linus telling the tale of Christ's birth is the most affecting scene of "A Charlie Brown Christmas." Even as talented a writer as "Peanuts'" Charles Schulz knew that sometimes, you must bow to a higher creator.
Nobody involved with this special knew what a gem they had on their hands. When the show was first screened in 1965, two executives at CBS said they probably wouldn't ask for any follow-up specials. Legend has it that potential sponsors went apoplectic when they heard Linus quoting the Bible on a TV show. And even the guy who directed this and subsequent "Peanuts" specials, Bill Melendez, recently stated that he was sure this show would kill the "Peanuts" legacy.
Ah, the hindsight a few decades offers. The simple tale of morose Charlie Brown trying to find the true meaning of Christmas seems downright eloquent in these days of CGI. And when Charlie gets jeered by the other kids for bringing that forlorn, needle-shedding tree to the kids' flashy play rehearsal, one wonders if those initially cynical kids grew up to be TV execs.
I watched it again recently with my own children, and it remains a show with something for everyone. Kids can lap up the silly sight gags, most of them courtesy of Charlie Brown's superior dog Snoopy (voiced by Melendez). Adults can savor the affecting story and the characters being voiced by actual kids (a radical notion at the time). Watch the first scene with Charlie Brown's sister Sally, and note how the artists had to draw out the animation a few extra seconds to allow for the hesitantly voiced girl who played Sally.
(Speaking of animation, there's that great end credit, in which probably everyone involved with this cartoon is credited with "graphic blandishment." As a kid, I found that credit enigmatic and wondrous. What did it really mean? As classic as Looney Tunes cartoons are, one never imagined them being graphically blandished.)

0 of 6 people found this review helpful
A Charlie Brown Christmas
A Holiday Treat
Reviewed by: Animation_Celebration, November 24, 2002
A 'Charlie Brown Christmas' has become a yearly tradition with me and my family, and with good reason too. First off, the animation is great. Melendez might've disagreed with me, but the way the drawings are done makes the cartoon more appealing. Charlie Brown's selection of a skimpy, little tree gets him nothing but insults. But after a moral is delivered within the ensuing story, his decision turns out to be the right one. Let's not forget the music (which available on CD) that adorns this wintery masterpiece. The tunes are so effectively put together that the cartoon gains its own pleasant atmosphere. I continue to watch A Charlie Brown Christmas every year, be it TV or VHS. This is one of my favorite Christmas specials!
2 of 5 people found this review helpful
A Charlie Brown Christmas
Reviewed by: toonwizz, December 29, 2001
You got to love that little christmas tree that Charlie Brown had. This is a delightful festive animated special. Filled with charm, humor and holiday cheer. It was the first of the Peanuts specials and probaly the best. The music is great , i own the soundtrack to this. Thanks Charles !!!
2 of 5 people found this review helpful